Unfinished Business: Columbia Hosts 2nd COVID Vaccine Symposium
For one week starting on March 28, world leaders in public health and vaccines will gather for Columbia University's annual Virtual Symposium on Vaccines and Global Health.
It's the second event organized by Columbia on the topic that has gathered the world's most foremost experts in vaccine development, distribution, and global health security. This year's five-day conference, "COVID-19 Vaccines: Unfinished Business," features Rochelle P. Walensky, director of the CDC; Jeremy Farrar, director of the Wellcome Trust; Kyriakos Mitsotakis, prime minister of Greece; the directors of Africa and China CDCs; and many others.  
Among the topics of discussion: the potential that new dangerous variants will arise; whether the virus has established itself as a permanent part of the landscape; and the possibility that additional boosters will be needed.
We spoke with Philip LaRussa, MD, a pediatric infectious disease specialist at Columbia University Vagelos College of Physicians and Surgeons and one of the conference's four organizers, about the need for a second symposium and ongoing vaccination efforts.
---
Last year, you held a COVID vaccine symposium in February, just as the COVID vaccines were making their way into the general public and there was a lot of hope that the end of the pandemic was in sight. What happened? Why organize a second symposium?
I think everyone looked at the pandemic initially as a science problem: How are we going to develop an effective vaccine? That's a gross oversimplification, but creating effective vaccines may have been the easiest part of the problem.
We have a situation now, where we have effective vaccines, and we're getting to the point where we can have equitable distribution of those vaccines, but we need to figure out how to cooperate with each other and communicate the public strategy more effectively, so that we can get this pandemic under control.
In a lot of countries, including our own, we have problems of mistrust, miscommunication, conspiracy theories, and some people, frankly, who just don't trust their government. Maybe we should have seen this coming, but we must now figure out how to regain and increase that trust through more effective communication.
We thought it would be a great idea to come back and revisit where we are now. The unfinished business is going to be dealing with the virus as it continues to replicate in populations with low vaccine uptake. Some places have 20% vaccination rates, and this is like putting the genetic gun to your head and spinning the chamber and seeing what you come up with. Any time you give a virus a chance to replicate, there's a possibility that you're going to have some disaster on your hands.
---
Like last year, you have a lot of the world's experts attending the conference. Why do they come?
That's really a testament to my fellow organizers, Wilmot James, Larry Stanberry, and Marc Grodman, who have contacts in all these areas. Dr. James was a member of parliament in South Africa and is an expert in global health security. Dr. Stanberry is an expert on vaccine development and viral diseases and has served on numerous advisory panels, and Dr. Grodman has experience as a physician and in biotech as a CEO.
Also, last year's symposium was such a success that it was easier to attract participants this year. Being virtual also helps—I don't think we would be able to get all these people into the same room if this were an in-person event. Columbia's global reputation also is a plus.
---
What's the current situation with COVID vaccination around the world?
Let's talk about the science part first. The big pharmaceutical companies have ramped up production and are figuring out ways of expanding production in the countries where the vaccines will be used. Any time you can have local production of vaccines, you solve a lot of problems: Distribution is easier and there's more trust, because it's locally made. That takes time. And that's being done.
The bigger problems are questions of mistrust and misinformation. Vaccine hesitancy is always going to be an issue as it's been with every vaccine that we've had.
Start with a country like South Africa, which probably has the most resources in southern Africa. Initially, their problem was equitable distribution of vaccine. And then their problem was mistrust of the government and of foreign entities. Then you have other countries like Tanzania, where the political leadership told people that COVID wasn't a problem and they didn't need to get vaccinated.
So that is more of a country by country, even sometimes a region by region, type of endeavor. Individuals who have the trust of the local population can disseminate accurate information and advocate for immunization campaigns and other effective public health interventions. In our conference, you'll see people point to specific examples of what's working and not working in their particular situation.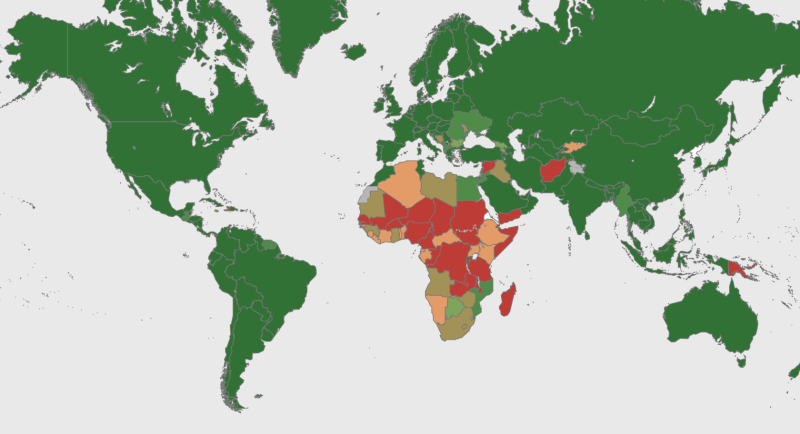 ---
What's your biggest fear at this point?
My biggest fear is that if we get another bump like we did in January, people are just going to say, "What's the point of getting vaccinated? I've gotten three vaccines and now this new variant? Why am I bothering?"
There's a danger that pandemic and vaccine fatigue will erode people's resolve to comply with prolonged public health interventions.
I hope that we don't end up with a new variant that's going to cause as much death and hospitalization as the original virus and delta variant. We don't want to go back to that. We can avoid that outcome with better worldwide vaccine coverage and use of other effective interventions when appropriate.
References
"COVID-19 Vaccine: Unfinished Business" runs March 28 through April 1 and is open to the public. Register here.
The conference is organized by Wilmot James, PhD, senior research scholar at Columbia's Institute for Social and Economic Research and Policy, and three vaccine experts at Columbia University Vagelos College of Physicians and Surgeons: Philip LaRussa, MD, special lecturer; Marc Grodman, MD, assistant professor of clinical medicine; and Lawrence R. Stanberry, MD, PhD, professor of pediatrics, associate dean for international programs, and director of the Programs in Global Health.