In Twin Pregnancies, Advanced Maternal Age Does Not Heighten Risks
Older mothers tend to have higher rates of adverse pregnancy outcomes than younger women with single-child pregnancies. But with twin pregnancies, the relationship between age and negative outcomes is different: Advanced maternal age is not a major risk factor in most twin pregnancies, researchers at Columbia University Irving Medical Center (CUIMC) report.
Twin pregnancy itself is known to carry a degree of risk: Rates of preterm birth and other adverse outcomes are higher for twin than singleton pregnancies. But women over 35 are more likely to become pregnant with twins, so understanding age-associated risk will be useful for prospective older mothers and the providers who counsel them, says senior author Alexander Friedman, MD, assistant professor of obstetrics & gynecology at CUMC.
In the study, published in the American Journal of Obstetrics & Gynecology, the researchers analyzed the rates of three adverse outcomes—preterm birth, fetal death, and infant death—from records of more than 950,000 twin births, including live births and fetal deaths, in the United States from 2007 to 2013. The analysis expands on previous twin pregnancy studies, which had similar findings but used smaller sample sizes or limited populations.
Among all age groups, young mothers between 15 and 17 years old were at the highest risk for all three negative events. As age increased, risk declined until advanced maternal age, defined in this study as 35 and above. For these older women, fetal and infant death rates remained relatively low, whereas risk of preterm birth dropped even further for mothers between 35 and 39 and then rose modestly for mothers 40 and older.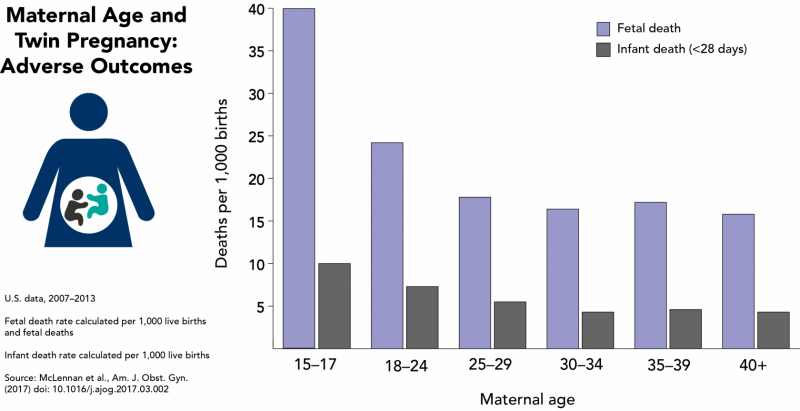 The researchers also looked at preterm birth risk adjusted for demographic and medical factors, finding that women who were black, had pregestational diabetes, or had chronic hypertension were at higher risk for twin preterm birth.
The higher rates of adverse outcomes in young women were surprising, and the cause is unclear, says Dr. Friedman. One possibility is that twins may more often share a single placenta in young mothers, or social or socioeconomic factors could be responsible. For these younger women, he says, good prenatal care and close surveillance of the pregnancy may help improve outcomes.
The study is titled "The Role of Maternal Age in Twin Pregnancy Outcomes." The other contributors are Amelia S. McLennan (CUIMC), Cynthia Gyamfi-Bannerman (CUIMC), Cande V. Ananth (CUIMC), Jason D. Wright (CUIMC), Zainab Siddiq (CUIMC), and Mary E. D'Alton (CUIMC).
The study was supported by Eunice Kennedy Shriver National Institute of Child Health & Human Development (grant K08HD082287).