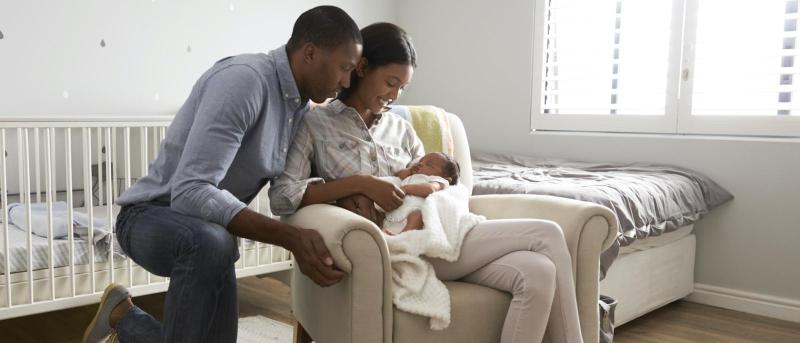 Transition to Parenthood Center Established with Funding from Bezos Family Foundation
First ever research-to-practice center devoted to optimal health for both parents-to-be and the developing infant
With a transformational gift from the Bezos Family Foundation, Columbia University will launch the Center for the Transition to Parenthood in the Department of Obstetrics & Gynecology. Supported by the most advanced scientific knowledge in the field, the center seeks to reinvent prenatal care, address the mental health of parents, improve the overall health of infants, and promote family well-being.
The center, established with a gift of $21 million from the Bezos Family Foundation, will develop, test, and put into practice a range of accessible educational tools for new parents to help reduce stress, improve social support, protect sleep, set intentions for parenting that take into account one's own upbringing, prepare for postpartum isolation, manage couple conflict, and foster an understanding of fetal exposures that increase the risk of neurobehavioral disorders later in life. The center also will be a pioneer in assembling these services and augmenting and accelerating applicable research to support interventions promoting optimal outcomes for parents-to-be and their developing children.
Catherine Monk, PhD, the inaugural Diana Vagelos Professor of Women's Mental Health in the Department of Obstetrics & Gynecology, will lead the center. Monk is also professor of medical psychology in the Department of Psychiatry at Columbia University Vagelos College of Physicians and Surgeons and research scientist at the New York State Psychiatric Institute.
"We can improve outcomes for new parents and infants by applying our knowledge of how parents' well-being affects their offspring before birth and our understanding of what happens to the parental brain during and after pregnancy. It's time we put this science into practice and change the standard of care," Monk says. "The Bezos Family Foundation's support enables us to develop successful models to enhance prenatal care and help build healthy families at their origins, in the prenatal period."
The Center for the Transition to Parenthood will bring together what is known from the fields of perinatal psychiatry, obstetrics, developmental psychobiology, and neuroscience to focus on the earliest influences on children's developmental trajectories—those that happen in utero—to reduce risk for mental health disorders in children. The work will involve an interdisciplinary team of psychologists, neuroscientists, and mental health clinicians, as well as community experts such as doulas, midwives, and family medicine doctors, partnering with their Ob/Gyn colleagues. The center will engage community-based organizations, community health workers, and patients with lived experiences from diverse backgrounds to ensure equity in creating new perinatal care practices and to effectively develop materials that reflect the latest science. Routine focus groups will provide insight into patient and provider experiences from the community that will be instrumental in developing materials made by and for the people who will use them.
"We are thrilled to be able to build upon the support we offer to pregnant and postpartum patients as they transition to parenthood and grateful that the Bezos Family Foundation is making this expansion possible," says Mary D'Alton, MD, the Willard C. Rappleye Professor of Obstetrics & Gynecology and chair of the Department of Obstetrics & Gynecology at Columbia University Vagelos College of Physicians and Surgeons. "Their commitment to fostering research on the earliest connections between parents and their infants is critical to further developing innovative programs that will have an impact well beyond Columbia."
Starting in 2019, with support from the Bezos Family Foundation, Columbia launched an initiative to embed mental health professionals in its Department of Obstetrics & Gynecology to increase access to insurance-based mental health care, particularly during pregnancy, and enhance multidisciplinary collaboration.
"We are proud to support Columbia in launching the Transition to Parenthood Center to focus on this important period of development for infants and their families," says Jackie Bezos, president of the Bezos Family Foundation. "Science is clear that the prenatal period is critical to the future well-being of families. With its strong team, deep roots in research, and commitment to collaborating with patients and community partners, Columbia is well-positioned to advance scientific discoveries and create research-based programs and models of care to improve the health and well-being of children and their parents."
"I am looking forward to seeing this first-of-its-kind center make meaningful improvements in the psycho-social health of new parents and their children," says Katrina Armstrong, MD, dean of the Vagelos College of Physicians and Surgeons and executive vice president for health and biomedical sciences at Columbia University. "The Bezos Family Foundation is a superb partner, and we especially appreciate their determination to help reduce disparities in the care received by pregnant women."
Addressing a public health need
Even before the birth of a child, emerging parenthood is marked by changes in the brain comparable to that of adolescence. Meanwhile, in utero, the future child's brain is shaped by biological cues related to a pregnant person's well-being, nutritional status, stress, and mental health. While substantial research documents this two-generation brain plasticity, prenatal clinical services have not yet incorporated these findings into the standard of care.
An estimated 30% of pregnant women report psychosocial stress, including job strain and depression or anxiety symptoms, and nearly 12% of pregnant individuals meet criteria for a perinatal mental health condition. Sadly, less than 50% of women in need of care receive it, and the rate is even lower among women of color.
In the United States, the prevalence of child neurobehavioral problems is significant: 6.1 million children have been diagnosed with ADHD, 4.4 million with anxiety, and 7 million are classified as disabled based on learning difficulties. Some of these problems have roots in the prenatal period, potentially related to high levels of maternal stress, anxiety, and depression.
References
About Dr. Catherine Monk
Catherine Monk, PhD, is internationally recognized for her interdisciplinary research on women's mental health in the peripartum period and its associated effects on child development. Her research has been continuously funded by the National Institutes of Health (NIH) since her NIH Career Development award in 2000. She is faculty on four NIH training grants that support the career development of young investigators. In collaboration with her colleague Elizabeth Werner, PhD, she developed the brief, dyadically oriented intervention to prevent postpartum depression, Practical Resources for Effective Postpartum Parenting (PREPP). Monk is the founding director of the mental health service embedded in the Department of Obstetrics & Gynecology, Women's Mental Health @Ob/Gyn, which provides insurance-based mental health care to women throughout the life course, with a special focus on the perinatal period.