"Tommy John" Reconstructive Surgeries On the Rise Among Young Athletes
Increase in use of the procedure among adolescents surpassed growth in major league players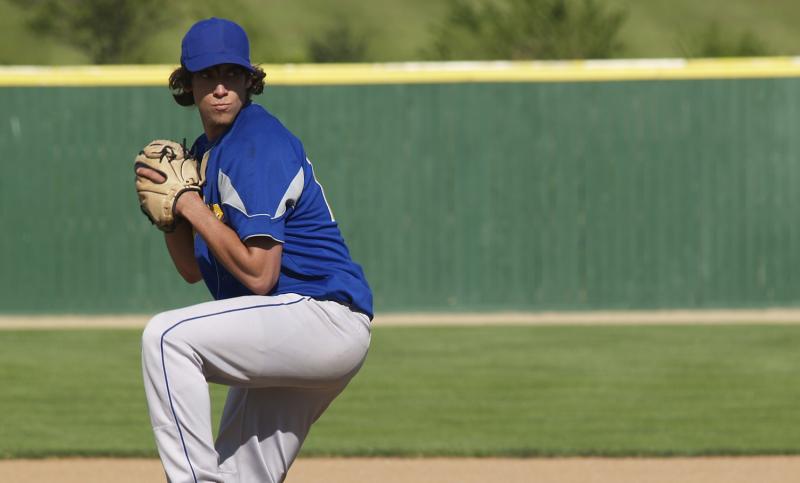 NEW YORK, NY (March 7, 2016)—A new study found a dramatic increase in the number of adolescents undergoing "Tommy John" surgery to repair a pitching-related elbow injury in recent years, outstripping growth among major league pitchers.
The study, performed by researchers at Columbia University Medical Center (CUMC), was published in the January online issue of the American Journal of Sports Medicine.
"Everybody who follows baseball is worried about the rise in Tommy John procedures in the major leagues, and rightly so," said study leader Christopher S. Ahmad, MD, professor of orthopedic surgery at CUMC, head team physician for the New York Yankees, and chief of sports medicine at NewYork-Presbyterian/Columbia. "But we should also be worried about the 6 million children and young adults in the U.S. who play this game and are at risk for significant pitching-related injuries. We need to determine why these injuries are so common and what can be done to prevent them."
Tommy John surgery, named for the Los Angeles Dodgers pitcher who first had the procedure in 1974, involves replacing a torn or ruptured ligament in the elbow known as the ulnar collateral ligament (UCL) with a tendon from another part of the body.
Analyzing data from the New York Statewide Planning and Research Cooperative System, the researchers found that 444 patients underwent surgery to repair the UCL between 2002 and 2011. The median age of the patients, mostly male, was 21. During that period, the total volume of UCL surgeries increased nearly 200 percent, while the number of UCL reconstructions per 100,000 people tripled from 0.15 to 0.45. Almost all of the growth occurred in two age groups, 17- to 18-year-olds and 19- to 20-year-olds. Patients who had private insurance were 25 times more likely to undergo UCL construction than those with Medicaid.
Tommy John surgery has a high success rate, but full recovery can take a year or more. In many cases, UCL injuries can be treated effectively with rest, physical therapy, and nonsteroidal anti-inflammatory medications. While the increase in UCL reconstructions among professional athletes has been well documented, few studies have looked at the incidence among younger, non-professional athletes.
While the study did not address reasons for the increase in UCL reconstructive surgery, Dr. Ahmad suspects a major factor is the fiercely competitive culture of youth baseball, which encourages talented players to throw more frequently, with greater intensity, and at a younger age. "Whatever the cause, we now know for certain that more kids are getting injured," he said. "We should be asking ourselves what we can do to prevent these injuries."
According to Dr. Ahmad and other experts in the field, the solution may be to provide more education about the risks of overuse throwing injuries and the importance of adherence to preventive guidelines, such as pitch-count limits.
In a previous study, Dr. Ahmad found that three-quarters of young players reported having arm pain while throwing, and almost half of all players had been encouraged at least once to continue playing despite having arm pain. Signs of injury include fatigue, pain, taking medicine for pain, and icing excessively.
"If a young player is hurting, he or she should not keep playing or pitching," said Dr. Ahmad. "Kids, of course, think they're indestructible. Parents and coaches are in a position to tell athletes when it's time to give the arm a rest and if they need to take a temporary break from baseball."
References
About:
The study is titled, "Epidemiology of Medial Ulnar Collateral Ligament Reconstruction A 10-Year Study of New York State." The other contributors are Justin L. Hodgins and Raymond R. Arons, CUMC, and Mark Vitale, ONS Foundation for Clinical Research and Education, Greenwich Hospital, Yale–New Haven Health, Greenwich, Conn.
The authors report no conflicts of interest.
Columbia University Medical Center provides international leadership in basic, preclinical, and clinical research; medical and health sciences education; and patient care. The medical center trains future leaders and includes the dedicated work of many physicians, scientists, public health professionals, dentists, and nurses at the College of Physicians and Surgeons, the Mailman School of Public Health, the College of Dental Medicine, the School of Nursing, the biomedical departments of the Graduate School of Arts and Sciences, and allied research centers and institutions. Columbia University Medical Center is home to the largest medical research enterprise in New York City and State and one of the largest faculty medical practices in the Northeast. For more information, visit cumc.columbia.edu or columbiadoctors.org.
NewYork-Presbyterian
NewYork-Presbyterian is one of the nation's most comprehensive healthcare delivery networks, focused on providing innovative and compassionate care to patients in the New York metropolitan area and throughout the globe. In collaboration with two renowned medical school partners, Weill Cornell Medicine and Columbia University College of Physicians & Surgeons, NewYork-Presbyterian is consistently recognized as a leader in medical education, groundbreaking research and clinical innovation.
NewYork-Presbyterian has four major divisions: NewYork-Presbyterian Hospital is ranked #1 in the New York metropolitan area by U.S. News and World Report and repeatedly named to the magazine's Honor Roll of best hospitals in the nation; NewYork-Presbyterian Regional Hospital Network is comprised of leading hospitals in and around New York and delivers high-quality care to patients throughout the region; NewYork-Presbyterian Physician Services connects medical experts with patients in their communities; and NewYork-Presbyterian Community and Population Health features the hospital's ambulatory care network sites and operations, community care initiatives and healthcare quality programs, including NewYork Quality Care, established by NewYork-Presbyterian, Weill Cornell and Columbia.
NewYork-Presbyterian is one of the largest healthcare providers in the U.S. Each year, nearly 29,000 NewYork-Presbyterian professionals deliver exceptional care to more than 2 million patients.
For more information, visit www.nyp.org and find us on Facebook, Twitter and YouTube.