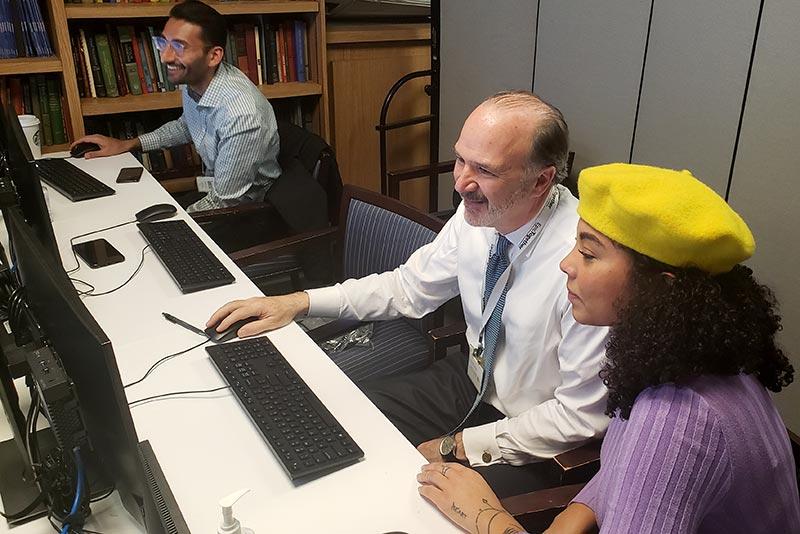 Columbia University Irving Medical Center (CUIMC) is just days away from delivering on its promise to provide patients with a more comprehensive care experience driven by a new electronic medical record and business platform.
"One Team, One Record, One Focus: Our Patients" was launched nearly two years ago. Now, just two days away from go-live, our Epic project leaders feel confident that we are ready.
"I'm amazed, grateful, and impressed," said Timothy Crimmins, MD, RPVI, Columbia Epic Project Co-Lead and ColumbiaDoctors Chief Medical Information Officer. "It's hard to find the right words to describe all of the work of this project. This implementation will be one of the hardest things we do collectively, but we have the leadership at every level that has demonstrated time and again we can rise to the challenge. That is the marker of our success."
For the first time in our history, CUIMC's electronic medical record will integrate with NewYork-Presbyterian Hospital and Weill Cornell Medicine. Accomplishing this was no small feat. It took:
3056 Epic training classes
2,250 Super Users
18,000+ End Users
180,649 appointment conversions
3,500+ provider personalization concierge sessions
And more to get us to go-live this Friday night into Saturday. 
"We are so appreciative of the attention and focus of the clinical and administrative teams these past few months," said Roe Long, Columbia Epic Project Co-Lead and ColumbiaDoctors Chief Operations Officer. "Their dedication to building the best system for our patients will undoubtedly pay dividends at go-live."
The Epic Excellence program recognized more than 50 CUIMC colleagues for going above and beyond in helping their teams prepare for go-live. Recently the Epic Excellence program was able to recognize the following employees and providers:
Karin Fuchs, MD, Department of Obstetrics and Gynecology
Melissa Carter, Department of Pathology and Cell Biology
Some nominations expressed sincere appreciation for the Epic trainers. Special thanks goes to Cherry James, Martha Danielak, Farrah Campbell, and Natalie Barry. 
Several other recognition celebrations are expected to be held in the coming weeks. Leadership plans to review more nominations for Epic Excellence Awards. It takes just a moment to fill out the nomination form and recognize those team members going above and beyond.
Topics