Thrombosis Emerges as Significant Risk for COVID-19 Patients
The idea that the risk of blood clots is greater for COVID-19 patients than other severely ill patients began emerging in early reports from China a few months ago.
"But the gravity of these clotting disorders in COVID-19 only became clear over the past three to four weeks as we've started seeing these patients here," says Behnood Bikdeli, MD, MS, a cardiovascular medicine fellow at the Vagelos College of Physicians and Surgeons at Columbia University Irving Medical Center and a specialist in thrombosis.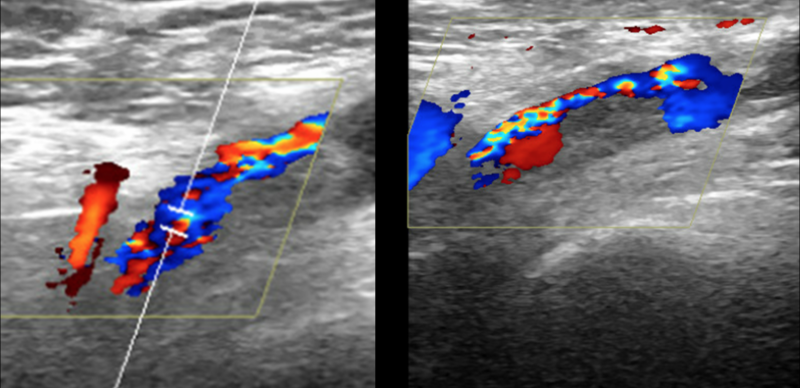 "Clotting is causing damage to other organs, and in my experience, it's above and beyond what we've seen in other acutely ill patients," Bikdeli says. "These patients have such different blood profiles from what we usually encounter."
Blood clots can travel to the brain to cause strokes, the heart to cause heart attacks, and the lung to cause pulmonary embolisms, but physicians also report clot-related damage in other organs and in the lower legs of COVID-19 patients. 
Consensus guidelines
Bikdeli and Mahesh Madhavan, MD, another Columbia cardiology fellow, gathered more than 40 experts in cardiology and thrombosis from around the world to create consensus guidelines for treating clots in COVID-19 patients. 
"In just the first few weeks of seeing COVID patients at CUIMC, we saw a lot of thrombotic complications," Madhavan says. "That led us to reach out to other groups and put our heads together with other experts to review what is known and identify areas that need further attention and study."
It is still unclear how the new coronavirus affects clotting and coagulation of blood cells.
"Some reports suggest there may be a direct link. And the cytokine storm caused by the patient's immune system also may play an indirect role. There is also immobility and the traditional risk factors, but we don't have any concrete answers yet," Bikdeli says.
Clotting appears to be more common with severe cases of COVID-19. Previous studies also have reported that a protein called D-Dimer is elevated in COVID-19 patients, indicating the presence of clots somewhere in the body. 
"It appears, based on our experience, that the catheters in these patients may be clotting more frequently than in other critically ill patients," Madhavan says.
New clinical trials 
To reduce the risk of clotting and organ damage, some physicians have proposed using a higher concentration of blood thinners for severely ill COVID-19 patients, even when the patient cannot be sent for imaging that could confirm the presence of a clot.
"Until clinical studies come in, there's no right answer," Bikdeli says. "The consensus from our experts was to stick with previous guidelines on the use of blood thinners until clots are detected, although a third of the experts wanted to be more aggressive."
Venous thromboembolism in patients with adult respiratory distress syndrome (ARDS) such as what we see in COVID-19 is a "double whammy," adds cardiologist Sahil Parikh, MD, director of endovascular services in Columbia's Division of Cardiology. "We are initiating a clinical trial at CUIMC called IMPROVE-COVID to look at ways to prevent major thrombotic events in critically ill COVID-19 patients. If we can manage this more effectively, we may be able to reduce morbidity and mortality."
Potential drug-drug interactions between blood thinners and investigational COVID-19 therapies are also covered in the new guidelines, including the potential of hydroxychloroquine to increase the risk of clotting.
"It's given me hope to see how engaged and collaborative the academic community has been to generate knowledge about COVID-19," Bikdeli says. "We're working with groups around the country and the world to address the current questions as rapidly as possible."
References
More information
"COVID-19 and Thrombotic or Thromboembolic Disease: Implications for Prevention, Antithrombotic Therapy, and Follow-up" was published April 15 in the Journal of the American College of Cardiology. CUIMC Authors: Bikdeli B, Madhavan MV, Chuich T, Dreyfus I, Driggin E, Nigoghossian C, and Parikh SA.
"The Variety of Cardiovascular Presentations of COVID-19" was published online April 3 in Circulation. CUIMC authors: Fried JA, Topkara VK, Clerkin KJ, Rabbani L, Brodie D, Jain SS, Kirtane A, Masoumi A, Takeda K, Kumaraiah D, Burkhoff D, Leon M, Schwartz A, Uriel N, and Sayer G.
"Coronavirus Disease 2019 (COVID-19) and Cardiovascular Disease" was published online March 21 in Circulation. CUIMC authors: Clerkin KJ, Fried JA, Raikhelkar J, Sayer G, Griffin JM, Masoumi A, Jain SS, Burkhoff D, Kumaraiah D, Rabbani L, Schwartz A, and Uriel N.
"Cardiovascular Considerations for Patients, Health Care Workers, and Health Systems During the Coronavirus Disease 2019 (COVID-19) Pandemic" was published online March 18 in the Journal of the American College of Cardiology. CUIMC authors: Driggin E, Madhavan MV, Bikdeli B, Chuich T, Laracy J, Nigoghossian C,, Haythe J, Brodie D,, Kirtane AJ, and Parikh SA.