Three Honored for Teamwork at 10-Year Anniversary of Baton Awards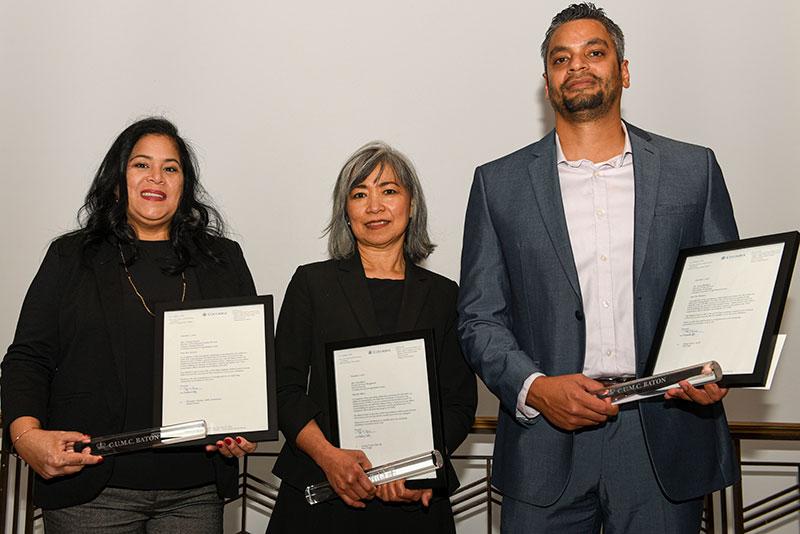 CUIMC presented the 2019 Baton Awards at a ceremony on Dec. 5 to three staff members—Aaron Mendoza, Genia Billote, and Yolanda DeLeon. The Baton Awards were created in 2009 to recognize team players at the medical center. The awards were presented at the December meeting of the CUIMC Administrators Network (CAN).
2019 Baton recipients:
Aaron Mendoza, director of user services for CUIMC IT, was nominated for his work with the EpicTogether team, medical center certified IT groups, and faculty practice leadership to prepare for the launch of the Epic electronic medical record. One example of his initiative: In October, the Epic team decided that all clinic workstations would have new software loaded that would allow staff to "tap in" as a sign-in process. Mendoza scheduled demonstrations in the IT lab to make implementation efficient. Mendoza joined Columbia in 2013 as a senior user services consultant and was promoted to director of user services in 2015.
Genia Billote, director of grants management for the School of Nursing, has been at the nursing school for over three years and spent 14 years in the Department of Pediatrics before that. She has been praised as a critical part of the nursing school's growing research enterprise, building a team of grants managers and creating a training program for new hires. Billote and her team manage the grants process from pre-award to closeout, providing continuity and consistency. In addition to working well with faculty, she has been praised for providing guidance to alumni and collaborators and for working closely with the Clinical Trials Office to set up QA monitoring for FDA compliance. Billote uses her RN and MPH background to manage all aspects of the grants processes.
Yolanda DeLeon, director of postdoctoral student services at the College of Dental Medicine, demonstrates dedication and commitment to student services in all aspects of her job. When she identifies an area that could improve the postdoc experience at CDM, she researches, discusses, and works on getting it implemented. Hired at Columbia in 2006, she is commended for her institutional knowledge, which provides particular help during the budget submission process. DeLeon is pursuing an advanced degree in mental health to develop the skills necessary to help CDM students through some of the most stressful and challenging times of their professional training. 
Topics