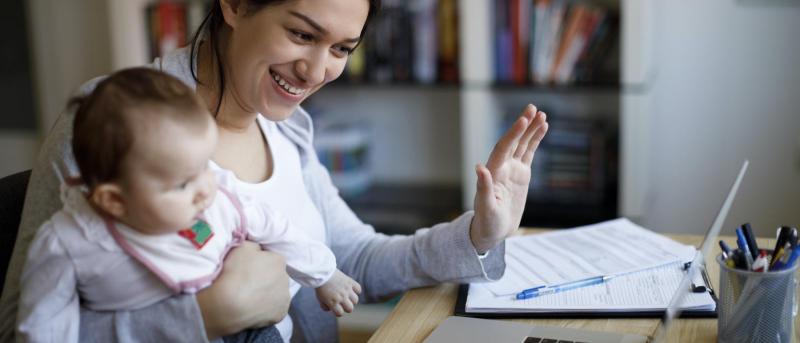 Telehealth Appears Here to Stay
Before the coronavirus pandemic, few New Yorkers could have imagined getting medical care via their computer, tablet, or smartphone. Until 2019, ColumbiaDoctors had merely dipped a toe into the field of telehealth. And then, in March 2020, "the world changed," says Rosalie Long, RN, MBA, chief operating officer of ColumbiaDoctors.
Between July 2019 and January 2020, ColumbiaDoctors conducted an average of 300 telemedicine visits per month, Long estimates. In February, when the faculty practice launched Epic, a digital platform that integrates electronic health recordkeeping with scheduling and billing software and a patient portal, the plan was to "slowly optimize and bring more people into the new system, using the patient portal to expand virtual visits."
When the COVID-19 pandemic hit New York, plans for a gradual transition were quickly scrapped. With a focus on flattening the curve by minimizing in-person interactions, doctors quickly embraced telehealth—as did patients who needed to discuss coronavirus concerns with their primary care providers, people with chronic health issues who were eager to stay in touch with specialists, pregnant people seeking prenatal care, and many others. 
"In the entire month of February 2020, we had 222 virtual visits. During the last two weeks of March, we had nearly 14,000," says Long. "It was an amazing pickup. The providers were very engaged and determined, and the patients were also very interested." The highest use of virtual visits, not surprisingly, coincided with the peak of COVID-19 cases in New York City in April. ColumbiaDoctors conducted an impressive 40,000 virtual visits that month. 
ColumbiaDoctors continually worked to improve the patient experience through telehealth, capped with the integration of safe, reliable, secure, and private Zoom teleconferencing into Epic.
"The use of Zoom has been a game-changer for our patients and our clinicians," says Siqin "Kye" Ye, MD, associate chief medical officer for ColumbiaDoctors and assistant professor of medicine at Columbia University Vagelos College of Physicians and Surgeons. By now, he says, Zoom conferencing has become a familiar household word and a trusted means of staying connected across the nation. Patient acceptance of the technology has been very strong. "Virtual visits allow us to stay connected with our patients for routine checkups and to stay on top of any health conditions that may need ongoing care, and patients really appreciate the ease of using Zoom," Ye says.
Even when a fully remote appointment is not possible, however, telehealth still can play an important role: Patients can complete standard intake forms online via Connect, the Epic patient portal, and can communicate with their doctors easily by messaging. Lab and imaging tests can be ordered remotely, and patients can have them completed at a location most convenient to them. Results are delivered to patients via the portal, and patients can schedule virtual visits to discuss the results with their care team. 
ColumbiaDoctors now sees up to 1,600 patients per day via virtual visits, representing 22% of overall visits, says Long. 
"We certainly want to continue to provide virtual visits and grow it as appropriate to the level of care that our patients need," she says. "I see a rise in telehealth visits as COVID-19 cases continue to increase. Now, thanks to advances we've made with Zoom and patient portal technology, the experience is that much easier for patients."