Team Players Honored with 2018 Baton Awards
CUIMC presented the 2018 Baton Awards at a ceremony on Dec. 7 to three staff members—Bonita Enochs, Katy Hardy, and Brian Karolewski. The Baton Awards were created in 2009 to recognize team players at the medical center. The awards were presented at the December meeting of the CUIMC Administrators Network (CAN) meeting.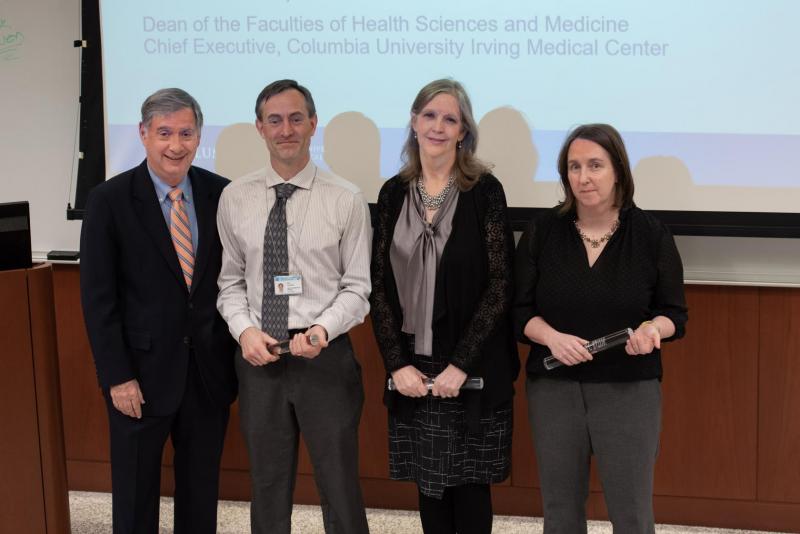 2018 Baton recipients:
Bonita Enochs, senior editorial director in the Office of Communications, has had multiple titles in her 27-plus years here but all within the communications office. Her responsibilities have changed over the years but one constant has been her role as editor of Columbia Medicine magazine. In 2016, she became editor of the College of Dental Medicine's magazine. She also works on the editorial team responsible for the CUIMC Newsroom, the CU168 enewsletter, and other internal communications, bridging the schools of CUIMC.
Katy Hardy, biostatistics department administrator in the Mailman School of Public Health, has been at the medical center for more than 21 years. She started in the Department of Pediatrics as an administrative assistant before becoming a division administrator in the endocrinology division and later with the pulmonary and GI divisions of pediatrics within VP&S. She moved to Mailman in 2011, where as biostatistics DA she has been called the "cornerstone of the department" and has been praised for her ability to think outside the lines of what a DA typically does.
Brian Karolewski, VMD, PhD, director of the Institute of Comparative Medicine (ICM) and assistant professor of pathology & cell biology, joined VP&S in 2012 after spending several years in industry. He joined the ICM as associate director and was promoted to director in 2015. The ICM ensures the humane care of animals used in approved research throughout CUIMC and across Columbia University, making Dr. Karolewski's role integral to every Columbia research project that uses animals. 
Topics