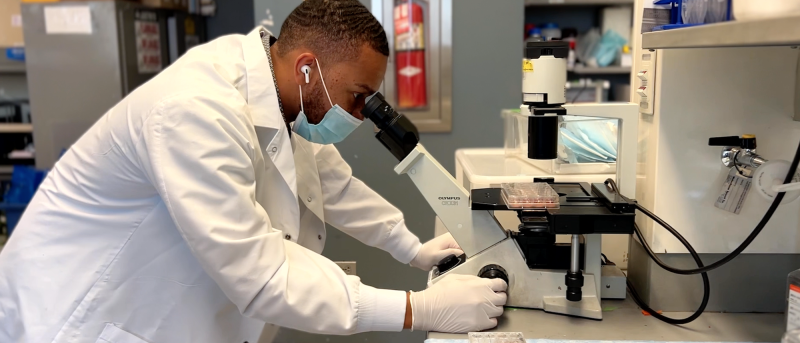 Nearly three dozen students from historically Black colleges and universities (HBCUs) joined Columbia biomedical research laboratories for a summer of science, as part of CUIMC's newest summer program: the Ernest E. Just Biomedical Research Scholars @ Columbia program.
The E.E. Just program—a collaboration between CUIMC and the United Negro College Fund (UNCF)—aims to increase the number of Black researchers at top-tier biomedical research institutions and the diversity of voices and experiences in the life sciences.
As part of the program, Mikelley Baptiste, a college student at Spelman College, got her first hands-on training in biomedical research in the laboratory of Amy Rumora, PhD, assistant professor of neurological sciences in the Department of Neurology.
"Working closely with the principal investigator has been the most valuable aspect of the program for me," says Baptiste, whose summer project explored how nerves in the hands and feet are damaged by diabetes. "And learning more in-depth about how diabetes affects people has reinforced my plans to become a physician and go into public health to help reduce those impacts, especially in minority populations which are disproportionately affected."
Chase Braithwaite, a student at Morehouse College, worked in the Zuckerman Institute laboratory of Stavros Lomvardas, PhD, professor of biochemistry & molecular biophysics and neuroscience.
"Being a part of this program helped me understand that science is not as intimidating as I thought, and that there are opportunities for creativity and innovation within the field of medicine," Braithwaite says.
The E.E. Just Scholars program began last year with 12 students from Morehouse School of Medicine who worked remotely on research projects due to COVID restrictions. This year students worked on campus, and the program was expanded to students from a variety of HBCUs.
"We believe the E.E. Just Scholars program—by providing a critical link between students at HBCUs and established researchers—will cultivate a new generation of scientists, educators, and scholars that will embrace diversity and equity in the practice, delivery, and teaching of the biomedical and behavioral sciences," says Kevin Gardner, MD, PhD, senior vice chair of pathology & cell biology who runs the program based in the Department of Pathology & Cell Biology at Columbia University Vagelos College of Physicians and Surgeons.
For Jaron Whitehead, a student at Morehouse School of Medicine, his time as an E.E. Just Scholar in the laboratory of Gordana Vunjak-Novakovic, PhD, University and Mikati Foundation Professor of Biomedical Engineering and Medical Sciences, was simply transformative: "This experience has fueled my drive to become a physician because it showed me what's possible."
References
Other summer programs at CUIMC
Several other summer research and enrichment programs for high school and college students from communities underrepresented in science and medicine were active this summer, including:
Summer Health Professions Program
This simulation-based summer program, new in 2022, aims to improve racial and ethnic diversity in the health care workforce, widely considered a key strategy to combat racial and ethnic disparities in health outcomes. The program hopes to inspire local high school students to pursue careers in the health professions through hands-on experience with medical simulators and in-person meetings with health care professionals.
The program, created by Kellie Bryant, DNP, assistant dean of clinical affairs at Columbia University School of Nursing, and Allison Lee, MD, associate professor of anesthesiology, David Wang, MD, assistant professor of anesthesiology, and Yarisell Hernandez from Roger Lehecka Double Discovery Center, is funded through the Addressing Racism: A Call to Action for Higher Education initiative of the Office of the Vice Provost for Faculty Advancement.
SHPEP (Summer Health Professions Education Program)
Established by the Robert Wood Johnson Foundation, the Summer Health Professions Education Program (SHPEP) is a free six-week summer enrichment and residential program for first- and second-year college students interested in the health professions. SHPEP at Columbia started in 2001.
SPHSP (Summer Public Health Scholars Program)
The Summer Public Health Scholars Program (SPHSP) is designed for undergraduate students and its goal is to increase interest in and knowledge of public health and biomedical science careers. SPHSP is a partnership of the Columbia University Vagelos College of Physicians and Surgeons, College of Dental Medicine, School of Nursing, and the Mailman School of Public Health.
SPURS
The SPURS Program, begun under the direction of Andrew Marks, MD, chair of the Department of Physiology and Cellular Biophysics at Columbia University Vagelos College of Physicians and Surgeons, brings college students from across the country to campus laboratories for intensive research experiences.
SPURS is in its 21st year and is designed to expand the pool of medical and biomedical research applicants from diverse and economically disadvantaged groups whose members have been underrepresented in medicine and biomedical research.
CURE Program at Herbert Irving Comprehensive Cancer Center
CURE aims to strengthen the pool of students from underrepresented and economically disadvantaged groups, including first-generation college students, entering cancer-related research fields. Since 2015, the program facilitates hands-on research experiences in the clinical, basic, and population sciences in cancer research for high school and undergraduate students.
Program to Inspire Minority and Underserved Undergraduates in Environmental Health Science Research (PrIMER)
PrIMER is a research program for full-time, undergraduate students from backgrounds typically underrepresented in STEM fields. Funded by the National Institute for Environmental Health Sciences, PrIMER provides research trainees from colleges and universities in the New York City area the opportunity to gain valuable research experience in environmental health sciences.
Biostatistics Epidemiology Summer Training Diversity Program (BEST)
BEST was established to expand and diversify the behavioral and biomedical sciences' workforce by introducing undergraduates from underrepresented populations to biostatistics and cardiovascular and pulmonary disease research. Students join the Department of Biostatistics at Columbia University's Mailman School of Public Health's for eight weeks of research, training, academic and career planning, and social activities around New York City.
Visit the Office of the Provost's website for information on programs at other Columbia schools and departments.