Student Research Seeks the Dynamics of Escape in HIV
"When I came to medical school, I was surprised to learn how many facets of medicine we still don't know," says Theodora Karagounis'18.
For Ms. Karagounis, medicine's remaining questions prompted her to help find the answers. In 2016, she was one of 66 recipients of a Howard Hughes Medical Institute research fellowship, which led her to take a year off from medical school and immerse herself in research.
The immune system has always fascinated Ms. Karagounis, and she chose to do her fellowship in the lab of Michel Nussenzweig, MD, PhD, at Rockefeller University. Dr. Nussenzweig discovered that a small number of people have antibodies that can neutralize human immunodeficiency virus (HIV). These antibodies could be the keys to a future HIV vaccine. Ms. Karagounis joined his lab during a clinical trial that administered a single dose of one of these antibodies to people with HIV-1, the most widespread form of the virus.
"HIV-1 is tough to target because of how quickly it mutates," says Ms. Karagounis. "We developed a sequencing method to look at the virus in a detailed way and see how the virus escapes the antibody. We could see there were specific point mutations that the virus developed to evade the antibodies. This could be used to screen people beforehand to determine the best set of antibodies to give to patients."
Their findings were published in Nature Medicine. Ms. Karagounis presented her work in the study at the 2017 P&S Student Research Day, where she won first prize in the research year category for "Dynamics of Escape After a Single Infusion of a Broadly Neutralizing Anti-HIV-1 Antibody in Human Subjects." She lights up when talking about her experiences in the lab.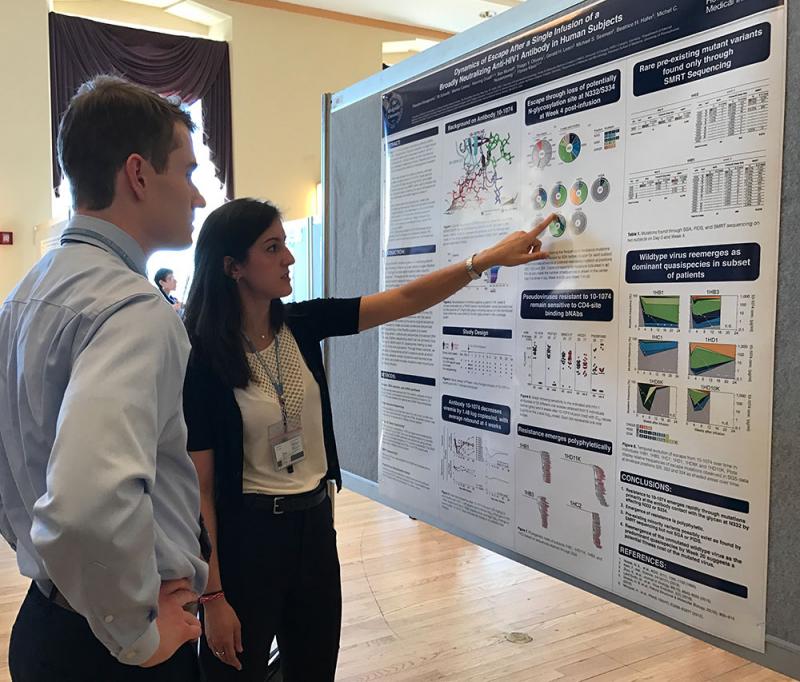 "I like working with my hands," says Ms. Karagounis. "In molecular biology, I work with all these vials of clear liquids and mix a little of this and a little of that together. It's hard to see that anything is happening. At the end of an experiment, when I review a data report that confirms my hypothesis, it feels like magic, but it's pure science."
Ms. Karagounis also loves the hands-on work of doctoring, and helping people is the reason she chose to go to medical school. "As a doctor, you see people on a daily basis and know them in an intimate way," she says.
In addition to her research activities, Ms. Karagounis has volunteered as a senior student clinician in the Q Clinic and Columbia Student Medical Outreach (CoSMO) program. Both are clinics run by P&S students who provide free primary care services to uninsured patients.
"I mentor students and I see patients," says Ms. Karagounis. "I like that the clinics are off campus. I get to see other parts of New York City and help people who need it."
Growing up, Ms. Karagounis saw up close what a medical career could be. Both of her parents are doctors. She was born in Salt Lake City and lived in Utah until age 9, when her family moved to Thessaloniki, Greece, her parents' hometown. She lived in Greece until age 18 and moved back to the United States to pursue a bachelor's degree in organic chemistry at Princeton University and now her MD/MS in Biomedical Sciences at Columbia.
Given her family's background, Ms. Karagounis may sound like a "natural," but she has encountered challenges like any other medical student. She says Major Clinical Year was a tough transition.
"I jumped into the scene on my first clinical rotation in a hospital and had to figure out my role as a medical student," she says. "I had been told what to do, but it was not always obvious. On day one, I was in the emergency room and meeting with patients. I had 200 questions to ask but quickly saw there wasn't time to ask everything. I started with general questions. As I gathered information, I imagined a decision tree forming in my head and asked questions to flesh out its branches. This is how I learned to build a framework for interacting with patients."
Along the way, Ms. Karagounis has found mentors to guide her, especially Veronica Rotemberg, MD, a dermatology resident at Columbia University Medical Center and NewYork-Presbyterian Hospital.
"She's given me lots of advice on everything from applying to residencies to reducing day-to-day stress," says Ms. Karagounis. "She said 'Here's my cell number. Text me if you need anything.'"
Thanks to her experiences in the lab and on clinical rotations, Ms. Karagounis envisions a career as a dermatologist. "The skin is so diverse," she says. "In the skin, you can see autoimmune, infectious, and oncologic conditions."
Such diversity is perfect for Ms. Karagounis, who hopes to continue doing research down the line and expanding what we know about medicine. She adds: "I love caring for patients and also love learning what's going on in patients."