Stephanie Lovinsky-Desir to Lead Pediatric Pulmonology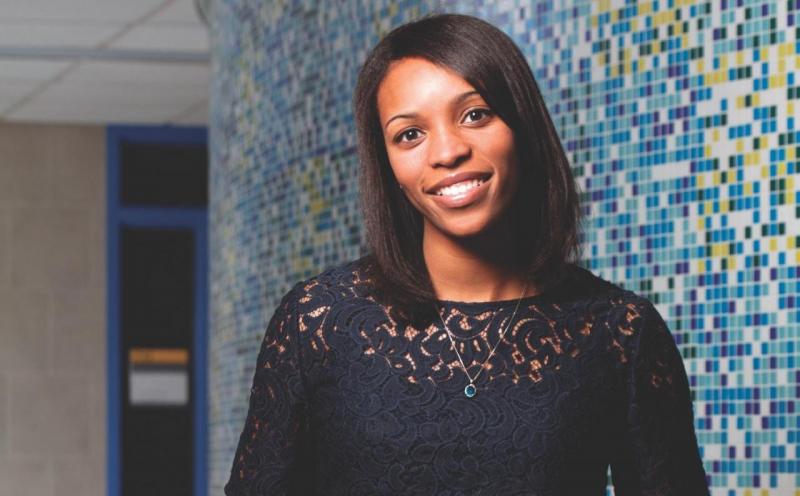 Stephanie Lovinsky-Desir, MD, a nationally recognized asthma researcher and rising leader in pediatric pulmonary medicine, has been named director of pediatric pulmonology at Columbia University Vagelos College of Physicians and Surgeons and NewYork-Presbyterian/Columbia University Irving Medical Center.
Starting July 1, 2021, she will begin a transition to her new post while completing important research objectives. Starting Jan. 1, 2022, Lovinsky-Desir will assume full responsibilities as director of the Division of Pulmonology in the Department of Pediatrics. She is currently assistant professor of pediatrics at VP&S.
Lovinsky-Desir's research focuses on disparities in health outcomes for underrepresented minorities, urban environmental exposures, and the association between air pollution exposure and physical activity patterns among young people.
Her own experiences with asthma as a child have inspired her career and research focus. "As a child, I spent a lot of time in doctors' offices and emergency departments with symptoms of asthma, and I learned early on how important it is to trust your doctor," Lovinsky-Desir says. "The physicians who cared for me during that time inspired me to become a pediatrician and to specialize in pulmonology."
As part of the National Institutes of Health–funded Inner City Asthma Consortium, she and colleagues are studying immunotherapies and other medications for children with asthma. She also works with physician-scientists from academic centers across New York City through the Health Data for New York City initiative to better understand the links between housing and asthma. The goal is to increase health equity among the city's many populations. She also is a member of the Diversity and Health Equity Committee of the American Thoracic Society, which is exploring why COVID-19 cases and mortality rates are disproportionately higher among Black Americans and Latinos.
Lovinsky-Desir has published over 30 research papers and received a K01 career development award from the National Heart, Lung, and Blood Institute to study physical activity and air pollution in urban asthma. She has received numerous awards, including the Young Physician Scientist Award of the American Society for Clinical Investigation, the Early Career Investigator Award from the Society for Pediatric Research (of which she is an elected member), and a Young Investigator Award from the American Society for Clinical Investigation. She is a member of the Department of Pediatrics' Research Advisory Committee.
In addition, the American Thoracic Society's Assembly on Pediatric (PEDS) Award Selection Committee has chosen Lovinsky-Desir to receive the ATS Assembly on Pediatrics Robert B. Mellins, M.D. Outstanding Achievement Award in recognition of her scholarship, mentorship, and academic achievements over 2020-21. (Mellins, a much-lauded VP&S faculty member who died in 2012, was a founding father of the specialty of pediatric pulmonology and the first director of pediatric pulmonology at VP&S).
Lovinsky-Desir joined the Department of Pediatrics in 2013. She completed her fellowship in pediatric pulmonary medicine at Columbia; her pediatrics residency in the Social Pediatrics Residency Program at Montefiore; and her medical degree at New York Medical College. She also earned a master of science degree from the Mailman School of Public Health.
Lovinsky-Desir will succeed Meyer Kattan, MD, professor of pediatrics, who served as director of pediatric pulmonology for 15 years. He will stay at Columbia to continue caring for children with pulmonary conditions and to pursue research. His legacy includes many important contributions to pediatric pulmonology in addition to contributing to the career growth of Lovinsky-Desir.