Stents, Bypass Equally Safe & Effective For Many With Left Main Heart Disease
Stents offer less-invasive option for many patients with left main coronary artery disease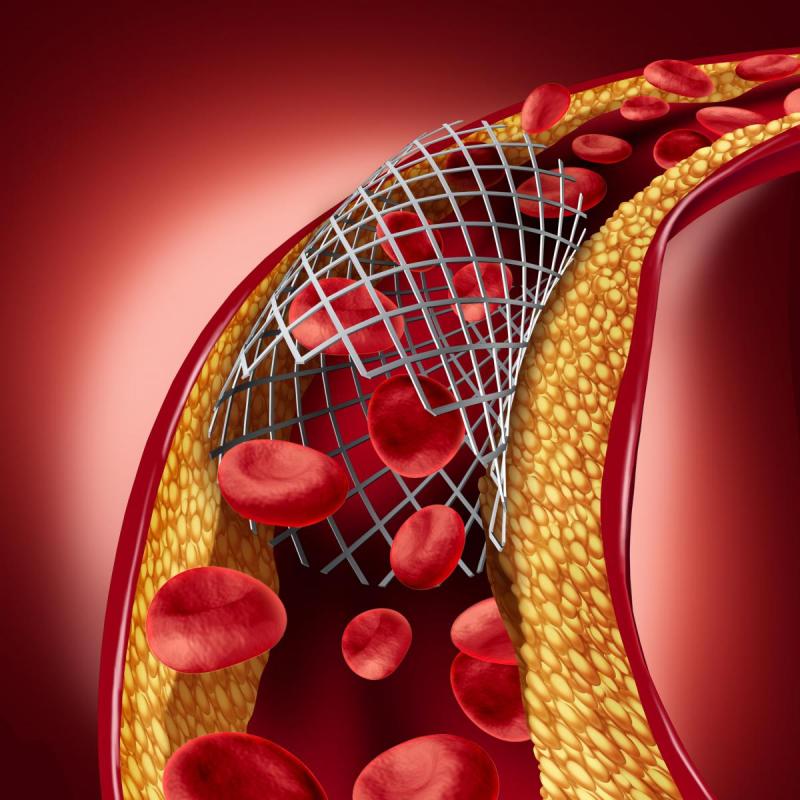 NEW YORK, NY (Oct. 31, 2016)—A major international study has found that drug-eluting stents, a less-invasive alternative to bypass surgery, are as effective as surgery for many patients with a blockage in the left main coronary artery.
Findings from the EXCEL (Evaluation of XIENCE versus Coronary Artery Bypass Surgery for Effectiveness of Left Main Revascularization) trial were published this morning online in the New England Journal of Medicine and presented at the annual Transcatheter Cardiovascular Therapeutics conference in Washington, D.C. The trial research team included interventional cardiologists and cardiac surgeons from 126 centers in 17 countries.
Coronary artery bypass graft (CABG) surgery has long been considered the definitive treatment for patients with left main coronary artery disease (LMCAD), in which the artery that supplies oxygen-rich blood to most of the heart muscle is clogged with atherosclerotic plaque. About two-thirds of all LMCAD patients have mild to moderate disease in the remainder of the coronary arteries.
"Our study has shown that many patients with left main coronary artery disease who prefer a minimally invasive approach can now rest assured that a stent is as effective as bypass surgery for at least three years and is initially safer, with fewer complications from the procedure," said first author Gregg W. Stone, MD, professor of medicine at Columbia University Medical Center and director of cardiovascular research and education at the Center for Interventional Vascular Therapy at NewYork-Presbyterian/Columbia.
Stents, which are placed into the diseased artery via a catheter that is inserted through a small opening in a blood vessel in the groin, arm, or neck, are a less-invasive treatment option for many people with coronary artery disease. However, coronary artery bypass surgery (CABG) has long been considered the definitive treatment for patients with LMCAD, which affects a large portion of the heart muscle. Previously, randomized clinical trials suggested that first-generation drug-eluting stents, which release antiproliferative medications to prevent the artery from becoming re-occluded after stent placement, might be appropriate for patients with LMCAD without extensive blockages in the remainder of the heart arteries. The trial results, however, were inconclusive. "Since that time, stents have gotten better, and so has cardiac bypass surgery," said Dr. Stone. "That required us to take a fresh look at the relative safety and effectiveness of the two approaches."
In the current study, 1,905 patients with LMCAD and low or intermediate coronary artery disease complexity (as determined by the SYNTAX score, an angiographic tool for measuring disease severity) were randomized to receive a drug-eluting stent that releases the antiproliferative agent everolimus (XIENCE, made by Abbott Vascular of Santa Clara, Calif.) or bypass surgery. The patients were followed for at least two years, with a median follow-up of three years.
"We found that approximately 15 percent of patients in both groups had a heart attack, stroke, or died within three years," said Dr. Stone, lead author of the paper. "In other words, stents were equally effective as bypass surgery."
The researchers also analyzed what happened to the patients in the first 30 days after treatment, when serious complications are most likely to occur. Within that period, stent patients had a significantly lower incidence (4.9 percent) of death, stroke, heart attack, or revascularization than those who had bypass surgery (7.9 percent). In addition, fewer stent patients had major bleeding, infections, kidney failure, or severe abnormal heart rhythms compared with those who were treated with surgery.
The researchers reported that bypass surgery should still be considered standard therapy for those with LMCAD and extensive blockages in the remainder of the heart arteries, although the study did not include patients with severe disease.
"Our study establishes stents as an acceptable or preferred alternative for patients with LMCAD and low or moderate disease complexity in the other three coronary arteries—about two-thirds of all LMCAD patients," said Dr. Stone. "While bypass is still considered a more durable repair, patients and doctors may prefer a percutaneous treatment approach, which is associated with better upfront results, fewer complications, and quicker recovery."
References
About Coronary Artery Disease
Coronary artery disease (CAD), the most common form of heart disease in the United States, results from the buildup of atherosclerotic plaques in the arteries that supply oxygenated blood to the heart. CAD frequently leads to strokes or heart attacks, killing more than 370,000 people annually, according to the Centers for Disease Control and Prevention. The left main artery, the primary supply of blood to the heart, is affected in about 10 percent of people with CAD.
About the Study
The study is titled, "Comparison of Everolimus-Eluting Stents and Bypass Graft Surgery in Selected Patients with Left Main Coronary Artery Disease." The other contributors are Joseph F. Sabik (Cleveland Clinic Foundation, Cleveland, OH); Patrick W. Serruys (International Centre for Circulatory Health, NHLI, Imperial College London, London, UK); Charles A. Simonton (Abbott Vascular, Santa Clara, CA); Philippe Généreux, Erick Schampaert, and Pierre Pagé (Hôpital du Sacré-Coeur de Montréal, Montréal, Québec, Canada); John Puskas and Roxana Mehran (Mount Sinai Hospital, New York, NY); Nicholas Lembo, David E. Kandzari, and W. Morris Brown, III (Piedmont Hospital, Atlanta, GA); Marie-Claude Morice (Générale de Santé, Hopital Privé Jacques Cartier, Massy, France); David Taggart and Adrian Banning (John Radcliffe Hospital, Oxford, UK); Béla Merkely and Ferenc Horkay (Semmelweis University, Budapest, Hungary); Piet W. Boonstra and Ad Johannes van Boven (Medisch Centrum Leeuwarden, Leeuwarden, The Netherlands); Imre Ungi and Gabor Bogáts (University of Szeged, Szeged, Hungary); Samer Mansour and Nicolas Noiseux (Hôpital Hôtel-Dieu de Montréal, Montréal, Québec, Canada); Manel Sabaté and Jose Pomar (Hospital Clinic, Barcelona, Spain); Mark Hickey and Anthony Gershlick (University Hospitals of Leicester NHS Trust, Leicester, UK); Pawel Buszman and Andrzej Bochenek (Medical University of Silesia, Katowice, Poland and American Heart of Poland, Ustron, Poland); Ovidiu Dressler (Cardiovascular Research Center, New York, NY); Ioanna Kosmidou (NewYork-Presbyterian, New York, NY); Stuart J. Pocock (London School of Hygiene and Tropical Medicine, London, UK); and Arie Pieter Kappetein (Erasmus Medical Center, Rotterdam, The Netherlands).
The study was sponsored and funded by Abbott Vascular, Santa Clara, Calif.
Additional authors' disclosures are included in the article.
Related NEJM Editorial http://www.nejm.org/doi/full/10.1056/NEJMe1612570
Columbia University Medical Center provides international leadership in basic, preclinical, and clinical research; medical and health sciences education; and patient care. The medical center trains future leaders and includes the dedicated work of many physicians, scientists, public health professionals, dentists, and nurses at the College of Physicians and Surgeons, the Mailman School of Public Health, the College of Dental Medicine, the School of Nursing, the biomedical departments of the Graduate School of Arts and Sciences, and allied research centers and institutions. Columbia University Medical Center is home to the largest medical research enterprise in New York City and State and one of the largest faculty medical practices in the Northeast. The campus that Columbia University Medical Center shares with its hospital partner, NewYork-Presbyterian, is now called the Columbia University Irving Medical Center. For more information, visit cumc.columbia.edu or columbiadoctors.org.
NewYork-Presbyterian
NewYork-Presbyterian is one of the nation's most comprehensive healthcare delivery networks, focused on providing innovative and compassionate care to patients in the New York metropolitan area and throughout the globe. In collaboration with two renowned medical school partners, Weill Cornell Medicine and Columbia University College of Physicians & Surgeons, NewYork-Presbyterian is consistently recognized as a leader in medical education, groundbreaking research and clinical innovation.
NewYork-Presbyterian has four major divisions: NewYork-Presbyterian Hospital is ranked #1 in the New York metropolitan area by U.S. News and World Report and repeatedly named to the magazine's Honor Roll of best hospitals in the nation; NewYork-Presbyterian Regional Hospital Network is comprised of leading hospitals in and around New York and delivers high-quality care to patients throughout the region; NewYork-Presbyterian Physician Services connects medical experts with patients in their communities; and NewYork-Presbyterian Community and Population Health features the hospital's ambulatory care network sites and operations, community care initiatives and healthcare quality programs, including NewYork Quality Care, established by NewYork-Presbyterian, Weill Cornell and Columbia.
NewYork-Presbyterian is one of the largest healthcare providers in the U.S. Each year, nearly 29,000 NewYork-Presbyterian professionals deliver exceptional care to more than 2 million patients.
For more information, visit www.nyp.org and find us on Facebook, Twitter and YouTube.