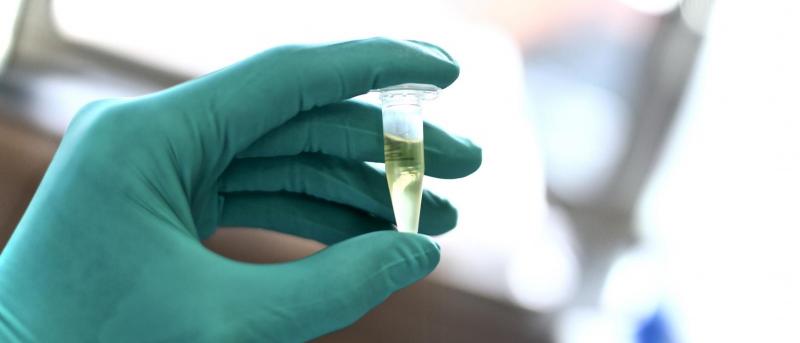 Spinal Fluid Test Offers Reliable Way to Diagnose Alzheimer's
A test that measures amyloid and tau levels in cerebrospinal fluid can accurately identify most patients with Alzheimer's disease, according to a study by Columbia University neurologists, and could play a wider role in diagnosing the disease.
"Our study shows that this is a good test that can be used in clinical practice to reliably exclude other diagnoses in patients suspected of having Alzheimer's disease," says Richard Mayeux, MD, chair of the Department of Neurology at Columbia University Vagelos College of Physicians and Surgeons and senior author of the paper. "It's better than amyloid PET scans, which only look at the amount of amyloid protein in the brain, because it measures amyloid and two types of tau protein." 
Background
Alzheimer's disease can only be definitively diagnosed with an autopsy, but clinicians use a variety of methods to rule out other possible causes of dementia. (About 60 percent to 70 percent of dementia cases are caused by Alzheimer's.)
Cerebrospinal fluid, which has direct contact with the brain, offers a window into the brain's condition. Researchers have found that certain levels of tau and amyloid proteins in this fluid are associated with the disease, prompting many neurologists to include tests that look for these 'biomarkers' in cerebrospinal fluid in their diagnostic workup.
However, a recent systematic review of data from 231 studies concluded that the test may have limited clinical value.
"But these studies only compared individuals who had been clinically diagnosed with Alzheimer's with healthy controls," says Mayeux. "That doesn't reflect what's done in clinical practice, where physicians must determine whether dementia and other symptoms are due to Alzheimer's or other diseases."
What the researchers did
The current study was the first to examine the test's utility in a clinical setting.
Mayeux and colleagues looked at data from 1,016 patients at Columbia University Irving Medical Center with various forms of dementia or mild cognitive impairment who had undergone lumbar puncture between 2005 and 2017. The cerebrospinal fluid samples were sent to a commercial laboratory for analysis.
The researchers discovered that the test identified close to 90 percent of those who had a clinical diagnosis of the disease compared with patients who had no dementia or other types of dementia. The test was able to correctly identify about 70 percent to 80 percent of patients with other types of dementia or mild cognitive impairment but was not able to distinguish among the different types.
"Our study shows that this is a good test, just missing the accuracy in distinguishing between Alzheimer's and non-Alzheimer's dementia or mild cognitive impairment needed to make it an excellent test," Mayeux says. 
Why it matters
Currently no single test can definitively identify Alzheimer's, but this test may help identify the disease in tricky cases where Alzheimer's is one of the diagnoses being considered. 
How the test works
The test is performed with a lumbar puncture, a 30- to 40-minute procedure, performed with a local anesthetic, to collect the fluid. Fewer than 5 percent of patients experience a headache after this procedure.
"This test is much easier to administer and is much safer than many people think," says Mayeux. "It also costs around $1,000 versus $3,500 for amyloid PET scan."
What's next
Mayeux and his research team plan to perform additional studies to determine if other proteins in cerebrospinal fluid can improve the test's ability to distinguish Alzheimer's from other causes of dementia. 
More details
The paper, "Clinical Experience with Cerebrospinal Fluid Aß42, Total and Phosphyorylated Tau in the Evaluation of 1,1016 Individuals for Suspected Dementia," was published online in the Journal of Alzheimer's Disease on Sept. 25, 2018, and is an Editor's Choice selection by the Journal of Alzheimer's Disease.
Other authors: Leonardo Tariciotti (University of Rome, Italy), Matthew Casadei (Hamilton College, Clinton, N.Y.), Lawrence Honig (Columbia University Vagelos College of Physicians & Surgeons), Andrew Teich (VP&S), Guy McKhann II (VP&S), and Giousepe Tosto (VP&S).
The study was supported by a grant from the National Institute on Aging (P50AG08702). The authors declare no financial or other conflicts of interest.