In Some TAVR Patients, Cardiac Amyloidosis Picture Comes Into Focus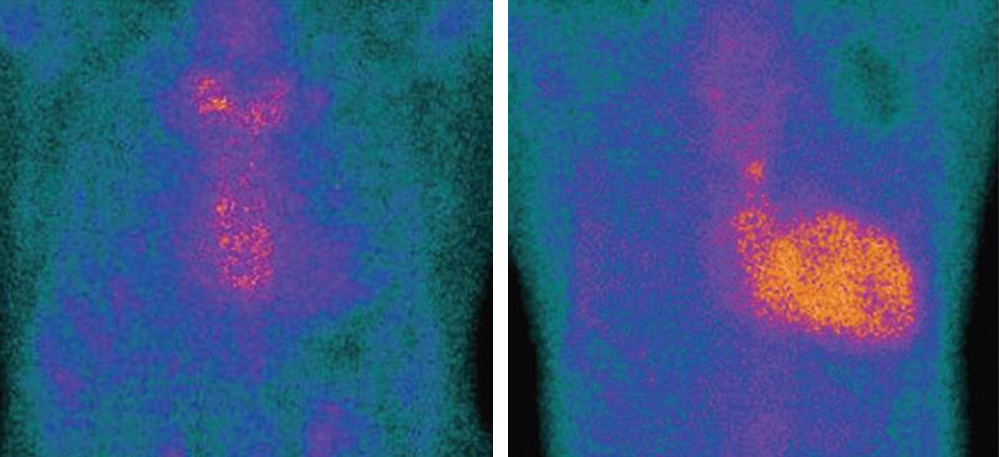 Deposits of an abnormal protein in the heart may explain why some elderly patients benefit less than others from a heart valve replacement procedure, a new study from CUIMC researchers has found.
Since its introduction in 2002, transaortic valve replacement (TAVR) has added years to the lives of patients with calcified aortic valves. Because TAVR is a minimally invasive procedure, it has made aortic valve replacement a possibility for thousands of elderly patients unable to tolerate traditional open-heart surgery to replace the valve.
But some TAVR patients with severely calcified valves—and an unusual pattern of heart failure—have poorer outcomes compared with others. That pattern, known as low-flow, low-gradient aortic stenosis, results in reduced blood flow across the aortic valve—usually when heart muscle contraction is impaired but also when it remains paradoxically normal. "It may be that these patients have an underlying disease beyond the aortic valve and in the heart muscle itself that exacerbates their heart failure, which may explain why these patients have worse outcomes after the TAVR procedure compared with other patients," says study leader Adam Castano, MD, an advanced cardiac imaging fellow in NewYork-Presbyterian/CUIMC's Division of Nuclear Cardiology.
The new study shows that the underlying disease is transthyretin-related cardiac amyloidosis (ATTR-CA), which causes the buildup of amyloid protein deposits in the heart muscle.
"ATTR-CA isn't on everyone's radar quite yet, even though recent studies have demonstrated that it's a lot more common than once thought," says Dr. Castano.
Those studies show that the prevalence of ATTR-CA in patients hospitalized with heart failure is about 13 percent, and autopsy reports suggest the disease is present in around 32 percent of patients over age 75.
ATTR-CA is becoming more well-known, thanks in part to a new noninvasive imaging technique using technetium pyrophosphate that Dr. Castano developed with NewYork-Presbyterian/CUIMC colleagues Sabahat Bokhari, MD, director of nuclear cardiology, and Mathew Maurer, MD, the Arnold and Arlene Goldstein Professor of Cardiology. The test can identify the disease (previously only detectable with a heart biopsy) using imaging technology similar to bone scanners.
In the new study, Dr. Castano and his colleagues used the imaging to examine 151 elderly patients (average age of 84 years) with severely calcified aortic valves who underwent a TAVR procedure. They found that 16 percent of these patients had ATTR-CA, and these same patients had the unusual heart failure pattern.
"Having a noninvasive test for ATTR-CA made it possible for us to establish a link between amyloidosis and this specific type of aortic stenosis," says Dr. Castano. "But it also opens up new questions about how we should treat these patients, with an eye toward improving TAVR outcomes."
Right now, the TAVR procedure is still better than medical therapy for these patients. With a number of novel drugs for ATTR-CA in clinical development, it may soon be possible to treat the underlying condition with medication in conjunction with TAVR.
"Knowing which aortic stenosis patients should be screened for ATTR-CA may enable us to identify and treat the disease before overt heart failure begins and could help us improve outcomes for patients who need TAVR," Dr. Castano says.
###
References
About:
The study, "Unveiling transthyretin cardiac amyloidosis and its predictors among elderly patients with severe aortic stenosis undergoing transcatheter aortic valve replacement," was published in European Heart Journal on Aug. 1, 2017.
Additional authors (all CUIMC) are David L. Narotsky, Nadira Hamid, Omar K. Khalique, Rachelle Morgenstern, Albert DeLuca, Jonah Rubin, Codruta Chiuzan, Tamim Nazif, Torsten Vahl, Isaac George, Susheel Kodali, Martin B. Leon, Rebecca Hahn, Sabahat Bokhari, and Mathew S. Maurer.
The authors report receiving support and consulting fees from a variety of pharmaceutical companies and advisory boards (see paper for complete list); MSM receives funding from an NIH Midcareer Mentoring Award in Geriatric Cardiology (K24 AG036778).