Six Questions About Emergency Medicine with Angela Mills, MD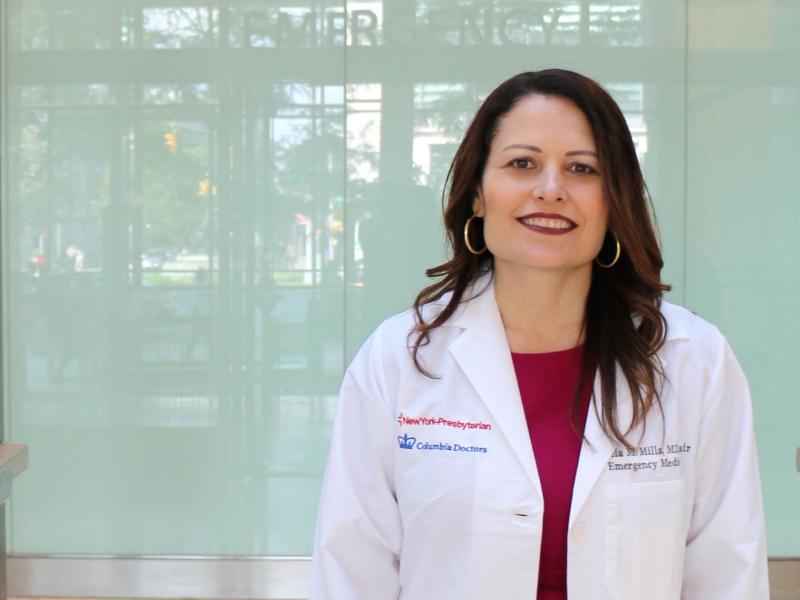 Though emergency medicine physicians account for less than 5 percent of active doctors in the U.S., they have a disportionate impact on patient care.
About 1 in 5 Americans will visit an emergency department (ED) in any given year, and the department also serves as a safety net for millions who cannot get care elsewhere.
In addition to treating a large proportion of Americans each year, emergency physicians also play major roles in hospital admissions -- about half of all patients admitted to U.S. hospitals come via the emergency department -- and they are increasingly responsible for diagnosing patients sent to the ED by primary care physicians.
But emergency departments are also being asked to solve a lot of problems in the health care system that they're not equipped for, says Angela Mills, MD, chair of the Department of Emergency Medicine and the J.E. Beaumont Professor of Emergency Medicine at Columbia University Vagelos College of Physicians and Surgeons, and chief of emergency medicine services for the Columbia campus of NewYork-Presbyterian Hospital.
The CUIMC Newsroom recently spoke with Mills, who took charge of the Department of Emergency Medicine earlier this year after spending most of her career at the University of Pennsylvania, where she was professor of emergency medicine and vice chair of clinical operations in the Department of Emergency Medicine.
Q: When EDs are in the news, it's often about the number of uninsured people who are said to use the ED for primary care. Is this a real problem?
A: I want to reframe the concepts of emergency care and non-urgent care. Emergency Medicine is the specialty dedicated to the diagnosis and treatment of unexpected illness and injury, as well as the prudent layperson's decision to seek unscheduled care. We are proud to provide care to anyone who needs it regardless of ability to pay.
But I want to stress that the overwhelming majority of patients seeking care in the emergency department are insured, and we are a safety net to the insured just as much as we are to the uninsured.
We provide the opportunity for unscheduled care 24 hours a day, 7 days a week, 365 days a year, and I believe that the annual growth year after year in emergency department visits in this country is the best testimony to the value that both patients and their physicians place on the care they receive in the ED.
Emergency physicians are master diagnosticians and take care of anything that comes their way. And because of this, numerous patients are sent to EDs by their primary care providers and specialists for evaluation, diagnosis, and treatment.
ED physicians also may be keeping overall costs down by reducing preventable hospital admissions.
Q: You recently said – in your TEDx talk – that the ED is asked to solve a lot of problems in the health care system that it's just not equipped for. What needs to be done, and how can ED physicians help change things?
A: For many patients, their care in the ED points to the most significant unspoken limitation in our current health care system…which is that it's not set up to care for the patient as a whole. EDs are expected to assume more responsibility for a patient's overall health than they are equipped to do. When patients present with addiction, mental health illness, or interpersonal violence, they don't just need medical help, they need patient-centered care. This is not an ED problem but rather a challenge for our entire society.
We need a health care system where patient needs are more effectively addressed, where patients have timely access to care, where mental health issues are not stigmatized, where addiction is treated with innovation and compassion, where gun violence is recognized as a public health issue, and where we, as a society, fund violence research.
Q: What attracted you to emergency medicine?
I initially chose surgery as a specialty, and it was while consulting in the ED as a first-year surgery resident that I discovered my love for emergency medicine. I enjoy the breadth and challenge of patients, from those with acute strokes, trauma, pregnancy complications, and mental health illnesses to those with orthopedic injuries. Most of all I love the substantial impact you have on a large volume of patients in such a short amount of time. Working with all of the specialties in the hospital and mentoring and teaching trainees reminds me every day that academic emergency medicine was the right choice for me.
Being an emergency physician also is a very humanistic endeavor. As emergency physicians, we care for everyone who is in need at all times of day: nights, weekends, holidays, regardless of disease, regardless of ability to pay, whether patients are homeless or wealthy. We provide care to those who are often at their worst -- in pain, depression, fear and uncertainty, hopelessness, and victims of violence. Emergency department staff are often verbally abused by patients for those reasons, in addition to their frustration waiting for admission to a crowded hospital. The key to providing emergent care to everyone is to maintain the core reason we all chose emergency medicine, which is to provide the highest-quality patient-centered care while serving the health system and local and global communities.
Q: Is there something unique that medical students can learn in emergency medicine? (Note: VP&S students can choose a 1-week selective in emergency medicine during MCY.)
A: The ED is one of the key places where medical education is experiential, and we bring that to all of our learners, including medical students, residents, fellows, advanced practice providers, faculty, and the greater community. I think a clerkship in emergency medicine has great benefit for all physicians, not just those thinking about emergency medicine as a career. The numerous skills --learning to recognize the acutely ill, understanding the approach to the undifferentiated patient, caring for patients with limited information and medical history available, urgent decision-making, and prioritizing tasks in a busy clinical environment where things must be performed in a short amount of time -- are incredibly useful for most physicians regardless of career path.
Q: What makes a Columbia emergency physician unique?
Physicians at CUIMC are here for a reason. They have a true commitment to the community that we serve, and they're devoted to education and want to teach the next generation of leaders in emergency medicine.
They're also very committed to research, and there are greater research opportunities here than at other places. The emergency department is an ideal place for research as we provide care for the acute phases of almost all diseases, which lends itself well to clinical trials for a variety of illnesses. Due to emergency physicians' ability to understand the overall delivery of care in health systems and resource allocation, our specialty has numerous researchers focused on health services and health policy research. Faculty here have the ability to collaborate not only with those in our own department, but also with researchers in other departments and other schools such as the Mailman School of Public Health. As we grow, our focus will be on a few key research areas of expertise, such as clinical research, health services, and health policy.
Q: In other departments, many patients come from all over the world, but most patients in the ED are from the local community. What's the relationship the ED has with the community that maybe other departments don't have?
One of the key aspects of our department's mission is to serve the health system and local and global communities. Our local community comprises the majority of the patients for whom we care, and there is a deep-rooted culture of service within our department. We are quite fortunate to have a local community that is so incredibly engaged and allows us to be collaborative and tackle challenges together. In all of health care, but especially in emergency medicine, socioeconomic determinants of health actually have a greater impact on wellness than on medical care. It is by partnering with our community that we can start to impact wellness and ultimately improve health.