Six Employees Honored at Annual VP&S Awards Ceremony
Each year, the Columbia University Vagelos College of Physicians and Surgeons (VP&S) honors a few select staff members—chosen by a committee from a pool of nominees—for their outstanding contributions in the workplace. "This is one of the special events of the year," said Lee Goldman, MD, the dean of the Faculties of Health Sciences and Medicine and chief executive of Columbia University Irving Medical Center (CUIMC). "The people we honor here today really serve as the backbone that allows everything else to function." Following are the recipients of the 2017 VP&S Awards for Excellence, presented at a Jan. 18, 2018, ceremony:
Officer of Administration/Managerial Award—Antoine Florestal, facility manager, Institute of Comparative Medicine
During his 30-year career at Columbia, Mr. Florestal has served as a leader and mentor to dozens of employees. He oversees six supervisors and a staff of more than 90 technicians of varied backgrounds who manage facility operations across the medical center.
"Antoine works 24/7 and is always prepared to resolve any issue with minimal downtime," one nominator said. Some of his top accomplishments include mobilizing teams to prepare facilities at the Irving Cancer Research Center in 2005 and, more recently, his work at the Black Building and the Jerome L. Greene Science Center on Columbia's Manhattanville campus.
Officer of Administration/Administrative Professional Award—Lisa Hasenbalg, executive assistant, Department of Anesthesiology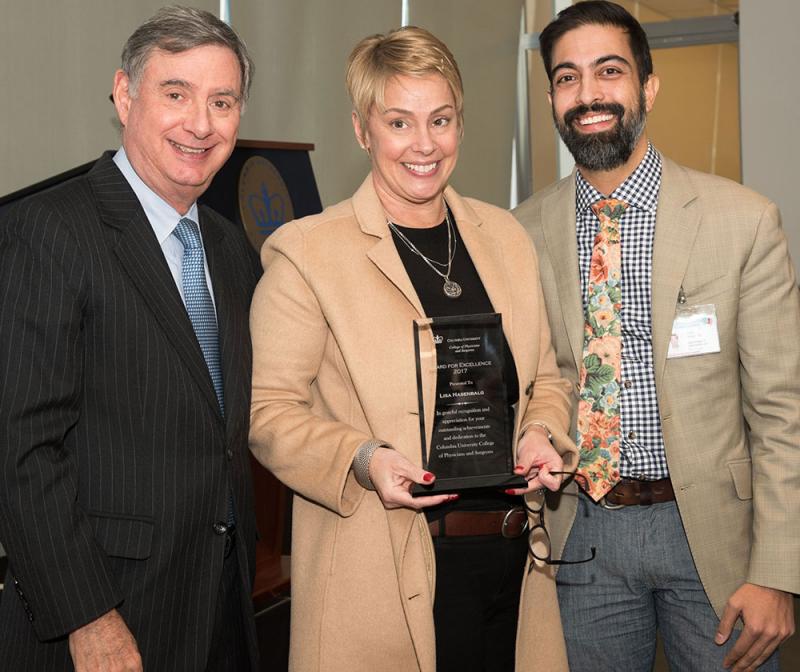 Ms. Hasenbalg was honored for her work revamping and modernizing the Anesthesiology Critical Care Medicine Fellowship program and going beyond the call of duty as executive assistant to the Critical Care Medicine Division in the Department of Anesthesiology.
"Lisa doesn't simply manage Herculean tasks; she makes them look easy," said one nominator. Colleagues credit her with improving group cohesiveness and fostering wellness through her communications. She has created a critical care medicine site on SharePoint and launched an initiative on WhatsApp Messenger to share updates, deadline notices, meeting reminders, and motivational messages with the critical care team.
Officer of Research Award—Thomas Gardner, senior staff associate, Department of Orthopedic Surgery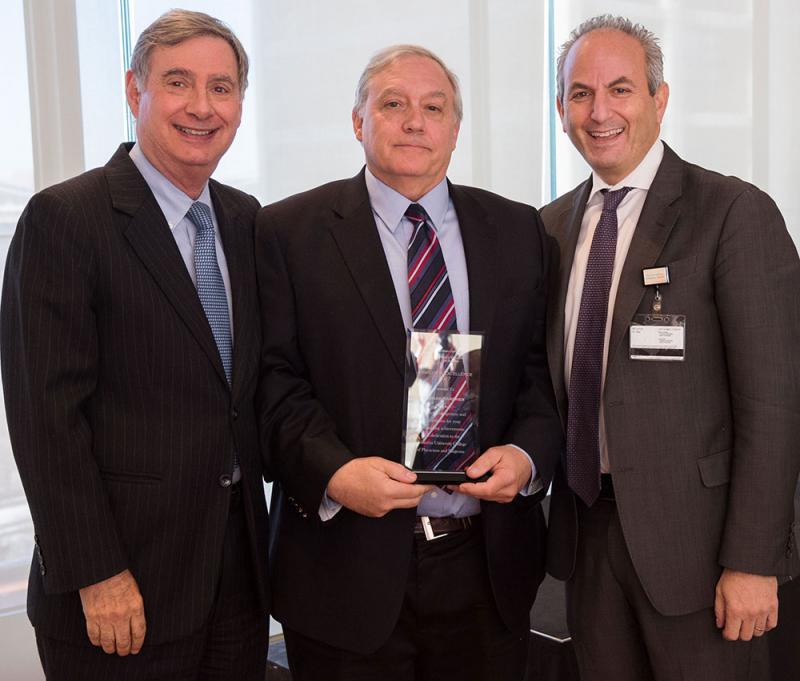 Mr. Gardner currently directs the Biomechanics Laboratory and research administration efforts for the Department of Orthopedic Surgery. Over the years, his research has evolved from understanding the biomechanical function of joints and musculoskeletal tissues to creating patient-specific computer models of joints for surgical planning. As one nominator wrote, "This translational work directly impacted clinical care through the use of cutting-edge biomechanical approaches."
Mr. Gardner helped to manage key aspects of the relocation of research space during the construction of the Carroll Laboratories for Orthopedic Surgery and now works with the director there to create an "inclusive, collaborative, multidisciplinary" environment to "serve as a model for all labs."
SSA Union Member/Clerical Technical Award—Wen-Hsuan Wu, senior research worker, Department of Ophthalmology
Ms. Wu was the first person in Dr. Stephen Tsang's genome engineering lab to master a critical procedure in the lab's cell transplantation studies. She invented a new surgical instrument and techniques to facilitate the procedure (subretinal injections in mice). Thanks to her innovations, the success rate of the lab's subretinal injections improved from 10 percent to 75 percent. Her expertise spans gene-editing, stem cell engineering, retinal surgery, and electrophysiology, to name a few. As one nominator said, "Her exceptional stamina, commitment, and attention to detail already put her far ahead of many of her peers."
Diversity Award—Linda Aponte-Patel, MD, assistant professor of pediatrics at CUIMC and associate program director, Pediatric Residency Program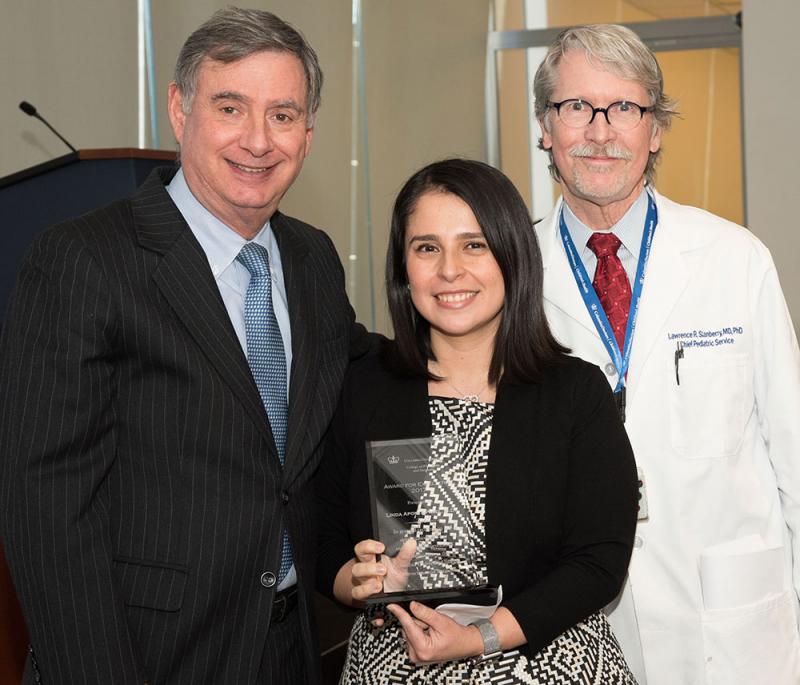 Dr. Aponte-Patel has implemented a resident-driven diversity and inclusion curriculum for the department's residency program to address race, implicit bias, and microaggressions. Since 2013, she has chaired the Pediatric Residency Diversity and Inclusion Council at NewYork-Presbyterian's Morgan Stanley Children's Hospital; this group recruits and supports residents who identify as underrepresented based on race, ethnicity, religion, socioeconomic status, or sexual orientation. She is one of the founding faculty leaders of the Kenneth A. Forde Diversity Council and co-chairs NYP's Graduate Medical Education Diversity and Inclusion Council. As one close collaborator noted, "She is a tireless advocate to engage our Department of Pediatrics, residency program, and hospital system to serve our community and better reflect the community that we serve."
Community Service Award—Samuel Silverstein, MD, the John C. Dalton Professor of Physiology and Cellular Biophysics
Cited by nominators for his "outstanding leadership," Dr. Silverstein founded Columbia University's Summer Research Program for Science Teachers, a professional development program that provides paid fellowships for New York metropolitan area secondary science teachers to perform hands-on research in Columbia University laboratories. More than 100 faculty members have mentored teachers and led professional development seminars and workshops.
Over the past 29 years, the program has engaged 329 science teachers and benefited their nearly 275,000 students. The program, its graduates, and their students have earned 53 national, state, and local awards since 2003.
VP&S has presented the Awards for Excellence since 2008 to employees to recognize exceptional performance and contributions by individuals who contribute to the success of departments, institutes, and laboratories, which translates into success for the entire school.
Watch the full event recording here.