Simulation Models in OB/GYN Medical Education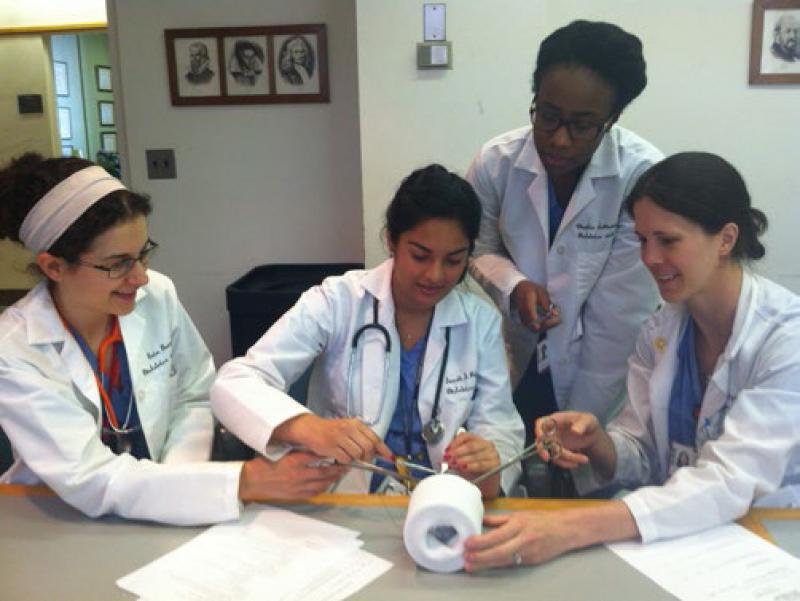 By Elizabeth Gough-Gordon
Simulation models are becoming increasingly common in medical school and residency curricula. Ranging from simple anatomical models to high-fidelity mannequins equipped with computer controls for realistic responses, these technologies can provide valuable hands-on training for numerous medical procedures. While few programs systematically incorporate simulation as a learning assessment tool, Rini Ratan, MD, has created a unique simulation-based educational assessment in her role as director of both the OB/GYN residency program and the clerkship rotation.
Dr. Ratan was instrumental in creating a simulation-based objective structured clinical examination for medical students. "It was our first at Columbia University College of Physicians and Surgeons for medical students and was very well received," says Dr. Ratan. "Students felt that it was a very fair way of being tested and allowed them to show strengths that they couldn't show on a standardized test."
Drawing on the success of the exam, Dr. Ratan developed a similar program in 2008 for OB/GYN residents. Coined the Sloane Olympics, it has become an annual event consisting of individual stations with both low- and high-fidelity simulation models. Led by the core faculty and division chiefs, each station has educational objectives that align with rotations in the curriculum. Residents are given the opportunity to practice procedures on simulation models while receiving valuable feedback from the faculty.
In addition to the Sloane Olympics simulation-based exam, monthly simulation sessions have been integrated into the curriculum for residents. Following a didactic lecture, faculty members lead residents in practicing procedures such as breech delivery, operative vaginal delivery, perineal laceration repair, laparoscopic and hysteroscopy skills, manual vacuum aspiration, and intrauterine device insertion on simulation models. When determining the best simulation model for teaching a procedure, numerous factors are considered. "Our most reliable model is an excellent hemipelvis that we use for just about everything. It allows you to show the outlet and is very versatile for a range of procedures," Dr. Ratan explains. "For becoming comfortable with basic hand maneuvers and situations like shoulder dystocia and breech delivery, the low-fidelity simulators are suitable. The high-fidelity laparoscopic simulators are helpful because they can give you haptics (touch feedback). High-fidelity mannequins are able to simulate unstable vital signs for rare, high-stakes complications such as an eclamptic seizure."
As the simulation program continues to grow, new modules in topics such as urogynecology have been added to provide additional instruction to the residents. While didactic learning remains an essential component of the curricula, the simulation program complements and enhances the learning goals and outcomes for medical students and residents alike.
First published in Connections, the quarterly newsletter of Columbia Women's and Children's Health (Fall 2013)