Seven Employees Honored at Annual VP&S Awards Ceremony
Dedicated employees abound at Columbia University Vagelos College of Physicians and Surgeons (VP&S). Each year, a select few are chosen by a committee from a pool of nominees and celebrated for their outstanding contributions to the workplace. 
"It's easy to dream up crazy plans. It's hard to make real things happen," said Lee Goldman, MD, the dean of the Faculties of Health Sciences and Medicine and chief executive of Columbia University Irving Medical Center (CUIMC). "And those of you in the room help us make things happen every day. The strength of any institution is the belief that you can really get things done and the ideas you have become reality."
Following are the recipients of the 2018 VP&S Awards for Excellence, presented at a ceremony this month:
Officer of Administration/Managerial Award—Wendy Hernandez-Quinones, director of admissions, Vagelos College of Physicians and Surgeons
Hernandez-Quinones oversees an admissions team that handles nearly 8,000 applications from prospective students each year. She runs the smooth operation of screening applicants for 1,000 interview spots and finally selecting them for about 140 spaces per entering medical school class. 
"She is one of the most intelligent, hardworking, and kind-hearted individuals I have ever been honored to work alongside," one nominator said. "It seems like she is five steps ahead of the admissions cycle at every turn."
Officer of Administration/Administrative Professional Award—Fahmina Jafri, chief financial officer, Department of Anesthesiology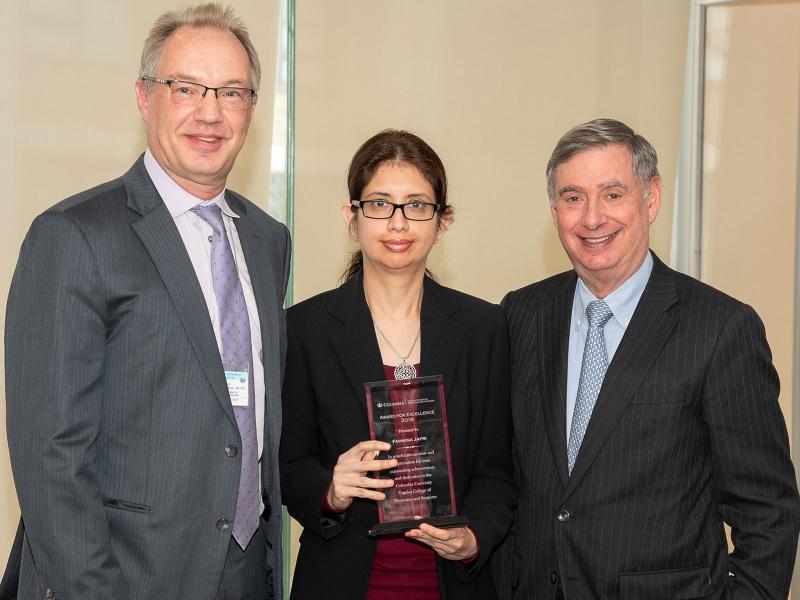 Jafri's colleagues appreciate her analytical, transparent approach to directing the Department of Anesthesiology's financial planning and accounting practices, maintaining financial reporting and control systems, and monitoring expenditures. One of her key achievements is streamlining the department's process for faculty call reimbursement by moving it from a cumbersome paper-based system to a web-based system that has eased administrative burdens on users and staff alike.
As one nominator said, "Her extensive knowledge of business and health care finances and her skills at crunching numbers allow us to optimize the department's resources." 
Officer of Research Award—Crystal Bussey, senior staff associate, Department of Microbiology & Immunology
For 10 years, Bussey has been involved in all aspects of running the VP&S lab of Sankar Ghosh, PhD. As he wrote for her nomination, "She is hard-working, sincere, and conscientious, and I know that any task that she is responsible for will be executed flawlessly."
Her guidance is sought after beyond the laboratory. "Crystal is incredibly generous with the wisdom she's developed after all of her years as a lab manager," said another nominator. "She is always eager to help other laboratories get up and running, offers advice about who to contact, what to buy, how to organize, etc, and will always drop what she's doing to answer other employees' questions."
SSA Union Member/Clerical Technical Award—Elzbieta Dworakowski, research worker, Irving Institute for Clinical and Translational Research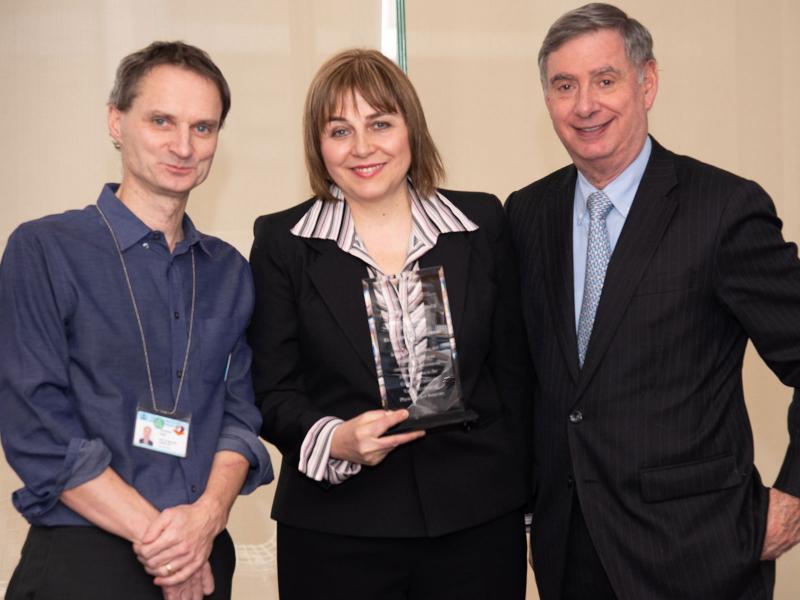 Dworakowski's career at Columbia spans more than 30 years. Since joining the biomarkers core laboratory in 2013, she has worked with more than 95 protocols from more than 65 investigators—all while processing more than 50,000 samples. She is responsible for validating new and complicated immunoassays to meet stringent quality criteria.
"She guided me through the murky waters of sample collection, testing kits, and sample analysis, making the process streamlined and simple," said one colleague. "Her expertise and knowledge were amazing."
Diversity Award—William C. Turner, MD, associate professor of medicine at CUMC; assistant dean for student affairs, Vagelos College of Physicians and Surgeons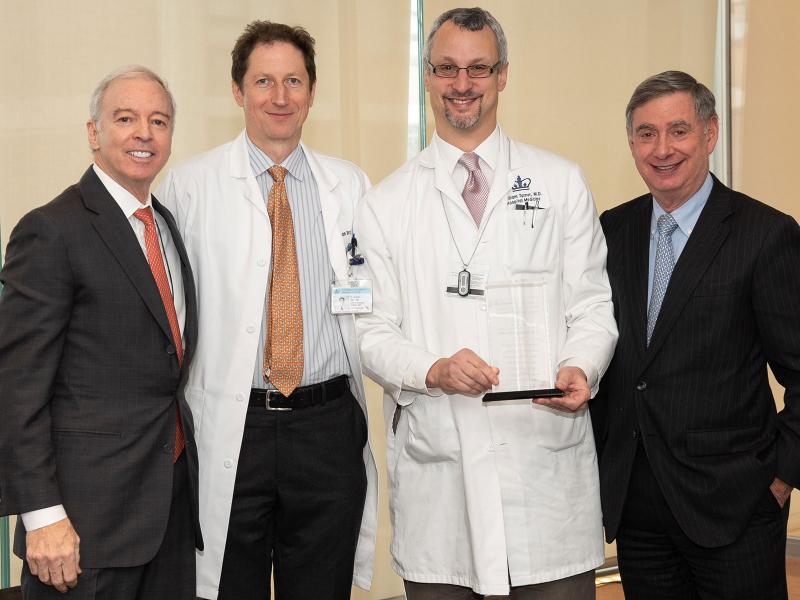 Dr. Turner has recruited and mentored groups underrepresented in medicine at every level of training, from medical students to residents, for nearly two decades. He has served as the primary diversity recruiter for the Department of Medicine's Intern Selection Committee and was an early leader of the Lindenbaum-Thomson Society, a residency group that recruits and supports underrepresented minorities in the department's house staff training program.
He also works with students in the Black and Latino Student Organization and serves as an advisory dean for the Office of Medical Education, a role for which he routinely earns outstanding reviews from students. As one student wrote, "Dr. Turner has provided unparalleled support for me during medical school."
Community Service Award—Jose A. Luchsinger, MD, professor of medicine and epidemiology at CUMC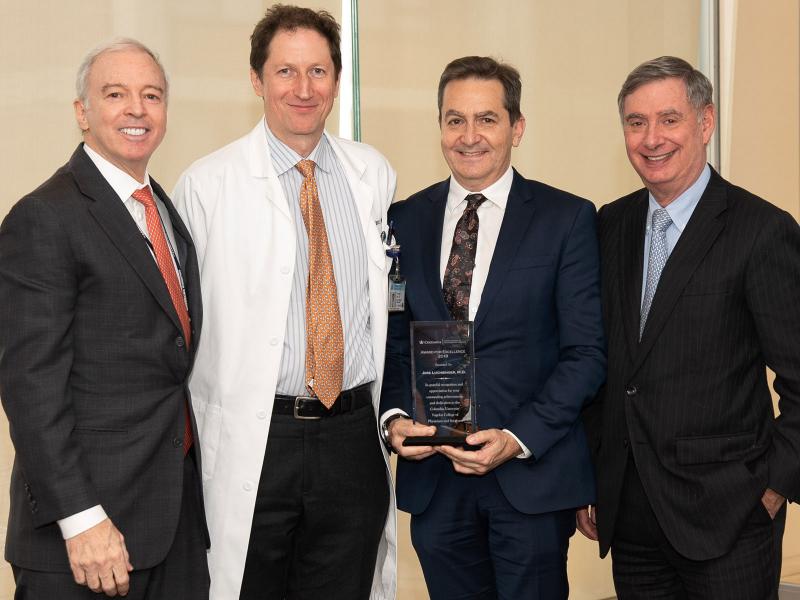 Dr. Luchsinger has been a Columbia faculty member since 1999 and is a leader in patient care, research, and education. He conducts cohort studies and clinical trials on the relationship of vascular, metabolic, and dietary factors on aging outcomes in diverse populations. He oversees several NIH-funded projects in his role as director of the Center on Aging and Health Disparities in the division of general medicine at Columbia's medical center. He has conducted research in Northern Manhattan in partnership with community stakeholders and assisted community organizations in applying successfully for research funding and services.
As one nominator said, "Jose excels in all activities and he routinely goes above and beyond." 
Special Recognition Award (Posthumous)—Vincent Santana, department administrator and chief financial officer, Department of Neurology
Beloved by colleagues, the late Vincent Santana was remembered as a leader, mentor, role model, adviser, problem-solver, and friend. He oversaw several areas of neurology, including research and clinical operations, infrastructure, human resources, and IT.
Nominators recalled his generosity and how much he enjoyed mentoring his staff. "Vinny was the type of boss that could have three feet of papers in front of him, but if you showed up to his office … he invited you to sit down," said one nominator. 
VP&S has presented the Awards for Excellence since 2008 to employees to recognize exceptional performance and contributions by individuals who contribute to the success of departments, institutes, and laboratories, which translates into success for the entire school.
Topics