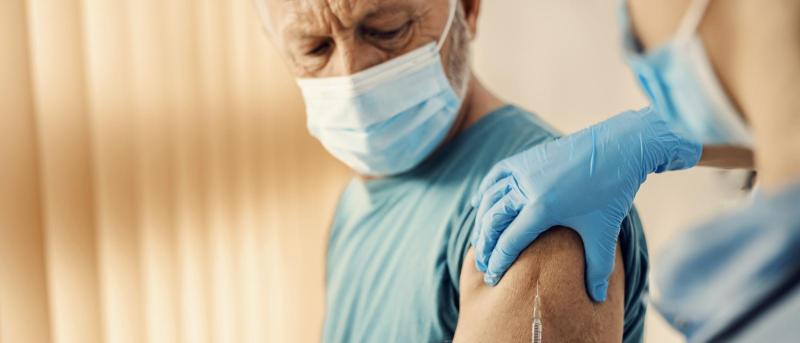 Is a Second COVID Vaccine Booster Right for You?
The FDA recently authorized a second COVID vaccine booster for people over age 50 and people over age 12 who are immunocompromised.
We spoke with infectious disease expert Marcus Pereira, MD, about who should get a second booster, when, and if antibodies or prior infection should factor into the decision.
What's the rationale for authorizing a second booster?
I think multiple factors went into the decision. We know immunity starts to wane after four months or so, and we have a variant circulating that is more capable of breaking through our immunity. And then there's the understanding that those over 65 and those who are immunocompromised were hardest hit by delta and omicron.
The Israeli study of a second booster also factored into the decision, even though it is not fully published yet. The study offered a second booster dose to people age 60 to 100 and then looked at mortality. After 15 days there was already a big difference in deaths and hospitalizations from COVID between the two groups. For those age 60 to 69, people with just one booster had a two-fold higher rate of death from COVID. And for those over 80, the rate was almost 10 times as high.
The FDA is looking into the future at BA.2 and what other variants may emerge next. The coming BA.2 wave could mimic what happened with omicron, and older individuals and immunocompromised people will be hit hardest. In this case, a second booster is likely to provide added protection for these vulnerable groups.
Why limit to people over 50?
A fourth booster does not seem to create much of a benefit when it comes to more severe outcomes for those who are younger.
This comes from another Israeli study, just published a few weeks ago in NEJM, that looked at a fourth dose of the vaccine in health care workers during omicron. A second booster only provided a marginal benefit to those under 60.
The age 50 to 60 category, especially in those without health problems, right now is a gray zone. The data on efficacy of a second booster in this group is limited, so it's hard to say what the benefit is. These individuals may do well with just one booster if they don't have additional comorbidities.
Should I get a second booster now or wait a while?
Those in the age 50 to 60 category who are healthy and don't have any additional comorbidities should talk to their doctors and consider whether BA.2 is rising in their community. We now know that the effects of the vaccine wane after four to six months, so the timing is very important in order to maximize the benefits. It takes about a week for the effects of boosting to occur.
If you are immunocompromised or over age 60 or 65, I'd advise getting a second booster sooner rather than later, because the risks of COVID are still substantial.
Could the second booster damage my immune system down the road?
These vaccines are very safe. Some transplant recipients have already received a fifth dose, and there hasn't been any warning signal on multiple dosing. The recent NEJM study saw no safety issues.
In January, it seemed like omicron infected half of New York City. If I got infected then, should I get a second booster?
The FDA authorization doesn't mention this, but some experts suggest that an episode of COVID is potentially akin to a vaccine booster dose. If you're otherwise healthy, you did well with omicron, and you don't foresee any risk factors coming your way—like you're about to get chemotherapy or an organ transplant—it's another situation in which you should talk to your doctor about whether it is reasonable to wait three to four months after COVID to get another booster.
The benefit from getting omicron will probably start to wane after four months. If there is a wave in the summer, like what happened last year with delta, it is not clear that an omicron infection from December or January would be a significant protective factor against a breakthrough infection, though it will probably offer good protection against severe disease, just as the first booster does after four to six months.
Should I get my antibodies measured before getting a second booster?
The problem is we haven't established definitive thresholds; we don't have a number that tells us when your antibody level is protective. And with each variant, the threshold changes. We see that with the declining efficacy of the vaccine with each variant. It's been very difficult to nail down a number.
I think a bad test is worse than no test. It will either give you a false sense of security or a false sense of panic, and I think that doesn't help anyone make sensible decisions.
It's safer to follow recommendations based on data from larger studies. So, if you fit into a category, like immunocompromised or over a certain age or comorbidities, then follow the guidance for now instead of trying to individualize your response.
If I got the Pfizer booster the first time should I switch to Moderna, and vice versa?
We're seeing more "mix and match" studies, and when you look at data about the first boosters, there was a slight advantage of mixing the mRNA vaccines. These are different vaccines with slightly different mRNA sequences, and it makes sense that they would elicit slightly different immune responses.
Switching to a different vaccine for a second booster might not be a bad idea, but truth be told, there's not a lot of evidence for it yet. We haven't yet seen a mix and match study with second boosters, apart from some lab studies.
And we're talking about diminishing returns with each additional dose, so any added benefit from switching vaccines may not be very significant.
The situation is different for those who got a J&J vaccine initially. Those people should get mRNA boosters.
What if I haven't had a first booster yet? Is it too late?
People should go out and get a first booster if they haven't had one yet. That's because the evidence is strong that a booster dose prevents more severe outcomes with omicron. It's definitely needed and there is no controversy about this.  
References
More information
Marcus Pereira, MD, is assistant professor of medicine at Columbia University Vagelos College of Physicians and Surgeons.