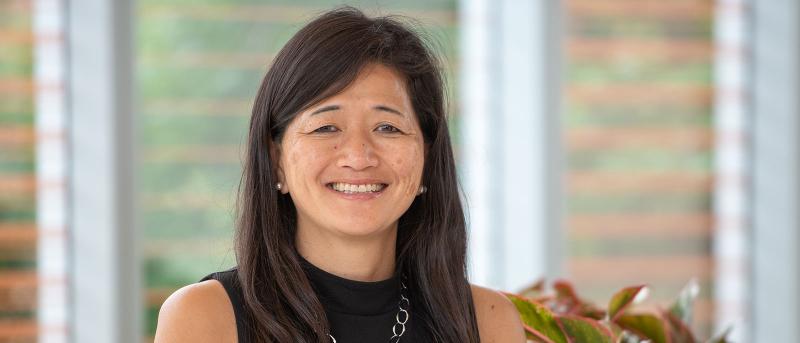 Sandra Ryeom Appointed Associate Dean for Postdoctoral Affairs and New Master's Degree Programs at VP&S
Sandra Ryeom, PhD, has been appointed associate dean for postdoctoral affairs and new master's degree programs at the Vagelos College of Physicians and Surgeons (VP&S), effective Oct. 1. The appointment was announced by Anil K. Rustgi, MD, Interim Executive Vice President and Dean of the Faculties of Health Sciences and Medicine at Columbia. Ryeom will also work with Columbia University's Office of Postdoctoral Affairs and its executive director, Ericka Peterson, PhD.
Ryeom will join the VP&S faculty as associate professor of surgical sciences in the Department of Surgery. Before joining Columbia, Ryeom was an associate professor of cancer biology at the University of Pennsylvania Perelman School of Medicine.
In her new role, Ryeom will oversee the enhancement of educational and career development activities for postdoctoral researchers, reproducibility and rigor in research, the development of advisory committees, the growth of diversity/equity/inclusion, fostering transition to next career stages, and the expansion of philanthropic support from industry and foundations. She also will work with VP&S, Columbia University, and relevant New York state regulatory bodies to develop new master's degree programs.
"Dr. Ryeom is ideal for these positions and will bring even more emphasis on our outstanding community of postdoctoral research scientists and fellows, working closely with chairs and faculty," says Rustgi. "In addition, I'm excited about the potential for growth of new master's degree programs."
Ryeom, whose research focus is the tumor microenvironment, is a skilled educator and a prolific researcher. She has authored more than 50 papers in peer-reviewed publications. Her research delves into three key areas: endothelial cells and stromal cells in the tumor microenvironment and calcineurin-NFAT signaling; organ-specific vasculature in malignant and benign disease and stem cell niches; and gastric cancer initiation, progression, and early detection.
"I am thrilled to join the CUIMC community to support and enhance mentoring for postdoctoral fellows and excited to develop new master's degree programs that will offer alternative paths for careers in the biomedical sciences and provide opportunities to diversify the biomedical workforce," says Ryeom.
Ryeom graduated from Wellesley College and received her PhD in cell biology and genetics from Cornell University. She completed her postdoctoral fellowship at Harvard Medical School. Before joining the University of Pennsylvania Perelman School of Medicine, Ryeom served as an assistant professor at Harvard Medical School. In 2019, she received the Cancer Biology Teaching Award from the University of Pennsylvania Perelman School of Medicine's Department of Cancer Biology.