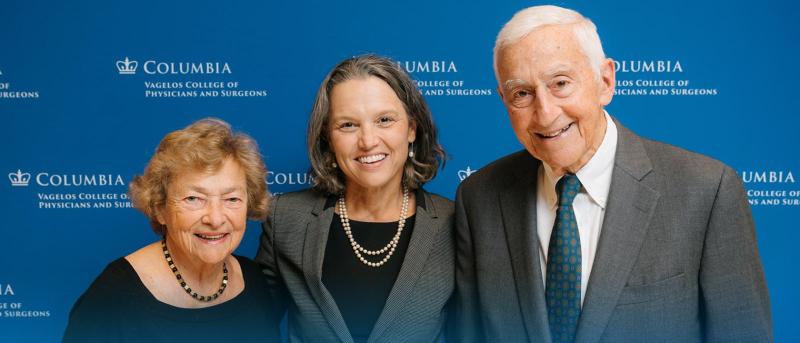 Roy and Diana Vagelos Institute for Biomedical Research Education Launched at Columbia University with $175 Million Gift
Funding Will Spur Scientific Breakthroughs That Transform Clinical Care and Grow Ranks of Talented Early Career Researchers
With the COVID-19 pandemic highlighting the critical importance of biomedical research and new questions being raised about society's capacity to generate world-changing scientific breakthroughs1, Roy and Diana Vagelos have made a $175 million gift to Columbia University to address this need. The Vagelos Institute for Biomedical Research Education created with this gift will be home to PhD students pursuing the most creative, potentially disruptive ideas in biomedical science, and will spur the training of more physician-scientists able to translate the latest paradigm-shifting discoveries into revolutionary new methods in patient care.  
The gift will enable Columbia to create a new academic model that encourages and accelerates the intellectual risk-taking needed to make historic advances in health science research. Supportive career pathways, promising stability and academic freedom, are being developed to attract more students and junior faculty to this essential endeavor. Currently in the United States, PhD students, MDs in training, residents, fellows, and early-career physician-scientists who pursue a career in basic, translational or clinical research must contend with both financial challenges and professional uncertainty2.
By directly addressing and mitigating these obstacles, the Vagelos gift seeks to create an academic research environment conducive to bold experimentation and a sustained commitment to solving longstanding medical problems. Reducing the disproportionate financial burdens that deter historically marginalized groups from pursuing a career in science is a central pillar of this program.
"The financial support provided by Roy and Diana Vagelos to Columbia has been extraordinary, and so too is the leadership they provide through the values embodied in their philanthropy," said Katrina Armstrong, Dean of the Columbia University Vagelos College of Physicians and Surgeons, and EVP for Health and Biomedical Sciences. "The Vagelos Institute for Biomedical Research Education will have an enormous impact in harnessing the power of science to transform clinical care, and I believe we will see similar initiatives started at other university medical schools. The reward for this effort will be unprecedented strides forward in curing disease and treating illness. It's an opportunity—and a responsibility—we must embrace."
The largest portion of the gift—$125 million—will establish an endowment to transform the prevailing approach for funding PhD students. This will provide Columbia trainees with greater freedom to explore different interests at the start of their careers. The remaining $50 million of the gift will support aspiring physician-scientists seeking to develop expertise in both fundamental biology and clinical medicine.
An external scientific advisory board of seasoned scientists and experts in graduate biomedical education will guide the development of these programs and of the new graduate biomedical curriculum tracks. The board is tasked with ensuring that Columbia University creates the optimal environment to nurture the growth of scientists who will shape the future of medicine. The initial group of board members includes Enrique M. De La Cruz, PhD, of the Yale School of Medicine; Tracy Johnson, PhD, of UCLA; William Kaelin Jr., MD, of the Dana-Farber Cancer Institute; and Shirley M. Tilghman, PhD, of Princeton University.
"This extraordinary generosity from Roy and Diana Vagelos continues their visionary support of education at the Vagelos College of Physicians and Surgeons, which so appropriately bears their name," said Columbia University President Lee C. Bollinger. "It also continues their trailblazing efforts to rethink and strengthen the future of science and medical education at Columbia and around the world. For all of this, and so much more, we are extremely grateful."
Roy and Diana Vagelos have been trailblazers in rethinking and strengthening the future of science and medical education at Columbia and around the world. Together with scholarship support from countless VP&S alumni, friends, and faculty, their transformative $250 million gift in 2017 made it possible for Columbia's medical school to become the first in the nation to offer debt-free education to students. Their leadership precipitated a national movement among medical schools to eliminate student debt. The medical school was renamed the Vagelos College of Physicians and Surgeons as a tribute to their impact. This second transformational gift reflects the couple's remarkable generosity and their deeply held values. It builds on a shared lifetime of charitable and compassionate action, particularly in their efforts to advance science, medical education, and better health care for all. For more information about Roy and Diana Vagelos, their respective professional accomplishments, and their prior giving to Columbia, please visit this page.
"We all know that continued scientific progress is the foundation for solving our most pressing medical problems," said Dr. Vagelos. "Diana and I each vividly recall the difference that financial support made in creating a sense of freedom and instilling the confidence to pursue our passions early in our lives. We want to give others this same freedom by removing the obstacles facing researchers and scientists in training. The larger the number of talented researchers who are able to explore areas of discovery that capture their imaginations, the greater the impact they will have in changing medicine and improving health. It is our honor to give back."