Righting a Historical Wrong: Lack of Diversity in Clinical Trials
Desirée Walker was just 38 when she learned she had breast cancer. For this otherwise healthy woman, the diagnosis was a shock. So, too, was the realization that relatively little was known about how to treat breast cancer in women of color like herself—even though they are far more likely than white women to die of the disease. Walker would come to discover there's a simple reason for this health disparity: People in Black, Hispanic, and other minoritized groups have long been underrepresented in clinical trials.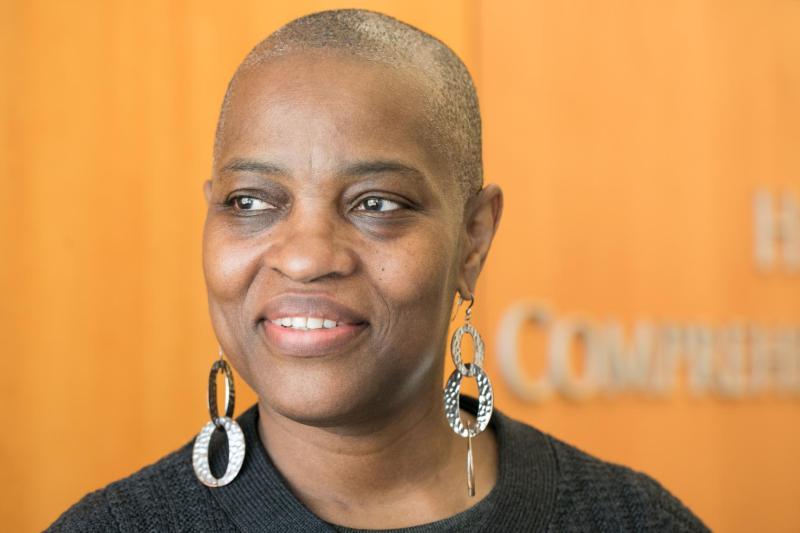 "As a result, what we've learned about preventing and treating many diseases may not apply to people of color," says Andrew B. Lassman, MD, professor of neurology and associate dean of clinical research compliance at Columbia University Vagelos College of Physicians and Surgeons. "At Columbia, we're determined to right this historical wrong. In addition, by enrolling a diverse population of subjects to clinical trials, the results are more broadly applicable leading to better treatment option for patients of all backgrounds."
Today, Columbia is involved in three campuswide efforts to broaden participation in clinical trials—the National Cancer Institute's Minority and Underserved Community Oncology Research Program at the Herbert Irving Comprehensive Cancer Center (HICCC), the multicenter Stand Up to Cancer Health Equity Initiative, and the Columbia-Pfizer Clinical Trials Diversity Initiative—along with efforts of individual departments and centers.
Barriers to diversity
Each of these programs works to lower barriers that prevent people in underrepresented groups from enrolling in clinical trials, including practical matters like cost and ease of access.
"Trials usually require repeated hospital visits, and many people simply can't afford to miss work or hire a babysitter," says Edward Bentlyewski, MSN, assistant director of clinical research nursing and quality assurance at HICCC. "For others, getting to and from a study site is inconvenient, especially if they rely on public transportation."
Another barrier in certain communities is distrust of the scientific establishment, a legacy of research abuses such as the Henrietta Lacks scandal, where a Black patient's one-of-a-kind "immortalized" tumor cells were harvested and used in studies without her consent and without compensation.
"In general, these communities have not been well served by the health care system," says Walker, who since her diagnosis has transformed from patient to patient advocate. "Many people are understandably fearful, and there hasn't been much conversation about protections that have been put in place."
"From the health care system and industry side, there hasn't always been a concerted effort to design broadly representative trials or to support outreach efforts towards all patients affected by diseases we study," says Moshe Kelsen, MBA, executive director of administration at the HICCC.
Solutions at hand
The good news is that most, if not all, of these barriers are surmountable.
For Walker, who serves on the HICCC's patient advocacy board, it all starts with building community trust. "First, we must acknowledge and address the 'elephant in the room'—the past mistreatment of minoritized people by the health care system," she says. "Education is also critical. We have to reach out to people and explain why it's important for them to be involved in studies and how each patient can personally benefit from trials."
Community engagement is a major thrust of the Columbia-Pfizer Initiative, which is expanding the role of community health workers in partnership with NewYork-Presbyterian's Center for Community Health Navigation. The aim is to support clinical trial training and referral processes from local community organizations and physician networks and develop culturally adapted clinical trial entry approaches. These community engagement activities are being led by program directors Olajide Williams, MD, professor of neurology and vice dean for community health, and Rafael Lantigua, MD, professor of medicine and associate dean for community service.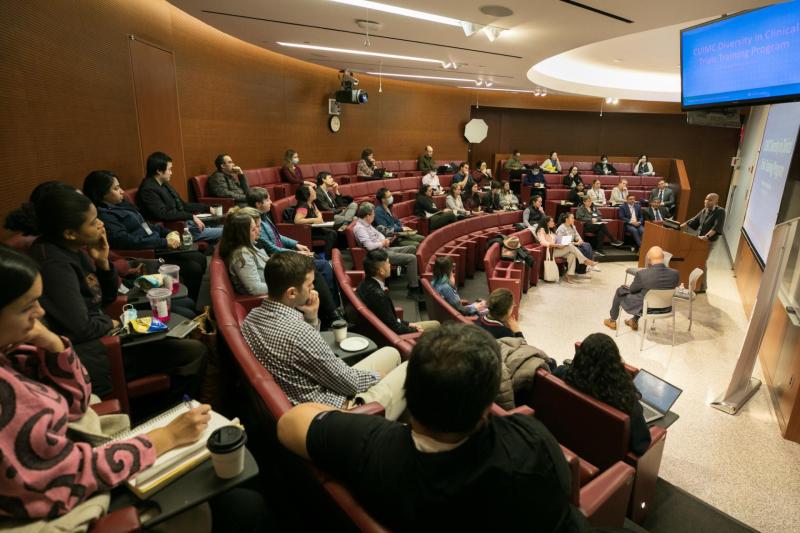 Moreover, the Columbia-Pfizer Initiative aims to identify new ways to educate the community about clinical trials, under the leadership of Mary Beth Terry, PhD, professor of epidemiology and associate director for community cancer prevention within the HICCC. The initiative also focuses on making clinical trials more accessible through telemedicine, wearable technology, and home visits.
"It's important to note that these efforts are bidirectional," says Kelsen. "We're not just developing plans and pushing them out into the community. We're listening to their priorities and asking them what kinds of trials they are interested in."
In addition, the Columbia-Pfizer initiative is addressing the mismatch between clinical researchers and research subjects. "When patients don't see doctors and nurses who look like them, they're less likely to trust us," says Bentlyewski, "which is why we've established training programs to increase the number of clinical trialists from underrepresented groups."
Early signs of progress
It's too early to judge the success of Columbia's various diversity efforts, but the first signs are promising. Some 40 clinicians and researchers, more than were initially expected, participated in the first round of the training program to increase diversity in clinical trials. The training program covered key areas in clinical trial development, regulatory oversight, and enrollment of diverse patient populations and included panel sessions led by Walker and several industry representatives. "Here at the HICCC, minority participation in clinical trials is now over 40%, roughly double the national average," adds Kelsen.
There are also encouraging signs of change in the larger research community. The U.S. Food and Drug Administration will no longer approve a new drug if it has not been tested on an appropriately diverse patient population. And several pharmaceutical companies have expressed interest in following Pfizer's lead in working with academia to boost clinical trial diversity. Major medical journals, such as the New England Journal of Medicine, now take the diversity of trial subjects into account when evaluating the suitability of manuscripts for publication.
An impact for tomorrow
Walker ultimately underwent two lumpectomies, radiation therapy, hormonal therapy, bilateral mastectomies, and breast reconstruction, finally emerging cancer-free. Through it all, she has remained optimistic that clinical research can change and better serve patients who follow in her footsteps.
"When someone extends an olive branch, it's important to accept it and reach back," she advises. "We can't do anything about the past, but we can do something about it today and make an impact for tomorrow."