Revolution, Evolution, Solution: A Decade of DNP at Columbia Nursing
This year marks the 10th anniversary of the doctor of nursing practice, or DNP, degree program at Columbia University School of Nursing. Columbia Nursing's program was among the first in the nation, and in the years since it was established, DNP programs have proliferated at nursing schools across the nation. Columbia Nursing's DNP focus is unique among these programs in its distinctive emphasis on comprehensive clinical care.
"The DNP program at Columbia University School of Nursing is a terminal degree that prepares
the advanced practice nurse with the knowledge and skills necessary for comprehensive care of patients across sites and over time," says Susan Doyle-Lindrud, DNP, ANP, DCC, ('94 '08), director of the DNP program. "The advanced practice nurse with a DNP degree is well positioned not only to manage the individual patient, but is also prepared to improve patient outcomes through translation of research into practice."
Not only has Columbia Nursing's DNP program graduated a cadre of exceptional nurse leaders, it also is changing the face of nursing for the 21st century by helping to revolutionize the way health care is delivered in this country and around the world.
In a sense, the origin of the DNP degree goes back to the beginnings of nursing itself since it's a logical extension of nursing education's focus on safe, effective patient-centered care. Its modern-day roots, however, can be traced to three milestone reports issued by the Institute of Medicine, culminating in 2003 with an examination of the education received by health care professionals. That report, "Health Professions Education: A Bridge to Quality," recommended that to refocus the nation's health care system on safe, effective patient-centered care, nurses should increase their knowledge and skill to deliver enhanced clinical care across services and sites.
With this as a backdrop, the leadership of the American Academy of Colleges of Nurses convened a task force to explore a clinical practice doctorate in nursing. In 2004, the academy called for an educational framework that would provide nurses with a doctorate-level of clinical care preparedness. In 2006, member institutions endorsed the Essentials of Doctoral Education for Advanced Nursing Practice, which defined the curricular elements and competencies required in a practice doctorate in nursing.
While momentum was building on a national level, Columbia Nursing was ahead of the curve under the leadership of Dean Mary Mundinger, DrPH, FAAN, who had been working to develop a clinical doctorate. In June 2004, the Columbia University Trustees approved the new degree,  which raised nursing education to an unprecedented level by preparing advanced practice nurses with the knowledge, skills, and attributes necessary for a fully accountable, independent comprehensive practice. Today, the DNP degree awarded by Columbia Nursing stands alone in providing graduates with the ability to deliver complex care across practice sites and over the lifespan of the patient.
In honor of the DNP decade, The Academic Nurse asked three DNP graduates and a current DNP student to tell what the DNP degree means to them and how it affects their ability to care for patients, families, and communities.
Jennifer Dohrn '85 '05
• DNP, Columbia University School of Nursing, 2005 • MS, Nurse Midwifery, Columbia University School of Nursing, 1985 • BSN, Nursing, City University of New York/Hunter-Bellevue School of Nursing, 1983 • BA, History, University of Chicago, 1967
Jennifer Dohrn graduated with Columbia Nursing's first DNP class, while she was on the faculty of the school, teaching courses in midwifery. Dr. Dohrn is director of Columbia Nursing's Office of Global Initiatives, a nursing officer for the ICAP Global Nurse Capacity Building Program at Mailman School of Public Health, and an assistant professor of nursing at Columbia University Nursing.
In her own words:
"Prior to Columbia Nursing's DNP, there was no established pathway for nurse clinicians to expand their expertise to the doctoral level. It made little sense to acquire a PhD—we are clinicians, not researchers. That's the brilliance of the DNP: It provides a fantastic opportunity for nurse clinicians.
"My current day-to-day responsibilities are very different from what I thought they would be when I enrolled in the program. At that time, I was primarily focused on midwifery, which remains at the heart of all I do. However, today, among other things, I build nursing capacity models for developing programs in other countries, specifically Sub-Saharan Africa. I knew the DNP would help me provide better care for patients, but I didn't realize how important it would be for my global work. It establishes a higher level of credibility for me within traditionally hierarchical systems. Here everyone knows me as Jennifer, but in Africa I am known as Dr. Dohrn among ministers of health, physicians, and educators—and that opens doors.
"My work in Africa is claiming the higher ground for nursing as we face regulatory issues and education issues. For example, we are working with a school in Malawi to set up a DNP program. They never heard of the DNP until we got there. Now we are working with 10 countries in Africa to transform nursing education. This is real progress.
"Globalization has brought to the surface health issues that need to be addressed globally, and nurses have a central and critical role to play on the global stage. As educators, we need to open students' eyes to their ethical responsibility to the world—that everyone's life is of equal value as ours—and encourage them to make this a theme of their life's work to address health inequities. Many countries struggle just to educate nurses to the bachelor's level, while our school of nursing offers a seamless path all the way to the DNP. In many countries that's a long challenging road, but we have the responsibility to support it everywhere. And as we do it here, it has a ripple effect that leads to a stronger, expanded role for nurses worldwide.
"This is a critical, historical time for health care, and there's an urgent need for nurses, especially nurses educated to the fullest extent possible, who are willing to fight for change. Sometimes we look at the world as having such huge problems, and it's hard to know how to help. But we must choose to imagine a way forward, to acknowledge the obstacles but not be afraid to press ahead, even if just a few steps at a time. We are helping women and families flourish against unimaginable odds within the context of health care—and health affects so many other things for a life of quality, of course. The DNP prepared me for these challenges.
"There's so much to be done here and globally. It takes a lot of time, work, support, coordination, hope. But people need you, so you do these things with a full heart. If you can be of use to just one woman and her family, then that leads to helping a local community, and that leads to helping the global community."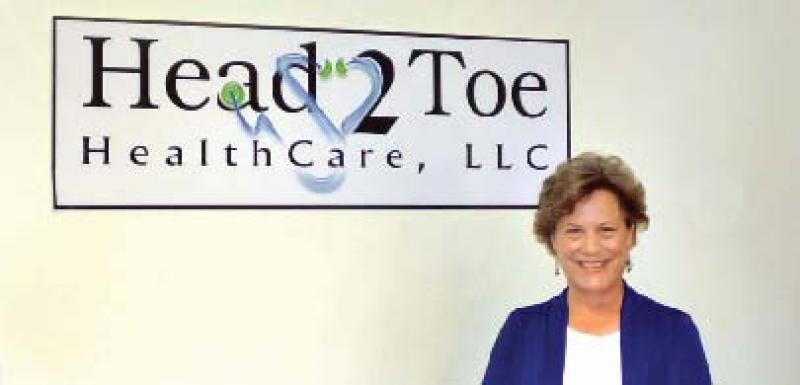 Deanna Tolman '11
• DNP, Columbia University School of Nursing, 2011 • MS, Family Nurse Practitioner, University of Colorado Health Sciences Center, 2001 • BSN, Nursing, University of Texas, Arlington, 1991
"Nurse practitioners have lobbied for years for the freedom to practice independently," says Deanna Tolman, an independent family nurse practitioner who founded Head2Toe HealthCare in Aurora, Colo. "In fact, given the inadequacies of our health care system, we have an ethical responsibility to pursue this freedom." Dr. Tolman attended Columbia Nursing because "the program was directed toward clinical expertise and independent practice, both of which are important to me."
In her own words:
"I earned my bachelor's at age 37, worked in critical care for a while, then earned my master's in nursing at age 47. But I soon realized that the master's degree was insufficient. I did not feel ready to take care of patients the way I wanted to. Then I heard about the DNP program. I emailed Columbia Nursing, asking if I would have to relocate and if I could get tuition assistance. In the end, I had to spend only 10 months in New York, and I worked as a teaching assistant to help defray costs.
"When I finished the DNP, I was 56 years old. I knew I wanted to open my own practice, and the DNP gave me the credentials to make that happen. In fact, while I was at Columbia Nursing I wrote a 50-page business plan, which I implemented when I returned home to Colorado. That led to my founding the Head2Toe Clinic in Aurora, an open-access clinic. We have a four-person staff working in an inexpensive 800-square-foot office. We serve about 1,400 patients: 20 percent uninsured, 40 percent receiving Medicaid, and the rest privately insured.
"My first visits with patients are often 90 minutes long. That's because DNP training taught me to be incredibly thorough—and you can't achieve that if you're seeing 10 patients an hour. I see pathology as an element of culture in my practice. Patients lose years of their lives to diseases because no one took time to listen to them about their problems. I don't want to miss the important information, so I give them time. I may make less money, of course, but I won't see more than eight to 12 patients a day.
"You can't always devote that much time to patients when you're working for someone else's practice. That's one reason nurse practitioners have lobbied for years for the freedom to practice independently. This issue has now become critical in light of the ongoing developments resulting from health care reform and the lack of universal affordable, accessible, high-quality health care. The nation would save health care dollars and increase access to primary care if nurse practitioners were empowered to bill under their own name, hold joint ownership of primary care practices, and establish their own independent practices.
"Traditionally, nurse practitioners have deferred to physicians for direction regarding patient care. And many expect to always work as employees of physicians, because that is how nurse practitioners are often acculturated during their education. However, we need to think the way doctors think: We must see ourselves as potential owners of our own practices.
"There is a definite aspect of faith in my work. I believe we are all children of God, all brothers and sisters. We have an obligation to each other. I am serving my brothers and sisters—and you can't skimp on how you treat family. The quality of my service shouldn't be determined by whether I can afford to spend appropriate time with patients or whether they have health insurance; that is immoral. Everyone should have health care and everyone should receive the best health care I can give them. The question is how to set up such a practice and keep it profitable. But we are proving it can be done. It's not a matter of seeing more patients so as to make more money. It's a matter of living up to the ethics of our profession and creating the best outcomes, the best service, built upon the privileges we've received."
Laura Ardizzone '04 '10
• DNP, Columbia University School of Nursing, 2010 • MS, Nurse Anesthesia, Columbia University School of Nursing, 2004 • BSN, Nursing, University of Pennsylvania, 1999
Laura Ardizzone is chief nurse anesthetist at Memorial Sloan-Kettering Cancer Center, where she manages a team of about 60 nurse anesthetists working in more than 40 locations. She is also an elected member of the Board of Directors of the New York State Association of Nurse Anesthetists. Dr. Ardizzone was an assistant professor of clinical nursing at Columbia University School of Nursing from 2008 to 2012.
In her own words:
"My exposure to health care was fairly traditional. In high school, I volunteered as a candy striper. I knew I wanted to work in the medical field, but as what? A nurse? Physical therapist? Physician? In the end, I chose nursing because I saw it as the epitome of science and caring. It was a career I could grow with.
"I had seen a lot of nurse anesthetists in action in college and afterwards as an RN. I remember a night early in my career when I was in charge, and we called a code on a patient. A nurse anesthetist showed up and he took care of things immediately. To me, he represented that place where nursing meets science meets autonomy.
"From that point on, I was sold on pursuing anesthesia, so I did the master's program at Columbia Nursing. But I realized that I really wanted to be a master clinician, to go as far as I could. So when I learned about the Columbia Nursing DNP, I started pursuing the idea of a clinical doctorate—evidence-based, collaborative, working with nurse scientists. The DNP makes me a more comprehensive provider.
"Day to day, I live in two worlds. In the operating room, we are all members of a team—otherwise the patient would be put at risk. But then there's the hospital environment, where nurses have always struggled to make themselves heard. Historically, this has been a constant challenge—and that's where the DNP has not only broadened my knowledge but enabled me to deliver.
"My DNP gives me a voice at the table. It makes me a stakeholder in the hospital environment; it gives me influence in work groups, committees, hospital meetings. With this degree, I can provide a nursing perspective that has credence and allows me to level the playing field somewhat with our physician counterparts.
"The DNP also allows nurses to have influence on a broader scale. For example, I was recently appointed to the National Quality Forum, which sets health care standards. This happened partly because I have the DNP. In fact, I would not even have my current job if I did not have the DNP.
"That said, nobody faces more turf battles than nurse practitioners and anesthetists. In New York State, nurse anesthetists are recognized only under our RN licenses, so our practice is complicated by current laws. There are only 17 states where anesthetists operate on their own—we still have a long way to go.
"All nurses need to decide on a personal direction. What do they really want? Mastery of their field? Policy involvement? Influence on hospital decisions? To create new research and science? If they have a position that requires them to collaborate with nurse scientist colleagues, the DNP is not only useful but often necessary. Certainly, the DNP helped me determine new ways to do things with my colleagues, and I would not be where I am today without it."
Q&A with a Current DNP Student: Philip Gyura
Philip Gyura recently completed his master's degree in the Family Nurse Practitioner Program
at Columbia Nursing and is now a first-year student in the DNP program. Mr. Gyura's focus is on addiction medicine and adolescent sexual health. He anticipates earning his degree in summer 2015.
What drew you to nursing as a career? Gyura: I knew I wanted to be a nurse going into my freshman year in college. What attracted me to nursing was its focus on compassionate care and the close relationships I could have with patients as a nurse. It was a perfect fit for my personality, my communication style, and my personal goals.
Why did you decide to pursue a DNP degree? I am originally from Minnesota and worked at the Mayo Clinic for two years as an RN. I also worked a year in a detox center, where I was drawn to the needs of young adults. And I realized that I could better serve these people with a DNP degree.
Why did you choose Columbia University School of Nursing for your DNP? Columbia Nursing was my "that'll never happen" application for graduate school. I had been east of Chicago only once! I had already been accepted to another school in the Midwest. But when I got the email accepting me to the program, I rearranged everything to come to Columbia Nursing because of, among other things, the strength of its DNP program. I also liked the idea that higher education for nurses is embraced by the New York nurse clinician community.
What challenges do you see for your career path? One challenge is that there is no national license for nurse practitioners, to level the playing field for what they can and cannot do. There are still states where I can't prescribe meds. In New York, as a nurse practitioner, I must have a collaborating agreement with a physician who reviews my work, whereas in other states I can be entirely independent in my practice.
What's your long-term plan after you earn the DNP? I will probably return to the Midwest to live near family. However, the state I settle in will be partly determined by laws governing our practice. Regardless of where I end up, the DNP will prepare me to serve a population of patients that is often ignored. If we can correct the habits people acquire in their teens and 20s, we can affect their health in their 50s. This is the legacy the DNP will help me create.
These articles originally appeared in the Spring 2014 issue of The Academic Nurse, the magazine of Columbia University School of Nursing.