Research Ramps Up After Pause for Pandemic
Research activity at the Vagelos College of Physicians and Surgeons and elsewhere at CUIMC never stopped during the height of the COVID-19 pandemic, but many researchers had to put their on-site studies on pause in the spring.
Since mid-July, on-site research has ramped up rapidly, and scientists who have returned to their laboratories and clinical sites are getting back up to speed with a new sense of purpose.
Returning Scientists Re-energized 
Back in March when the medical center closed many of its laboratories, the Stem Cell Core Facility became frozen in time. "We had 10 days to shut down completely, so we turned off all our incubators and moved all our cells into the freezers," says Barbara Corneo, PhD, VP&S associate professor in the Department Rehabilitation & Regenerative Medicine and director of the facility.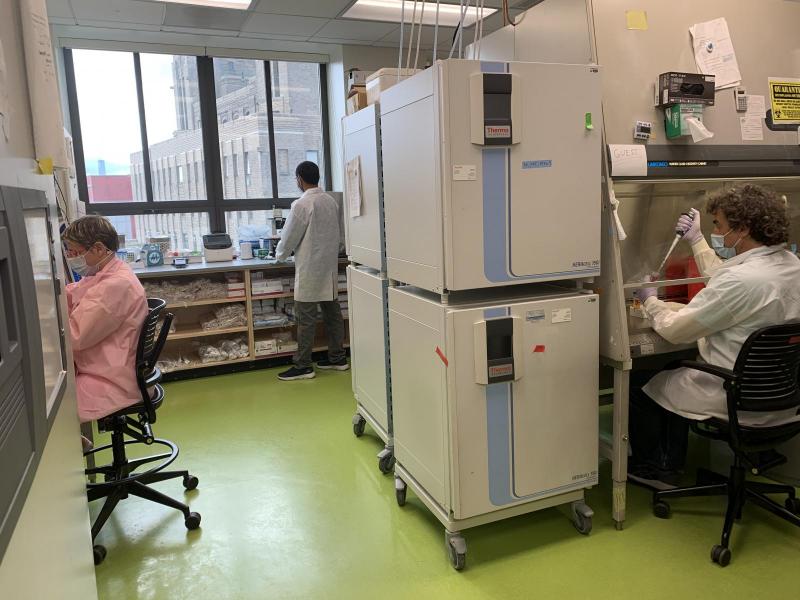 The Stem Cell Core Facility, part of the Columbia Stem Cell Initiative, helps researchers across the university. "We can transform skin cells or blood cells from a patient into stem cells that then can be turned into neurons, heart cells, or any kind of cell a researcher wants to investigate," Corneo says.
With their cell lines in suspended animation, the researchers took advantage of the pause by catching up with unfinished papers, transforming their annual stem cell class for graduate students into a Zoom class, and volunteering for Columbia University Researchers Against COVID-19 (CRAC), which deployed researchers into laboratories conducting COVID-related research.
"When we realized people would not be able to come into the lab, I had every postdoc and graduate student commit to learning something new," says David Sulzer, PhD, VP&S professor of psychiatry, whose lab investigates dopamine neurons in the brain. "They took online courses, learned to write computer programs, or wrote review papers to get a more in-depth understanding of their field. These are things that are important, but they wouldn't have had the time before."
Corneo and Sulzer say that now with all their researchers back in the lab—staggered so occupancy never exceeds 50% at any one time—things are running close to 100%.
"I know there was a dip in experimental productivity initially, but in the last six weeks, I think we're almost back to normal, even though everyone is spending less time in the lab," Sulzer says. 
"We're doing our best to live in this new reality," Corneo says. "We had to move some equipment around so people can stay distant from each other when working, and even if I'm having a meeting with someone and we are both in the lab, we still meet in separate offices on Zoom. All the labs on our floor are working together pretty well, so it's been a good experience amidst all the bad."
The work of other scientists and physicians has been inspiring to Corneo, who volunteered during the shutdown to work on SARS-CoV-2 antibody tests with CRAC. 
"I have never felt so proud and excited to be a scientist! It's amazing to think that just six to seven months ago, we didn't know anything about this virus, and now we have tests, and treatments and vaccines are making rapid progress," she says.
Corneo has retained that motivation and sense of mission now that she's back in her own lab.
"It's good to go back to our experiments and projects with stem cells, which as 'diseases in a dish' help model many different diseases and have the potential to help develop new treatments," she says.
"Coming back was amazing, and even doing a very boring procedure in the lab like preparing a media for a differentiation seems like such a victory over the pain and sadness of the previous months."
Clinical Research Meeting Extra Challenges 
During the height of the pandemic, clinical trials continued if the treatment had the potential to extend the life of patients. 
Trials aimed at improving quality of life were paused, including a trial run by Melissa Accordino, MD, VP&S assistant professor of medicine, to prevent potential irreversible nerve damage that often occurs in hands and feet after chemotherapy. 
"We're really excited about this trial, which is evaluating cryotherapy vs. compression therapy vs. placebo to prevent neuropathy, or nerve damage, caused by chemotherapy. Previous efforts, including pharmacologic treatments, have not been successful in preventing persistent pain, tingling, and numbness caused by chemotherapy," says Accordino.
"Before COVID, we would ask patients if they wanted to participate in the study, they'd say, 'Sure!' Now they have to think carefully about it," Accordino says.
Participation is simple: Patients are asked to wear frozen gloves and socks, compression gloves and socks, or loose gloves and socks as they receive chemotherapy. Accordino and her colleagues hypothesize that the cold temperature or compression may prevent neuropathy by limiting the flow of the cancer drug into the hands and feet, much like Cold Caps prevent chemo-induced hair loss.
"We're taking all the precautions we can—staff and patients wear masks and we're disinfecting all the garments before and after use—but trial participation requires our research staff to apply the garments to participants and thus requires physical contact, so it's a harder sell," Accordino says. "I think the enthusiasm for the trial will improve in the future, though perhaps not at its pre-pandemic levels."
Putting trials on pause "made me realize how important the work we do is, and how important it is to patients to have options beyond the sometimes imperfect 'standard of care,'" Accordino adds.
"The best part of returning is knowing that we have more options for our patients that may help improve cancer outcomes and/or long-term quality of life."
All of Us
When the pandemic hit, the NIH's All of Us Research Program was in the midst of enrolling 1 million people across the United States to help build one of the most diverse health databases in history. 
New York City's All of Us team—a consortium of NYC health care institutions based at Columbia's Institute for Genomic Medicine—had been on target to reach its goal of enrolling 93,000 participants before the NIH shut down recruitment efforts across the country. (The consortium, led by Columbia, includes Weill Cornell, NYC Health + Hospitals/Harlem, and NewYork-Presbyterian).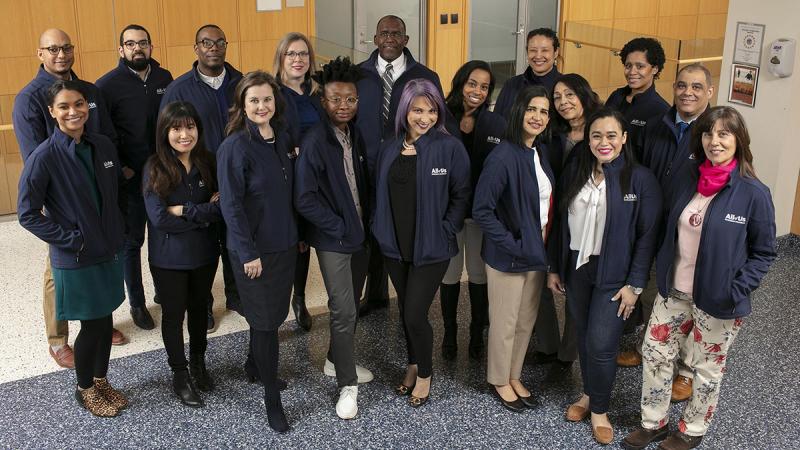 "Now that we're in a pandemic, our entire workflow will have to be completely reinvented. We used to roam the waiting rooms to recruit participants. If they agreed, we'd work with the participant for as long as necessary to answer their questions," says Catherine Freeland, MPH, program director of Columbia's All of Us program. "Post-COVID, only patients are allowed in the clinical spaces. Clinical sites can't afford the 15 minutes it would take for our staff to complete the enrollment and it certainly won't give us the time needed to answer questions. "
Freeland has just received approval from the NIH to resume enrollment, and the New York City Consortium is the first site in the country to restart. All of Us plans to use the Irving Institute research space in Vanderbilt as well as the Columbia Community Partnership for Health, an off-campus center in Washington Heights that connects residents to health and social services and facilitates access to health research. The center has a large indoor space where people can maintain social distancing.
"We're really interested to see what the uptake is," Freeland says. "Participants may be more amenable to coming to the community site rather than the medical center. But talking to people all day, in person, and answering their questions is gone."
During the break in recruitment, Columbia's All of Us staff used the time to increase engagement with enrolled participants, who are encouraged to stay in the program for 10 or more years. 
"This time has actually been a real gift," Freeland says. "Our staff has been hard at work reaching out to our participants, especially those with limited access to the internet, and having really rich conversations with people about the program and the upcoming return of DNA to participants. Our team in New York has increased our active retention, and we now have a roadmap to keep our populations engaged for the long term."
The success of the retention efforts—and the social and health inequalities further exposed by the pandemic—have boosted the resolve of the program's staff to enroll more New Yorkers from diverse backgrounds into All of Us, which is specifically designed to be applicable to everyone in the United States.
"We feel strongly that these people can't be marginalized anymore," Freeland says.