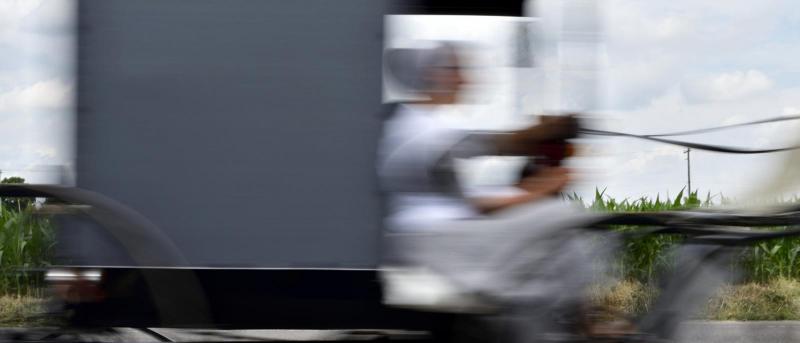 Reducing Cardiovascular Disease: The Amish Way
In Brief
A new study in a group of Amish siblings found that inhibiting a protein in the blood — called ApoC3 — may be a safe way to lower triglycerides and reduce the risk of cardiovascular disease.
Why It's Important
Many people take statins, which reduce the risk of heart attacks by lowering low-density lipoproteins (aka LDL, or "bad cholesterol"). But there are other causes of cardiovascular disease. High levels of triglycerides—fat particles that circulate in the bloodstream—can also increase development of  heart disease. There are few FDA-approved drugs that effectively reduce triglycerides and the risk of heart disease.
Why Study the Amish
Some Amish people have low levels of triglycerides because they have a natural genetic mutation in ApoC3 protein. 
These individuals (about 5 percent of the Old Order Amish in Lancaster, Penn.) also have a low rate of cardiovascular disease, despite not following a heart healthy diet. 
Various pharmaceutical companies are now developing triglyceride-lowering drugs that work by targeting ApoC3, but it's unclear if having low ApoC3 could have other, negative consequences on the body. If so, then drugs aimed at lowering levels of this protein could cause more harm than good. 
What's New
The new study—funded by the National Institutes of Health and in collaboration with  colleagues at the University of Maryland—found that people with naturally low ApoC3 do not have higher levels in the blood of proteins that carry "bad cholesterol."
"Before our study, we didn't know what was happening with other lipoproteins in people with naturally low ApoC3, and our findings support the idea that reducing ApoC3 with drugs may be cardio protective," says the paper's lead author, Gissette Reyes-Soffer, MD, assistant professor of medicine at Columbia University Vagelos College of Physicians and Surgeons.
The study is the first to examine lipoprotein physiology in a human population with naturally low levels of ApoC3, and also suggests ApoC3 works a bit differently in people than in mice. 
Caveats
It's unclear if drugs that reduce ApoC3 will also keep LDL and other lipoproteins in check and ultimately reduce cardiovascular events.
"What happens in people who are born with these mutations may not happen when ApoC3 levels are lowered with a drug," Reyes-Soffer says. "We won't really know until we try the drugs in large cohorts and see if they have reduced cardiovascular outcomes."
References
More Information
The study, "Effects of APOC3 Heterozygous Deficiency on Plasma Lipid and Lipoprotein Metabolism," was published online Nov. 8 in Arteriosclerosis, Thrombosis and Vascular Biology.
Toni I. Pollin, PhD, (University of Maryland and Baltimore VA Medical Center) is the principal investigator of the NIH grant that supported the research; Henry N. Ginsberg (CUIMC) is the co-principal investigator.
Other study authors: Carol Sztalryd (University of Maryland and Baltimore VA Medical Center), Richard B. Horenstein (University of Maryland), Stephen Holleran (Columbia University Irving Medical Center), Anastasiya Matveyenko (CUIMC), Tiffany Thomas (CUIMC), Renu Nandakumar (CUIMC), Colleen Ngai (CUIMC), Wahida Karmally (CUIMC), and Rajasekhar Ramakrishnan (CUIMC).
This study was supported by grants from the National Institutes of Health (R01HL104193, R35HL135833, KL2TR001874, 1UL1TR001873, and P30DK072488) and the Geriatric Research, Education, and Clinical Center at Baltimore Veterans Affairs Health Care Center.