Rare Form of Osteoporosis around Pregnancy Gets Spotlight at Columbia
Osteoporosis typically affects people over age 50. But in rare instances, women who are pregnant or breastfeeding can develop a severe form of the disease that causes disabling back pain and bones that break out of the blue.
Doctors don't understand what causes osteoporosis associated with pregnancy and lactation—or the best way to treat it.
Columbia endocrinologist Adi Cohen, MD, hopes to change that with a new study and a unique clinical program for women with pregnancy- and lactation-associated osteoporosis (PLO).
Q: What is pregnancy and lactation-associated osteoporosis, and how rare is it?
PLO is a severe type of osteoporosis that arises during pregnancy, after delivery, or during breastfeeding. Women lose some calcium from their bones during a normal, healthy pregnancy and breastfeeding. But in women with PLO, that calcium loss leads to significant bone fragility, particularly in the vertebrae. They can have spine or other fractures with little or no trauma.
In the most common scenario, PLO is discovered after a pregnant or breastfeeding woman complains of severe back pain, and imaging reveals multiple vertebral fractures. Most of these women wouldn't have had a bone assessment before this happens, and there is often a considerable delay between the onset of symptoms and diagnosis.
We really don't know how many women have PLO. Osteoporosis affects an estimated 10 million adults over age 50 in the U.S., but it's estimated that PLO affects fewer than 200,000 women a year. It's so uncommon that many obstetricians never encounter a patient with PLO.
Q: How does PLO impact women, and how is it usually treated?
Women with PLO and vertebral fractures may have excruciating back pain, which can make it difficult to function and even more difficult to care for a baby. Women may also have other types of fractures that require urgent care.
Bone density generally improves as part of the natural recovery after pregnancy. If a woman is breastfeeding, this recovery may start at around six months after delivery, when the baby begins to eat solid food and milk production declines. By the time a baby turns one, bone density in the spine often returns to baseline.
For women with PLO, doctors may also recommend medications that stimulate bone formation after the baby has been weaned. Because this condition is so rare, the efficacy of these treatments has yet to be established. Other treatments may be needed to improve mobility and manage pain.
Q: Why are you studying this rare disease?
I'm an endocrinologist with a strong interest in women's health. For over 15 years, I've been collaborating with Dr. Elizabeth Shane at Columbia to investigate pathophysiology and treatment of premenopausal osteoporosis. Having a better understanding of PLO—and determining how it is different from other forms of premenopausal osteoporosis—will allow us to develop more targeted treatments. It may also help us improve the way we treat younger women with osteoporosis in general, even when the disease isn't associated with pregnancy.
Q: What kind of information are you looking for in this study?
We currently understand so little about PLO, so we're trying to recruit at least 50 women with the disease. That will enable us to characterize the specific bone structure and metabolism defects associated with PLO and begin to identify risk factors. We also hope to follow women for a period of time to learn how the disease progresses and estimate prognosis, especially in terms of future fracture risk.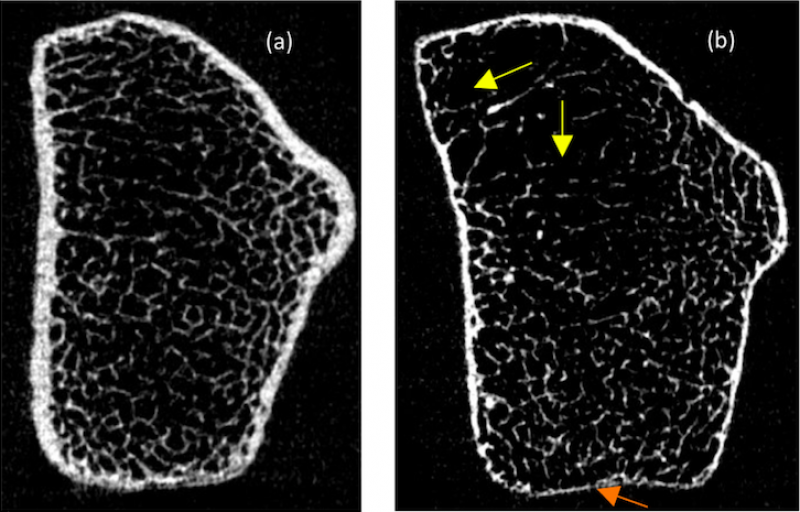 Participants will undergo a wide range of tests. We're using 3-D CT scans to perform detailed bone structural analyses of the arm, leg, spine, and hip. Bone biopsies will allow us to analyze the structure of the bone tissue and study the dynamics of bone formation in individual patients. We're also using high-resolution 3-D imaging of the biopsy samples to look at osteocytes—special cells involved in bone regulation—for the first time in this population.
Additionally, we're hoping to find biochemical and hormonal biomarkers that may predict disease severity. And we're working with Columbia's Institute for Genomic Medicine to search patients' DNA to identify genes—either variants of genes that are associated with bone fragility or new genes—that may lead to PLO.
The data and samples that we're gathering in our current study will enable us to design future studies to examine different treatment approaches. For instance, there is some preliminary evidence that women with PLO have low bone formation, suggesting that their bone-forming cells don't work properly. Looking at these cells from individual patients may help us develop more targeted therapies and better treatment protocols.
Q: How will your research help women who currently have the disease?
Using the detailed bone structure and metabolism studies from our research, we'll be able to generate individualized skeletal assessments that may impact clinical care and therapeutic decisions.
The women who are enrolled in this study are also part of a new interdisciplinary program at Columbia University Irving Medical Center that gives patients access to a variety of specialists that may be involved in their care—including endocrinologists, rehabilitation medicine specialists, and genetics experts. We hope to provide comprehensive care from medical specialists who are familiar with this very rare disorder.
References
Adi Cohen, MD, MHS, is an associate professor of medicine in the Division of Endocrinology at Columbia University Vagelos College of Physicians and Surgeons. Her study has been funded by an R01 grant from the U.S. FDA Office of Orphan Products Development/Orphan Products Natural History Grants Program.