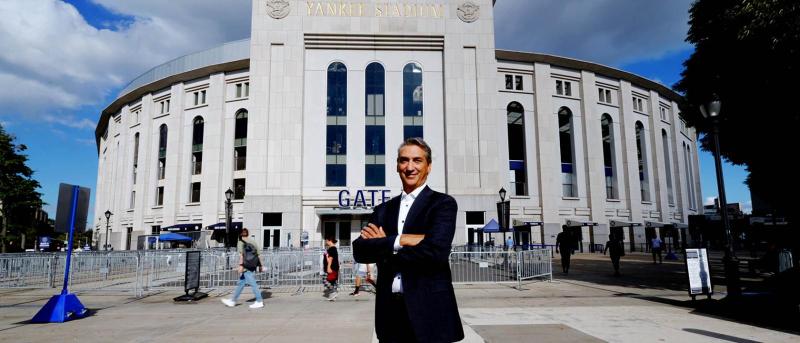 7 Questions for the Yankees Team Doctor
Orthopedic surgeon Christopher Ahmad, MD, is chief of sports medicine at Columbia University Vagelos College of Physicians and Surgeons and head team physician for the New York Yankees. The day after the Yankees clinched the American League East, securing their place in the playoffs, one step closer to the World Series, Ahmad took time to answer questions about his profession, patients, and the pressure of the postseason. And yes, he's part of the team that decides who is on or off the IL.  
---
What is sports medicine? 
The goal of sports medicine is to get all patients—not just athletes—back to their prior level of performance, healthy, pain-free, and active at their desired level.  
Sports medicine requires a team: orthopedic surgeons, radiologists, physical and orthopedic therapists, nutritionists, psychiatrists, cardiologists, and pulmonologists. The coordination and synergy of these specialists working together has tremendous benefit for patients. Accurate diagnosis of injuries and proper treatment are vital to keep physically demanding careers and lifestyles going. 
---
Who goes to a sports medicine doctor? 
Anyone with an injury, particularly one that can be attributed to repetitive motions, who wants to get back to doing their desired physical activity at their desired level can go to a sports medicine doctor.  
Chefs, dancers, sculptors, concert cellists and other musicians come to sports medicine because of the repetitive nature of their motions (running a bow across strings, for example). Even surgeons become sports medicine patients, with rotator cuff tears and cervical conditions, injuries that are like those we see in baseball pitchers. You don't have to be an athlete to be a patient.   
---
How do the injuries of professional athletes differ from those of recreational athletes?   
These days, they don't. More and more people are pushing their bodies to the limit at younger and older ages. Accordingly, they have injuries that years ago only happened to professional athletes, like the ligament tears that require Tommy John surgery.  
Because our young baseball, basketball, football, soccer, tennis, and other athletes aspire to play at higher levels, we have an epidemic of overuse injuries. The high school player wants to go to college; the college player wants to go pro. The training demands are so high that recreational and amateur athletes risk career-ending injuries before their careers begin.  
At the other end of the age spectrum, my office is full of senior patients getting injured playing pickleball. And their injuries are similar to those we see in professional athletes at the end of their career, such as rotator cuff tears and knee cartilage injuries. 
---
We think of Tommy John surgery as an issue for professional pitchers like Zack Britton, Chad Green, and Luis Severino. But this type of ligament tear can happen to any overhead-throwing athlete, of any age. Who are your most frequent patients, and who is a good candidate for Tommy John surgery? 
I've been doing this for 30 years, from studying mechanical engineering at Columbia University and learning how ligaments fail and tear, to diagnosing, treating, operating on, and determining prevention strategies. In that time, I've seen athletes get bigger, stronger, and throw harder than ever before. Though we as physicians come up with ways to prevent injuries, we're competing with the athlete's growth and desire to push physical capacity to the limits.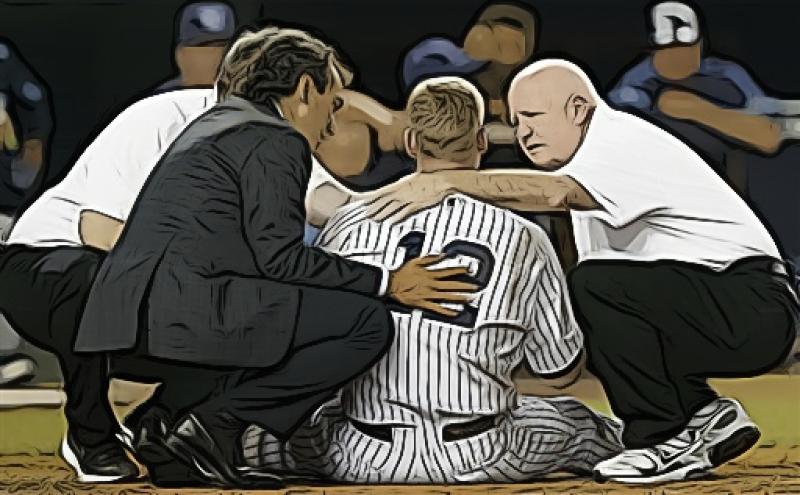 Candidates for Tommy John surgery, which replaces a torn elbow ligament with a tendon from elsewhere in the body, used to be high-level, professional pitchers. Then position players (infielders, outfielders, catchers). Now it's beyond baseball to other throwing athletes, like softball players and javelin throwers, and people who land on their elbows, like wrestlers. And the list includes youth athletes. 
New surgical options within the realm of Tommy John surgery, such as enhanced repair of the injured ligament in combination with a new transplanted ligament, can speed recovery and rehabilitation and help protect the ligament after the athlete returns to play. These techniques now allow us to repair tears in younger patients. What once was a non-operative situation in young people now can be a very small procedure, with rehabilitation time cut in half.  
---
When should an athlete in any sport at any level start thinking about protecting themselves from injury?  
Patients often ask: What can be done to prevent injuries, especially if you're new to a sport?  
In baseball, we've developed very good preventive exercises. For sports that involve your upper body—baseball, pickleball, tennis, golf—basic shoulder exercises that keep your rotator cuff strong and flexible decrease your chance of injury and/or need for surgery. 
If a sport involves your knees—soccer, for example—basic exercises that strengthen the hamstring, quadriceps, and hip muscles, plus agility training and learning how to land, will help prevent dreaded injuries such as ACL tears.  
How do you balance the demands of seeing patients in your office versus being the team physician?  
For 14 years I've covered every Yankees home game, some away games, and the playoffs. I assess players who need to be seen before a game, manage injuries that occur during the game, and check on players who need me after the game. When the team is on the road during the regular season, I am available by phone, no matter what time zone they're playing in.  
It's extremely rewarding to take care of some of the most recognized athletes in the world, but I also get to work with athletes of the future, and people of all professions, at my clinical practice. My non-Yankees schedule is in sync with my Yankees schedule; I see my own patients and perform surgeries when I am not seeing players. My patients know ahead of time if my schedule will be disrupted, like during the playoffs when I travel with the Yankees.  
The Yankees are in the playoffs. Do you take personal pride in a winning season?  
Of course winning is extremely sweet.  
From day one of spring training, the emphasis for Yankees players and staff is winning the World Series. So making it to the playoffs was extremely fulfilling, for everyone, professionally and personally. If I have even a small part in helping players perform on the field, their success is something I can share and gives me great joy. I do what every sports medicine doctor does: I keep dreams and goals alive for athletes determined to be the best they can be. We are facilitators.  
References
Christopher Ahmad, MD, is chief of sports medicine and the Lila Acheson Wallace Professor of Orthopedic Surgery at Columbia University Vagelos College of Physicians and Surgeons. He also is the head team physician for the New York Yankees and various high schools in New York City and New Jersey.
For an accurate diagnosis of a sports or repetitive stress-related injury and appropriate recovery plan, go to Columbia's Musculoskeletal and Sports Medicine page to find a location, a doctor, and learn more.