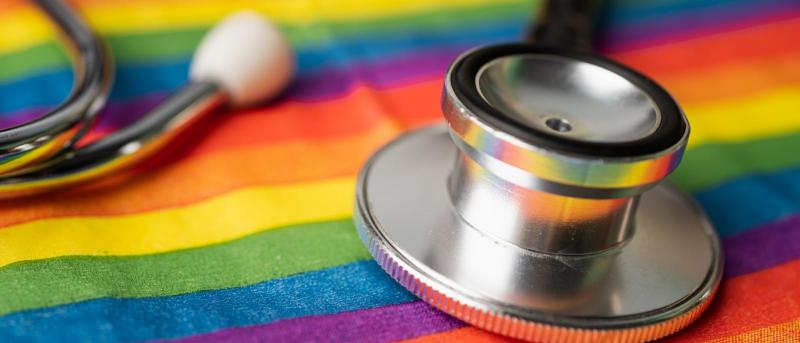 Pride and Health Care: Why Welcoming Providers Are Essential for LGBTQ+ Health
When it comes to providing health care for LGBTQ+ individuals, Columbia Primary Care physician Alexandra Brown, MD, says, "Everyone, no matter what community they're from, deserves to have access to all of the same services."
But finding a health care provider who offers those services is not always easy for lesbian, gay, bisexual, transgender, queer/questioning, nonbinary, or gender-nonconforming (LGBTQ+) individuals.
Many LGBTQ+ people report their provider doesn't understand issues involving their sexuality or gender identity, and some providers are downright hostile or even refuse to provide care.
As a result, patients don't talk about their health concerns, or they avoid seeking health care altogether. These barriers are partly responsible for the increased risk of heart disease, some cancers, substance abuse, and depression among LGBTQ+ individuals.
"As a primary care physician, my goal is that all my patients feel confident that they're getting the same care as everyone else," says Brown, assistant professor of medicine at Columbia University Vagelos College of Physicians and Surgeons, who is also an attending physician at the Q Clinic, a free clinic run by Columbia medical students for LGBTQ+ individuals.
"Patients who are part of the LGBTQ+ population really have the same issues as people who are not part of that community. We care about hypertension in everyone. We do cancer screenings for everyone."
Mental health issues are just as important for primary care practitioners to pay attention to, adds Stephen Ferrara, DNP, associate dean for clinical affairs in the School of Nursing, who runs Columbia's Nurse Practitioner Group where many practitioners have long sub-specialized in the care of LGBTQ+ individuals.
"We know from studies that there's a markedly increased rate of depression and suicidality and substance abuse among LGBTQ+ individuals, so we've really tried to combine mental health and physical health and offer a one-stop shop for individuals seeking care," says Ferrara. "We believe that our approach, which is wholistic—with a W—allows patients to really open up and we can address their mental and physical needs at the same time."
As with all patients, care should be tailored individually to an LGBTQ+ patient, based on family history, age, and other individual risks.
"I think sometimes patients have challenges when they encounter providers who may not be very familiar with what different risk categories are," Brown says. "For example, many providers think that women who have sex with women don't need Pap tests, which is a common myth. But the HPV virus can spread through genital skin-to-skin contact, so it's important for providers to keep up with guidelines."
At Columbia Primary Care practices, physicians are continually looking to improve care for LGTBTQ+ individuals. Physicians take training in cultural competency with LGBTQ+ patients and are now working with Columbia's Gender Identity Program so they can better manage health care and treatment for transgender patients. Regular surveys of patients also keep the practices aware of how they're meeting the needs of their patients and where they can improve. And when the electronic health system at Columbia was changed last year, a new feature was added to allow patients to choose their pronouns during registration and identify as lesbian, gay, bisexual, transgender, gender-nonconforming, or nonbinary, so the information is accessible to all providers.
"I have had patients who are establishing care with me for the first time, and I realize it's a scary experience because they don't know what to expect," Brown says.
Brown's philosophy is to ask the same questions every time no matter who the person is, without assuming that everyone is heterosexual. "If you're doing a sexual history, one of the riskiest things a provider can do is assume what someone's sexual practices are. Sexual practices should be asked of everyone, not just LGBTQ patients. The more the questions are normalized, the more comfortable everyone will be."
At Columbia Primary Care, five tenets guide the practice: kindness, integrity, inclusion, accountability, and excellence. "We want patients to feel comfortable coming here and know this is a place where they are welcomed," Brown says.
---
Transgender, nonbinary, and gender-nonconforming individuals can receive more specialized care at the Columbia Gender Identity Program.
The program, housed in the Department of Psychiatry, helps alleviate distress that is sometimes associated with gender dysphoria and treats individuals who have anxiety, depression, or substance use disorders, which occur at higher rates among the population. The program also coordinates with other health providers across Columbia University Irving Medical Center to assist in access to surgery, hormone therapy, or pubertal suppression.
"We provide people with a gender-affirming model of care that assists individuals in defining, exploring, and actualizing their gender identity without judgments or assumptions," says Melina Wald, PhD, the clinical director of the program.
"One thing people don't understand about gender-affirming care is that not all youth need to undergo surgical transition," Wald says. "We help develop a plan that best fits the needs of each individual, which may involve psychoeducation about gender and sexuality or social interventions like changing name, pronouns, clothing, and activities."
For individuals who do need hormone therapy or gender-affirming surgery, the treatments can be lifesaving. Recent studies show significant improvement in general well-being, a decrease in suicidal thoughts, and, after surgery, a significant relief of dysphoria. Regret is very rare.
Unfortunately, many trans individuals report having a negative experience with a health care provider. Nearly one in four trans people in the 2015 U.S. Transgender Survey reported they did not even seek necessary medical care because they feared being discriminated against.
"We have really well-trained providers within our system at Columbia, but at a national level, training for medical students and residents to care for LGBTQ+ individuals is really lagging," Wald says. "The majority of health care providers—even though they have good intentions and want to do their best—often just don't have the training."
"I think it's important to bring awareness to this issue," Ferrara adds. "Part of me hopes that there will be a day when a patient doesn't have to seek out a provider who is LGBTQ+-friendly, but we know that we're not there right now."
Legislation in many states that seeks to criminalize doctors who provide gender-affirming care and limit access of care is also having a detrimental effect on transgender, gender diverse, and nonbinary youth.
"Research from our center, and others, has shown that the sociopolitical climate and legislation targeting the LGBTQ+ community impairs the mental and physical health of individuals in the community," Wald says. "With the latest round of legislation, we're aware of many families that are considering fleeing their home states in order to maintain appropriate medical care."
---
6 health care tips for LGBTQ+ people
Get care sooner rather than later.
"Whether it's for a mental or physical health issue, many of us and especially trans, nonbinary, and gender-nonconforming individuals delay health care, and that can really further complicate things, especially in the realm of mental health," Wald says.  "It's important to try to find the time to prioritize mental and physical health so that you're able to achieve other goals that you have in life."
Use GLMA and NYC databases to find providers.
GLMA, a professional organization of LGBTQ+ health professionals, has a searchable database of providers who serve the LGBTQ population.
The New York City Department of Health also maintains a database, though it doesn't specifically identify LGBTQ-welcoming providers. "The database allows you to search for, say, providers who offer PrEP, which are medications taken before sex that prevent HIV transmission," Ferrara says. "So searching the database that way can point individuals in the right direction."
Prioritize your mental and physical health care.
A provider should not focus only on the physical, Ferrara says.
"The care doesn't have to be delivered under the same roof, so there should be coordination between mental health and physical health services," he says. "If that's not happening, I would suggest folks find a practice that does look at these things in totality."
Take the time to vet providers.
Developing relationships with providers who respect you and with whom you feel comfortable is key for everyone, says Wald.
For trans individuals, Wald says, it's especially important to find providers who have expertise and experience in treating other trans individuals. "Take the time to vet them to make sure you're receiving competent care," she says, "so you know your hormone therapy provider is really well-versed in how to best provide hormone therapy for your specific needs."
And if you're considering surgery, consult multiple surgeons. Wald says: "I acknowledge the difficulty of doing multiple consultations, but it will ensure that you learn about all the different options and that you're selecting a provider who is most qualified to provide you with the gender-affirming surgery that is aligned with your goals, your desires, and meets your physical needs as well."
Don't accept unwelcoming health care environments.
"When patients first walk in the door, they should ask themselves, 'Is this a welcoming environment where I can be frank about my history, to ensure my care is tailored specifically to me as an individual?'" Ferrara says.
"We've heard of patients who loved their doctor, their nurse practitioner, but hated the office. And that's a real detriment to care," he says. "If you're not feeling welcome and comfortable sitting in the waiting room, it just sets off this bad vibe that works against what we're trying to accomplish."
Everything from the physical environment, the ancillary staff, the front desk person, the medical assistant needs to be on the same page.
"You think that would be easy to do," Ferrara says, "but it's seemingly not in today's environment."
Listen to your body's signals.
Depending on the extent of their gender dysphoria, "trans men and women sometimes disassociate from their body to some degree, because they find it painful to experience their body as it is, especially if they haven't accessed gender-affirming medical interventions."
That can lead people to ignore signals from their body that something is wrong. "So, to the extent that it's possible, try to navigate ways to really connect with your body so you're able to take input from it and have a better understanding of how you're doing with respect to mental and physical health," Wald says.