P&S Student Caroline Park Pursues Olympic Goals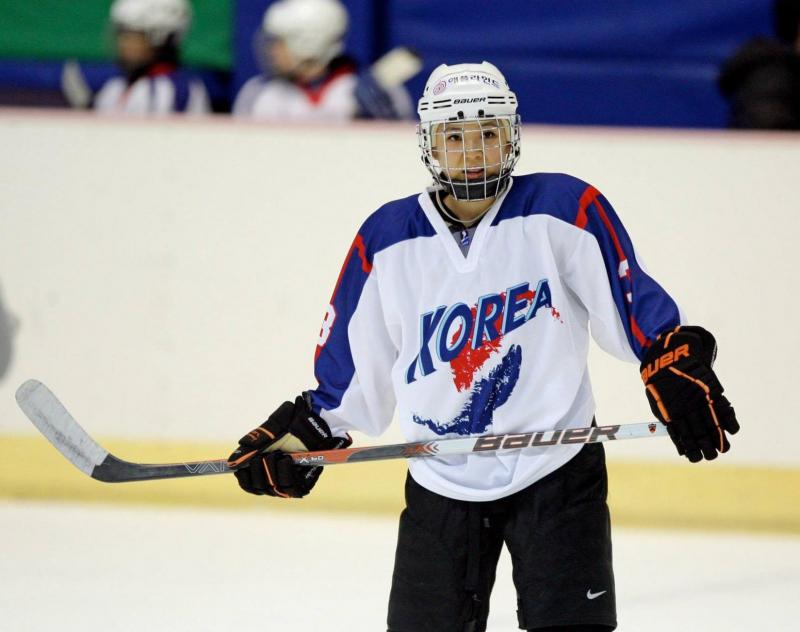 This story was updated on Jan. 29, 2018.
When P&S student Caroline Park competes on the newly unified Korean women's ice hockey team in the PyeongChang 2018 Olympics in South Korea, she'll have achieved a daunting feat—one made all the more impressive by her ability to manage the demands of medical school with training in a country halfway across the world. On Jan. 20, 2018, the International Olympic Committee announced that it would merge the Democratic People's Republic of Korea team and the Republic of Korea team into one and Ms. Park is among the 35 players named to the roster. The Olympics will also be a milestone in an emotional journey, from her hometown in Brampton, Canada, to her parents' birthplace and the opportunity to rediscover her roots. It all began with an unexpected email from the Korea Ice Hockey Association (KIHA) in 2013.
"I thought it was spam," admits Ms. Park, who received the message while she was employed as a clinical research assistant at the Hospital for Special Surgery (HSS) in New York City. "I sent the email to my Dad, who loves ice hockey, and he encouraged me to look into it."
The email invited her to try out for the Korean women's ice hockey team and was far from a fluke. Ms. Park has been a serious ice hockey contender for years. Her love of the sport started in childhood, when she eschewed ballet and piano lessons for playing hockey with her older brother. She went on to play for the Mississauga Junior Chiefs, Canada's junior league team, and was recruited to Princeton University's Tigers. After graduating from Princeton, she joined a mixed hockey club and kept playing while doing clinical research at HSS.
A few weeks after Ms. Park received the KIHA email, she boarded a plane to Seoul. The pull of her parents' birth city was strong. She grew up close to her Korean grandmother, who lived with the family in Canada. Korean was spoken at home. The country and its culture were familiar, yet there were still surprises in store.
"Walking into Seoul for the first time was definitely overwhelming," says Ms. Park. "Your senses are overloaded. There is so much noise from the traffic and the bustle of crowded sidewalks and markets. Smells from the different spices and seasonings used in the food waft from restaurants and street carts through the air, and, like any busy metropolitan city, there is an abundance of bright lights from store signs and towering skyscrapers that shine throughout the night. My experiences living in New York City helped me to quickly acclimate to Seoul."
This would be her first of many trips to South Korea over five years. Ms. Park would continue to work at HSS until 2015. That same year, she became a Korean citizen, a requirement to compete on the team, and also enrolled in the College of Physicians and Surgeons. Some people might wait until after the Olympics to attend medical school, but it never entered Ms. Park's mind.
"I'm used to having a lot on my plate," says Ms. Park. "Growing up, I played hockey. I acted. There was my academic work. All of this helps me to manage medical school and my hockey schedule."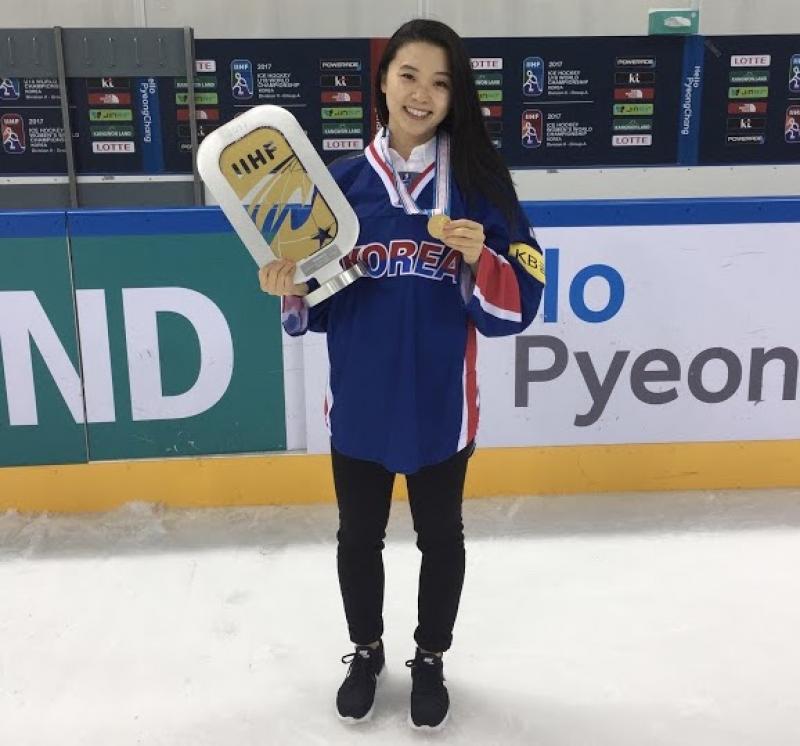 Ms. Park says medical school has been a lot of hard work--and fun, too. She thrives on learning alongside bright classmates and has served as a wellness leader for her class and as a club leader for the orthopedics interest group. She's also driven to succeed by a personal experience.
"I realized my interest in medicine when my grandmother had a brain aneurysm and passed away," says Ms. Park. "She was a huge figure in my life. I decided then that I wanted to be someone who is a caretaker when it matters most. That's what a doctor does."
To train for the Olympics, Ms. Park took a leave of absence from medical school. She studies in between training and keeping in touch with family and friends. For example, she returned to campus in May 2017 to resume her major clinical year with four back-to-back rotations at NewYork-Presbyterian Hospital. Upon completing her rotations, she rejoined the team for more training in South Korea.
"The culture of hockey transcends a country's culture," adds Ms. Park, whose teammates include a few other recruits from North America as well as born-and-bred Koreans. "My upbringing helped to make this transition to living in South Korea easier. When I'm here, it feels like home. It's surprisingly comfortable."
On the ice, Ms. Park plays forward and is known by her Korean name Park Eun-jung. She has already had some memorable moments. In February 2017, the Korean women's ice hockey team competed against China in the Asian Winter Games in Sapporo, Japan, where she scored a goal to tie the game at 2-2, a pivotal point that propelled the team to a shootout and a 3-2 win.
She approaches athletic competition as she does everything else. "I want to be a great hockey player and become a great doctor," Ms. Park says. "Whatever I'm doing in the moment, I do it 100 percent."
At least four other P&S alumni have competed in the Olympics; click on the photo below to learn more: