P&S Academy of Clinical Excellence Welcomes Inaugural Class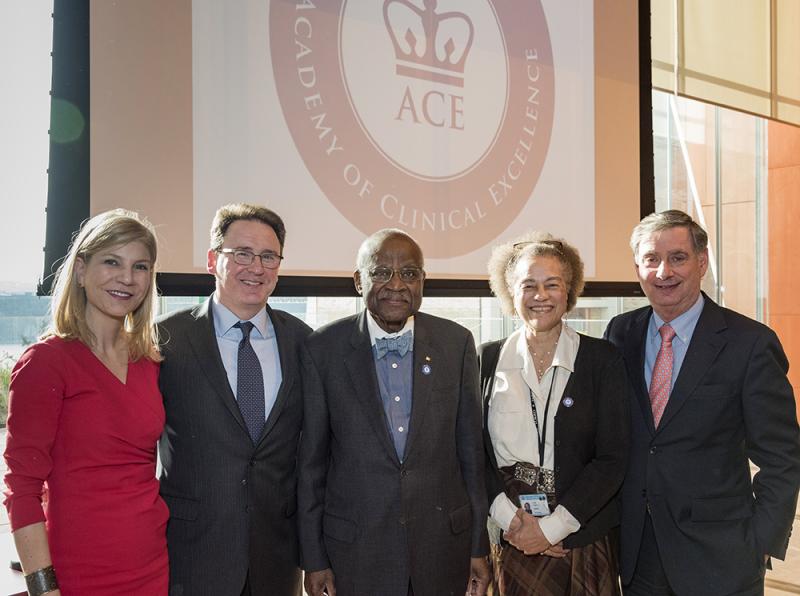 In May, 119 faculty members were inducted into the Academy of Clinical Excellence (ACE) of Columbia University College of Physicians and Surgeons (P&S). The ceremony and reception took place in the awarding-winning Vagelos Education Center.
ACE was launched to laud the achievements of faculty members who contribute to the P&S academic mission largely through the highest quality, evidence-based, and humanistic patient care. Inductees are full professors and have been at Columbia for five or more years. All devote more than 50 percent of their time to patient care and training the next generation of clinicians.
"The idea of recognizing and rewarding people for outstanding performance helps shape other people's behavior and helps them aspire to that pinnacle of excellence and that's what we're hoping the Academy will do," said James McKiernan, MD, chair of ACE and an inaugural class inductee, chair of the Department of Urology, and the John K. Lattimer Professor of Urology.
At the induction ceremony, Kenneth A. Forde, MD'59, the José M. Ferrer Professor Emeritus of Clinical Surgery and Columbia University trustee, said those who most inspired him throughout his career were "exemplary practitioners of the art of medicine."
He added that today's clinicians face many challenges that can distract from patient care, but there's a resurgence in clinical values evident in the medical curriculum, which teaches lifelong learning, respect for cultural differences, and how to help patients and their families cope with death and dying.
"Academies, such as this, have a bright future as long as the patient, past and present, remains central to the vision of academic medicine," said Dr. Forde.
Following Dr. Forde's remarks, the names of inductees were read aloud by Lee Goldman, MD, the Harold and Margaret Hatch Professor, Executive Vice President and Dean of the Faculties of Health Sciences and Medicine, and Chief Executive of Columbia University Medical Center.
ACE has recently kicked off a discussion series to serve the needs of clinical faculty. Joseph Tenenbaum, MD, the Edgar M. Leifer Professor of Medicine, and a member of ACE's inaugural class, presented "What I've Learned: The Importance of Clinical Excellence" at the first session on April 28. Dr. Tenenbaum talked about his experiences as a mentor and mentee. He fondly recalled all that he learned from his late mentor, Edgar M. Leifer, PhD'42, MD'46, who he described as "the leading internal medicine clinician of his day."