Opioid Addiction Treatments Equally Effective, But Need Wider Use
Six Questions with Edward Nunes, MD, on Opioid Addiction Treatment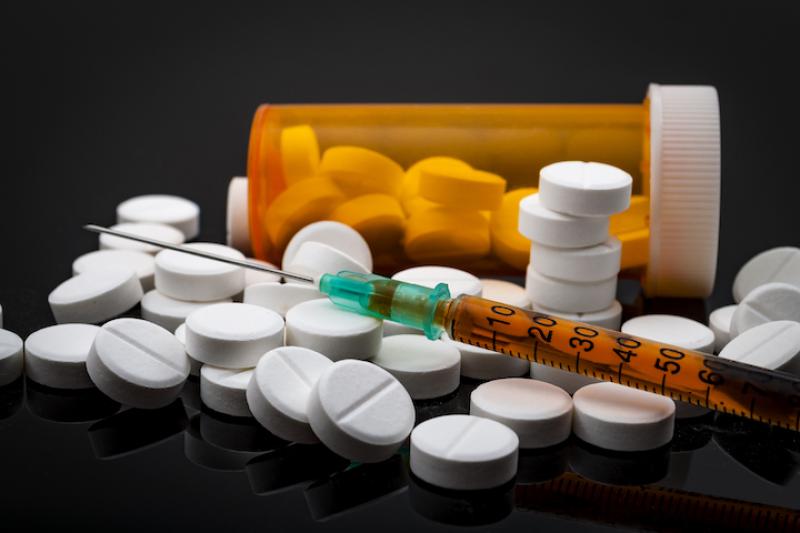 In 2016 alone, the opioid epidemic claimed more than 50,000 lives, but too few people with opioid addictions receive medications that have been shown to reduce opioid use and overdoses.
CUIMC addiction specialist Edward Nunes, MD, has been studying ways to improve opioid addiction treatment since the 1990s, when he began looking at the role of depression and other psychiatric disorders. As a principal investigator with the National Institute on Drug Abuse's Clinical Trials Network, he now designs and conducts clinical trials of drugs to treat opioid and other addictions.
His most recent study, published last November in The Lancet, compares the effectiveness of two of the newest drugs for treatment of opioid use disorder. We spoke with Dr. Nunes about what the findings mean for patients and clinicians on the front lines of the opioid epidemic.
Q: What are the main medications used to treat opioid addiction?
Currently, we have several good medications to treat people with opioid use disorder, although they are vastly underutilized. Methadone is an opioid agonist. It substitutes safely for other opioids without producing intoxication, protects against overdose, and helps patients become abstinent and return to normal functioning. Buprenorphine is a partial opioid agonist. It can be prescribed by any physician who takes a brief training to obtain certification, although too few physicians have done so. The newest option is a long-acting (monthly) injection of naltrexone, an opioid antagonist that blocks opioid receptors. It can be prescribed by any physician, but few physicians are familiar with it.
Q: What was the motivation for doing this study?
Because the two newer medications work differently, we wanted to study whether some patients might do better with one rather than the other.
Another goal was to show how these medications are used and encourage more clinicians to prescribe them. The trial was conducted in typical, community-based treatment programs where we hope these medications will be prescribed routinely.
Q: How do the differences between buprenorphine and injection naltrexone affect treatment outcomes?
Adhering to a daily treatment regimen can be a problem for many with opioid use disorder. Naltrexone has been available since 1984 as a daily pill, but adherence was poor. The long-acting version was developed to improve adherence. However, patients need to stop taking opioids and they may experience some opioid withdrawal symptoms before beginning extended-release naltrexone. Before this study, we knew that having to be detoxified and abstinent before beginning naltrexone injections would be a significant hurdle for some patients.
Patients who choose buprenorphine can begin treatment before fully detoxifying from other opioids.
Q: What did this study find?
As expected, a large number of participants in the naltrexone group--25 percent--were unable to complete detoxification and begin treatment. Only 6 percent of the buprenorphine group dropped out before receiving treatment.
But once treatment was initiated, relapse rates at 24 weeks were similar, at 52 percent of the naltrexone group and 56 percent of the buprenorphine group.
We clinicians can't always predict which treatment will be most successful for individual patients. But having more options means that if one treatment doesn't work, we can try another one.
Q: Why aren't these medications used more often?
The larger problem is getting our nation's health systems to embrace these treatments. Extended-release naltrexone only received U.S. FDA approval for the treatment of opioid dependence in 2010, so many clinics aren't familiar with it. Buprenorphine has been around since 2002, but it isn't available in many parts of the country, especially in rural areas. And methadone can only be administered at specially licensed clinics, limiting access.
New York state has been proactive and innovative in terms of getting all of the available treatment options out to patients. We have more methadone clinics than any other state. In addition, New York City has worked to educate doctors about buprenorphine, which is covered by Medicaid here.
Q: Are there any other treatment options on the horizon?
The NIDA Clinical Trials Network is currently testing long-acting, monthly buprenorphine injections. Although buprenorphine is effective in pill form, some patients have difficulty taking a pill every day. And intermittent use isn't as effective as daily use. Long-acting buprenorphine could be available in treatment centers as early as next year.
We're also looking at smartphone apps that can remind patients to take their medication. And some apps deliver counseling and education to patients about their addiction and how to cope with it. This can free up clinicians to pay attention to the patient's unique issues with opioid addiction and treatment.
###
Topics
References
Dr. Nunes is a professor of psychiatry at Columbia University Vagelos College of Physicians and Surgeons.
The study is titled "Comparative effectiveness of extended-release naltrexone versus buprenorphine-naloxone for opioid relapse prevention (X:BOT): a multicenter, open-label, randomized controlled trial."
Funding was provided by the National Institute of Drug Abuse Trials Network.
A list of the other contributors and conflicts of interest can be found in the paper.