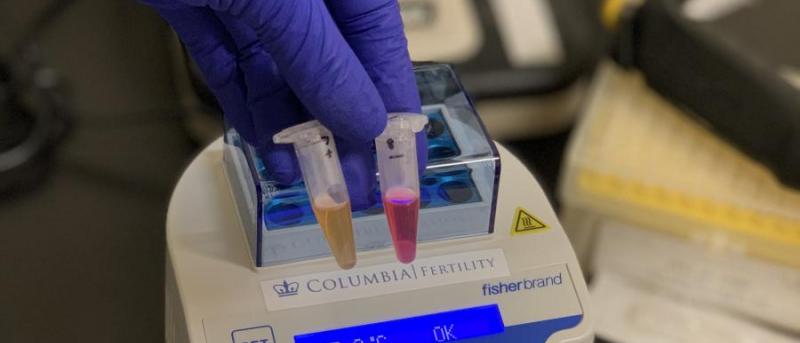 New COVID-19 Saliva Test Is Born in Columbia Fertility Clinic
Initial findings of this study were first reported in medRxiv on June 20, 2020. 
Researchers at the Columbia University Fertility Center have developed a rapid and accurate one-step diagnostic test that detects SARS-CoV-2, the virus that causes COVID-19, in samples of saliva. The test has a single tube that contains all of the materials needed to provide reliable results in about 30 minutes.
Results of a clinical validation study, published online today in Scientific Reports, show that the test has a very low limit of detection and is highly sensitive and specific. 
Unlike commercially available tests, the new saliva test does not require expensive instruments or proprietary components.
The test is a modification of technology currently used by Columbia fertility experts to study early placental development in treating infertility and preventing miscarriage.
"To help stem future outbreaks of COVID-19, diagnostic testing must be widespread and frequent with tests that can detect low levels of virus, like PCR tests, but with the ability to deliver results quickly and easily, like antigen tests," says Zev Williams, MD, PhD, the Wendy D. Havens Associate Professor of Women's Health and chief of the division of reproductive endocrinology at Columbia University Irving Medical Center.
"We realized that the same approaches that we developed to help create lives could be modified and applied to help save lives during the COVID-19 pandemic. The test serves a critical need for more widespread and accurate testing to help us safely reopen economies closed by the pandemic and prevent future outbreaks," adds Williams, who is also chief of the division of reproductive endocrinology at Columbia University Irving Medical Center.
What's new
Current diagnostic tests for COVID-19 that detect viral RNA must be shipped to a reference laboratory unless the facility collecting the samples has purchased costly and proprietary machinery and cartridges to extract the virus's RNA from the fluid in which the sample—either a nasopharyngeal swab or saliva—is placed.
The new test eliminates the extraction step and simplifies processing. Saliva is collected in a cup and then placed into a tube containing enzymes and reagents that detect the virus's RNA. The tube is then placed into a water bath or heat block to keep the sample warm throughout the reaction. Within 30 minutes, the fluid in the tube turns yellow if the virus's RNA is present and red if the virus isn't present.

Technology overcomes obstacles of testing in saliva
The new test is based on a well-known DNA amplification technique called loop-mediated isothermal amplification (LAMP), which has several advantages for point-of-care testing for SARS-CoV-2. While the traditional polymerase chain reaction (PCR) methodology used to amplify DNA requires a costly and complex thermocycler (a machine that changes temperature during different steps of the process), the LAMP test is performed at a single temperature, so it can be processed using only a heat block or water bath. In addition, the test result can be seen with the unaided eye using colorimetry.
Compounds found in saliva, and the usual buffers, enzymes, and detergents added during LAMP processing, reduce the sensitivity of the tests. Williams and his team found that alternate buffers and enzymes — along with modifications to the chemicals that recognize the virus — dramatically improved the test's sensitivity in saliva.
Previously, the researchers demonstrated that the new test is >1,000 times more sensitive than the traditional LAMP test in saliva. The test is based on the researchers' previous LAMP test that detects the SARS-CoV-2 virus in nasal swabs. Similar to the saliva test, the nasal swab test detects the virus's RNA directly from the transport media (the fluid in which the swab is placed before processing) in one step and does not require expensive instruments or proprietary components.
New test is reliable, scalable
In the current study, Williams and other researchers at CUIMC tested the LAMP saliva assay in 65 blinded, paired samples. 
The study showed that the new test correctly identified 97% of the samples that also tested negative with PCR testing and nearly 97% of the positive samples, with no cross-reactivity with 19 other viruses and bacteria known to cause respiratory illness—including other coronaviruses.
In addition, the test correctly identified 100% of pooled samples, including both positive and negative samples.
The new test can detect as few as 1 or 2 copies of the virus in a microliter of saliva. Using currently available antigen tests and LAMP assays, even hundreds of copies of the virus wouldn't be detected.
"Our test was so sensitive that even when diluting a sample five times in pooled samples, we still had 100% detection," Williams says. "This means that an entire class of 30 students could be tested in six pools, potentially lowering the cost and time needed to test all of the students individually."
References
More information
The study, titled "Field-deployable, rapid diagnostic testing of saliva for SARS-CoV-2," was published in Scientific Reports on March 9, 2021.
Other authors (all from Columbia except where indicated) are Shan Wei, Hemant Suryawanshi, Alexandre Djandji, Esther Kohl, Stephanie Morgan, Eldad Hod, Susan Whittier, Kevin Roth, Raymond Yeh, Juan Carlos Alejandre, Elaine Fleck, Stephen Ferrara, Daniel Hercz (Jackson Memorial Hospital, Miami, FL), David Andrews (Jackson Memorial Hospital), Lilly Lee (Jackson Memorial Hospital), Kristopher Hendershot (Jackson Memorial Hospital), Joshua Goldstein (Jackson Memorial Hospital), Yousin Suh, and Mahesh Mansukhani,
This study is supported by grants from the National Institutes of Health and the John and Wendy Havens Innovators Program.
Dr. Williams is a consultant to Sorrento Therapeutics, which has licensed the technology from Columbia University.