Nine Projects Win Prizes at P&S Student Research Day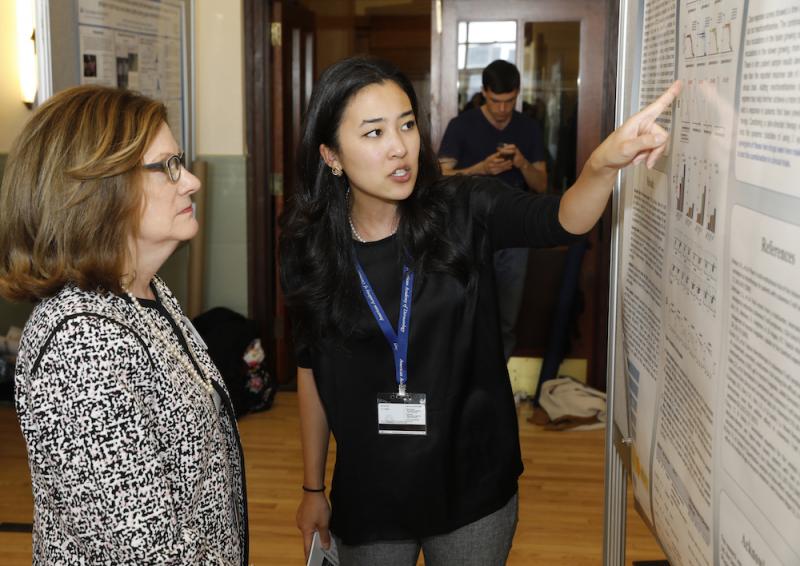 Sixty-five students presented their work to fellow students, colleagues, and faculty at the annual P&S Student Research Day.
Many of the presenters chose their topics based on deeply personal reasons. An Indian Health Service rotation in rural New Mexico partly inspired Christie Miles to study primary care experiences among P&S alumni. Michael Hernandez's background as a Latino gay man led him to examine adherence to PrEP, a drug used to prevent HIV infection, which disproportionately affects gay and Latino communities. Christina Patrone's dual interests in oncology and dermatology drew her to investigate cutaneous T-cell lymphoma (CTCL), a rare cancer of white blood cells that affects the skin.
All medical students at P&S conduct research. A scholarly project is a requirement for graduation, and many students spend a summer or an extra year in a basic or clinical science lab.
"In the lab, I was surprised at how temperamental the cells were," Ms. Patrone says. "Studying the synergy of two drugs in vitro to treat CTCL was my most prolonged laboratory project and gave me a deeper appreciation for basic science. I also saw CTCL patients in clinic and hearing about their experiences with therapies was important in guiding my lab research."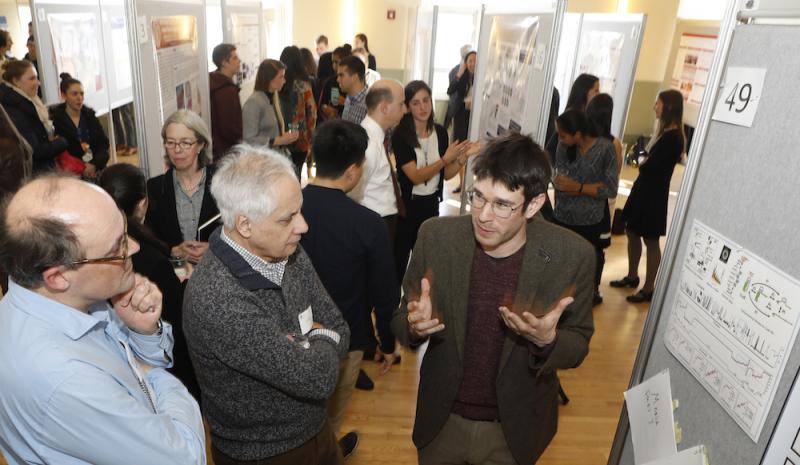 This year's event featured projects in four categories: scholarly projects, research year, MD/PhD research, and summer research. Faculty judges, including P&S Dean Lee Goldman, MD, roamed the Bard Hall Lounge to review the colorful research posters mounted on boards and interview students about their work. The event culminated in an awards ceremony, where the nine winners were announced.
Research by at least one of those winners has already garnered buzz among the medical community. Jonah Zuflacht, the second-place winner in the scholarly projects category, presented his project at the American Stroke Association's International Stroke Conference in February. The key findings of his study, "Psychiatric Hospitalization Increases Short-Term Risk of Stroke," were highlighted at the association's meeting and in news media coverage.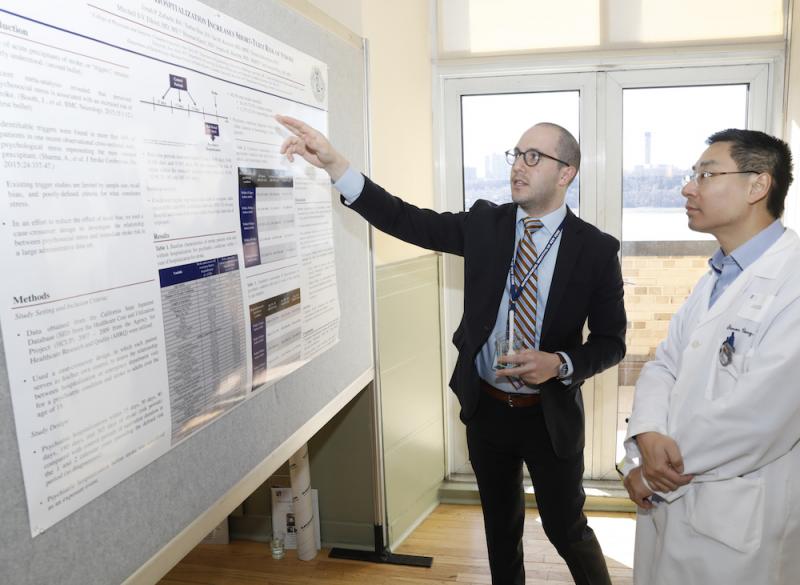 Research Day Winners
Scholarly Projects
First Place:
Marla Lipsyc, "Integrative Genomics Analysis of Metastatic Colorectal Cancer" (mentor: Rona Yaeger, MD)
Priya Purushothaman, "A New Approach to Well-Child Care: A Group Model" (mentor: Suzanne Friedman, MD)
Second Place:
Jonah Zuflacht, "Psychiatric Hospitalization Increases Short-Term Risk of Stroke" (mentor: Joshua Willey, MD)
Research Year
First Place:
Theodora Karagounis, "Dynamics of Escape After a Single Infusion of a Broadly Neutralizing Anti-HIV-1 Antibody in Human Subjects" (mentors: Michel Nussenzweig, MD, PhD, and Till Schoofs, MD)
Alejandra Perez, "Identifying Candidate Genes in the Development of Congenital Anomalies of the Kidney and Urinary Tract (CAKUT)" (mentor: Simone Sanna-Cherchi, MD)
Second Place:
Zack Englander, "Extent of Vascular Dysregulation in Diffuse Gliomas Is Explained by IDH1 Mutation Status" (mentor: Jack Grinbrand, PhD)
MD/PhD
First Place:
Alana Mendelsohn, "Divergent Hox Coding and Evasion of Retinoid Signaling Specifies Motor Neurons Innervating Digital Muscles" (mentor: Thomas Jessell, PhD)
Second Place:
Sam Clark, "Evidence of Synchronous and Asynchronous Activity and Decreased Activation Between Left and Right Striatum in Both Direct and Indirect Paths During Goal-Oriented Behaviors in Mice" (mentor: David Sulzer, PhD)
Summer Research
First Place:
Natalia Fontecilla, "Development of Merkel-Cell Innervation During Embryogenesis" (mentor: Ellen Lumpkin, PhD)