A New Type of Men's Health Program Opens
This will surprise no one, but men don't like to go to the doctor.
"It's been documented: No group utilizes health care resources less than men between the ages of 18 and 45, followed closely by men between the ages of 46 and 64," says Joseph Alukal, MD, associate professor of urology at Columbia University Vagelos College of Physicians and Surgeons.
"Unfortunately, we also know that men become ill at a younger age, have more chronic illnesses, and die at younger ages than women."
A new men's health program at NewYork-Presbyterian, led by Alukal, is now making it easier for men to access the care they need with physicians across New York City and Westchester County.
The program is a collaboration among primary care physicians, urologists, and cardiologists from NewYork-Presbyterian Lawrence Hospital, NewYork-Presbyterian/Columbia University Irving Medical Center, and NewYork-Presbyterian Medical Group Westchester.
"What's unique about our program is the opportunity to get world class care—both in person and telemedicine—at almost any location in Manhattan or Westchester County as well as the remainder of the five boroughs and the tri-state area," Alukal says.
"Access is an important part of providing quality care to men. If we can make it easier for men to get in front of the doctor, they are more likely to participate."
The program has created a dedicated team of practitioners from internal medicine, cardiology, urology, and other disciplines whose care can be coordinated so that a patient can speak to two, three, or four providers—if needed—within just a day or two of contacting the program.
Programs that provide multidisciplinary care for men are relatively new, but they're important in providing holistic care because "coordination of care removes a barrier to the male patient opting out or failing to participate or follow up," says Alukal, who recently edited a book about designing the modern men's health center.
The new program is also unique in using new cutting-edge algorithms to identify the doctors a patient needs to see.
"Often a patient has symptoms, but they don't know who to go to," Alukal says. "Men can now go to our website, answer some questions online, and we'll figure out which doctors are best to deliver the care that they need and arrange appointments, including telehealth visits, so the patient may only have to leave their house once."
---
5 health tips for men
Get the COVID vaccine.
By early June, according to CDC data, 47% of fully vaccinated adults in the United States were men. That's a big improvement from a couple of months ago when men accounted for only 40% of vaccinated adults in some states.
Alukal says one reason men should get vaccinated is that COVID impacts men more severely.
"We did a study earlier in the pandemic comparing how COVID affects men and women and, like others, we found men in New York City at greater risk of being hospitalized with COVID, and they're more likely to die from COVID than women," Alukal says. "We saw that across all age ranges but the difference was most pronounced among men in their 20s, 30s, and 40s.
"When my male patients ask me if they—or their brothers and fathers—should get the vaccine, my answer is uniformly yes. We have a disease that has more of a negative impact on men, and now we have a tool that can keep you from getting sick."
Alukal says that despite rumors on social media that the vaccine affects male fertility, studies now show no evidence of such an impact in the many millions of men who have been vaccinated. A very recent study in JAMA from other researchers in urology found no change in sperm counts in healthy young men receiving the vaccine.
Find a primary care doctor in your 20s.
Alukal says getting regular checkups is essential for men of all ages, even when they feel perfectly fine. "It's important to have a relationship with a doctor you trust, whom you can check in with and figure out how to get screened or tested as soon as possible if needed," says Alukal.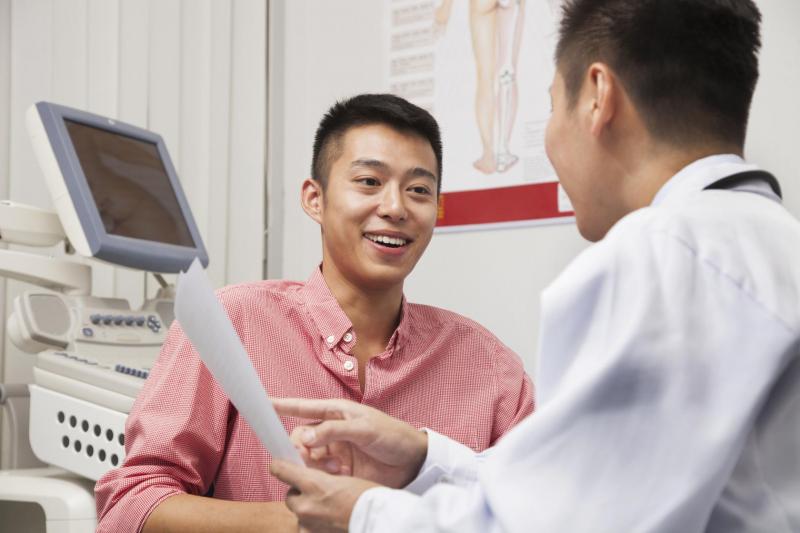 "Even if you're in your 20s and 30s and are generally healthy, take this opportunity to create a relationship with a doctor you are comfortable with."
Get a colonoscopy at 45.
The U.S Preventive Services Task Force recently lowered the recommended age from 50 to 45 for starting colorectal cancer screening. Although most new cases of colorectal cancer occur in people between 65 to 74 years of age, just over 10% occur in people younger than 50 years, and the rate has been increasing.
"Colorectal cancer is the third leading cause of cancer death for men," Alukal says, and for some men with a family history of colon cancer, screening may need to start even earlier. "For those without a family history, it's generally recommended to get a colonoscopy every 10 years after the initial screening, up to age 75, although your doctor may want to repeat the test sooner depending on the results of the colonoscopy."
Talk to a urologist about the PSA test.
"The manual prostate exam is definitely something that patients need once a year once they turn 40," Alukal says. During the exam, the physician can feel if the prostate has enlarged, developed hard spots, or become tender, potential signs of prostate cancer.
The PSA test, a blood test that indirectly measures prostate cancer risk, has become very controversial. "And there's a good reason for that. It's not perfect," Alukal says. "The strong recommendation from the American Urological Association is to start getting a PSA test at age 55, but I always encourage men, once they're in their 40s, to speak with their doctor, share their family history of prostate cancer, if any, and move forward from there.
"Work with a urologist to determine when to start screening. You can then have the discussion about the PSA test, its risks and benefits, and whether you need to get one."
Take care of your heart.
Heart disease is the leading cause of death among American men, accounting for 1 in 4 deaths.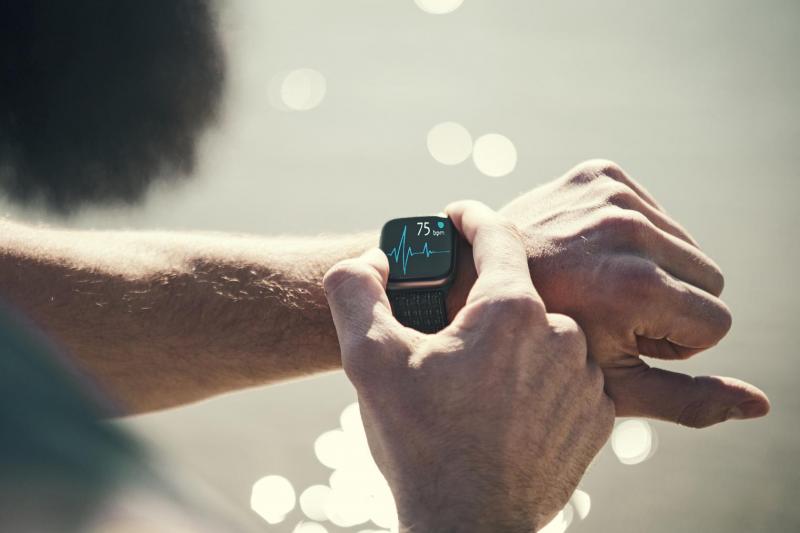 High blood pressure and diabetes raise the risk of heart disease, but many men don't know they have these conditions, so getting your blood pressure and blood glucose levels measured regularly is important.
"Other tests are appropriate in adult male patients of any age with symptoms consistent with heart disease—chest pain or shortness of breath for example—or those with risk factors including high blood pressure, high cholesterol, smoking, or family history," Alukal says.