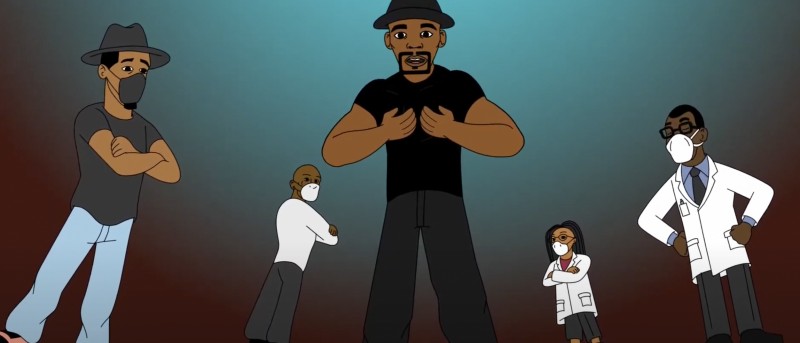 New Rap Videos Aim to Help Increase COVID-19 Vaccination in Communities of Color
Using the power of music, a series of rap videos launched by Hip Hop Public Health, a community outreach organization founded by Columbia neurologist Olajide Williams, MD, aims to increase COVID-19 vaccine coverage in communities of color.  
The series was featured on PBS News Hour on March 10.
"As the coronavirus continues to ravage communities of color, the long-standing distrust that many feel towards medical science has proven to be an even greater challenge," says Williams, professor and chief of staff in the Department of Neurology at Columbia University Vagelos College of Physicians and Surgeons.
"Our goal with the Community Immunity anthology is therefore to increase vaccine literacy by demonstrating three critical points of fact: One, the vaccine is safe; two, no scientific shortcuts were taken in the development of the vaccine; and three, being vaccinated is an act of community service."
The anthology, Community Immunity: A Rap Anthology about Vaccines, includes five animated videos featuring Grammy award-winning rapper Darryl DMC McDaniels of Run-DMC. 
"COVID-19 is the most urgent global challenge we face today, and if we can encourage 80% of the population to get vaccinated, we can achieve the community-wide immunity we need for social activities to return to normal," Williams says.
A recent national study of more than 8,000 adults found the likelihood of getting vaccinated against COVID-19 dropped from 75% in April 2020 to 56% in December 2020. In the study, Black individuals were among the least likely to be vaccinated. Another study found that COVID 19-related deaths are nine times as high among Black adults between the ages of 35 and 44 compared with white adults of the same age.
Williams and colleagues pioneered the Multisensory Multilevel Health Education Model, which leverages the power of culture and art to motivate people to live healthier lives.
"We recognize that knowledge alone does not motivate behavior change," Williams says. "To meet the challenge of COVID-19, we need to truly connect, culturally and emotionally."
The videos address a variety of topics to increase acceptance of COVID-19 vaccines—how vaccines work, how we know they are safe, vaccine myths, what to expect after getting vaccinated, and why it's better to get vaccinated than to get COVID-19—in a culturally relevant way. 
"Communities of color carry the heaviest burden from the pandemic, and in order to stop the virus in its tracks, we need to increase vaccine literacy, change behavior, and get vaccinated," says McDaniels, who is a member of the Hip Hop Public Health Advisory Board. "By harnessing the power of hip hop, we hope to connect with communities of color in a way they can relate to and encourage folks to get vaccinated. I am honored to lend my voice to this vital campaign—get the shot y'all!"
Hip Hop Public Health will release a new video in the series each week until March 11.
The free videos will be introduced through a series of community mobilization events in partnership with the State of New York's COVID-19 Vaccine Equity Task Force, HeartSmilesMD, the New York City Department of Education's Office of School Wellness Programs, and others.
References
More information
This article was originally published on Feb. 11, 2021.
Community Immunity: A Rap Anthology about Vaccines was produced by Artie Green.
Read the full press release from Hip Hop Public Health.
The program receives support from The Skoll Foundation, Columbia University Vagelos College of Physicians and Surgeons, the Dalio Center for Health Justice at NewYork-Presbyterian, and Columbia Community Service.