New PTSD Treatment for Veterans Deploys Horses as "Therapists"
A new Columbia study aims to standardize equine therapy and help veterans control symptoms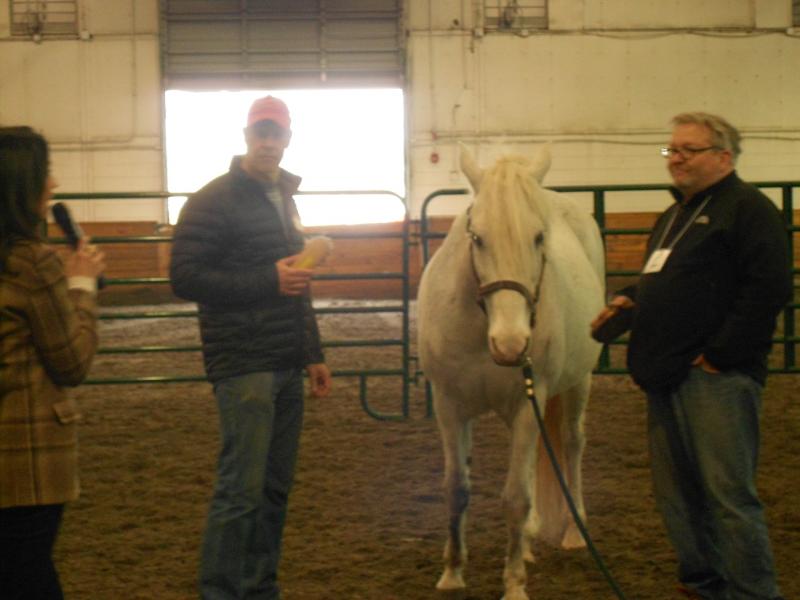 Just 15 minutes from Columbia University Medical Center's Manhattan campus, in Bergen County, NJ, horses, ranch hands, and mental health experts are working to help veterans with PTSD get control of their symptoms.
They are part of a new study by researchers from Columbia University Medical Center and New York State Psychiatric Institute to evaluate the effectiveness and safety of a horse-assisted therapy in reducing PTSD symptoms.
"Horses, like people, are highly social animals who are sensitive to the emotional states of others," says Prudence Fisher, PhD, associate professor of clinical psychiatric social work (in psychiatry) and co-lead investigator of the study. "In addition to being patient, horses are prey animals that are known for their hypervigilance toward potential dangers—just like people with PTSD. We think that horses may reflect back some of the emotions that patients with PTSD are experiencing."
An estimated 14 percent to 30 percent of veterans are at risk for developing PTSD. Standard treatments for the disorder, such as exposure therapy and cognitive behavioral therapy, are hindered by high drop-out and low efficacy rates. Although "horse therapy" is widely used to treat children and adults with a variety of mental health problems, including PTSD, little data on its effectiveness exist.
"Anecdotally, using horses has shown some promise in treating a range of mental health problems, such as PTSD and depression," says Yuval Neria, PhD, professor of medical psychology (in psychiatry and epidemiology) at CUMC, PTSD expert, director of Columbia's PTSD research program, and a co-lead investigator of the study. "However, therapy programs that use horses are not standardized and are highly variable in both content and delivery, so we haven't been able to determine if it is truly effective in reducing symptoms of PTSD and depression."
The new study is recruiting at least 60 veterans with clinically diagnosed PTSD. Participants undergo eight weekly therapy sessions at the Bergen County Equestrian Center in Leonia, N.J. The patients are treated in small groups that are led by a mental health therapist and an equine therapy specialist. A horse expert, or "wrangler," is present to ensure safety while patients groom and feed the animals. Assessments are performed before, during, and after therapy to determine if the therapy increased the patients' resilience and ability to control PTSD symptoms.
If the data are promising, the researchers hope to conduct additional studies to compare the efficacy of the horse therapy with other PTSD treatments and to examine whether this type of treatment is associated with structural and functional changes in the brain.
"We hope that this therapy will enable veterans to recognize a little bit of themselves in the horses, and that this ability to identify with the animals will help them learn to regulate their own emotions when they are not faced with danger," says Dr. Fisher.
WATCH: Drs. Fisher and Neria recently discussed the program on WABC:
http://abc7ny.com/video/embed/
The study (IRB #7232) is funded by a donation from the Earle Mack Foundation to the Research Foundation for Mental Hygiene.
For information about how to participate, please contact Anne Hillburn at 646-774-8042, or visit http://columbiapsychiatry.org/ptsd/research.
Topics