New Mobile Health Clinic Set to Roll
The Columbia University College of Dental Medicine's mobile dentistry program is poised to double its capacity to deliver health screenings and low-cost dental care to residents of Northern Manhattan and the Bronx with the introduction of a new mobile health clinic, which has been funded by a $500,000 grant from the Mother Cabrini Health Foundation.
This van will boost CDM's capacity to meet clients in their communities and to conduct oral health screenings and primary care exams.
The new mobile clinic is staffed by faculty and students at Columbia University's College of Dental Medicine and the Vagelos College of Physicians and Surgeons. Using an integrated model for both primary medicine and oral health that allows patients to receive comprehensive care, the new van features both a dental chair and a medical examination table. The clinic is equipped to offer a new level of interdisciplinary preventive care, including vaccinations, and is outfitted with dental instruments that capture biometric information to improve clinical care through the college's Center for Precision Dental Medicine.
This new model will enable CDM to create additional connections with community programs and centers, allowing the dental school to help more individuals in the community gain access to care and overall health education. It will also further enhance the service-learning experience for students, allowing them to meet patients where patients live, work, and go to school.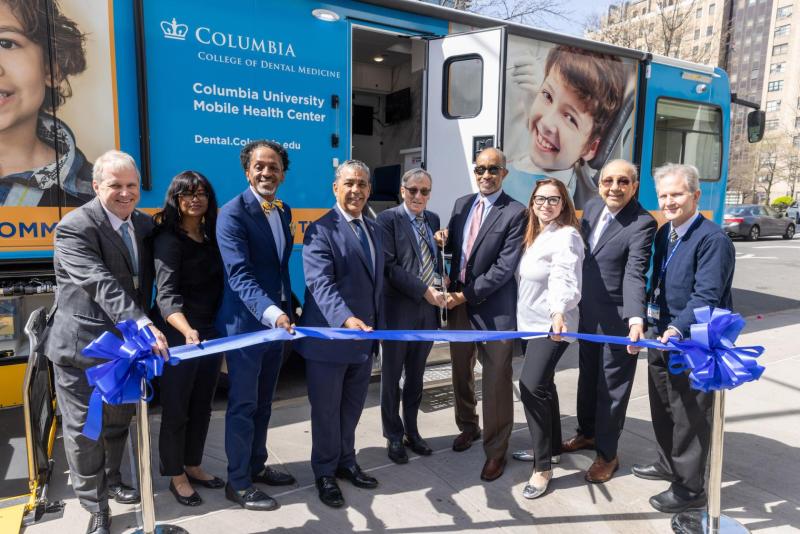 Soomin Park, a third-year student at CDM and co-president of the student-run Columbia Harlem Homeless Medical Partnership, which treats under-documented, uninsured, and low-income people in West Harlem, says she is excited about the potential of this new van to treat more community members. "There are always more patients on the waiting list than we can treat," she says. Park explains that the new van will help reduce the number of people on the wait list.
Like the current mobile clinic, which was funded by a grant from the Delta Dental Foundation, the new van will travel to neighborhood schools, Head Start programs, day care centers, foster care facilities, nursing homes, rehabilitation centers, and health clinics in Harlem, Inwood, Washington Heights, and the South Bronx to provide onsite oral health care and preventive health services to children and seniors through Columbia's DentCare program. And, like the current clinic, the new, bright blue bus, emblazoned with photos of smiling children and senior citizens, reflects CDM's commitment to improving access to oral health and primary medicine in the communities it serves.
Amy Herbert, DDS, director of community engagement and partnerships at Columbia's College of Dental Medicine, says: "CDM is currently partnered with several city schools, Head Start programs, and senior centers that facilitate access for communities who traditionally experience barriers to care. The integrated dental/medical van will address various needs of the community simultaneously."