New Group Created to Increase Representation and Belonging for Latino Community
Columbia University's Vagelos College of Physicians and Surgeons has established the VP&S Latino Association, a group dedicated to fostering the development, presence, and belonging of the Latino community at the medical school.
VP&S faculty, department chairs, departmental diversity leaders, students from the Black and Latino Student Organization and Latino Medical Student Association, and high school scholars from NYP's Lang Youth Medical Program celebrated the founding of the VP&S Latino Association Tuesday, Nov. 15. The inaugural reception featured addresses by Katrina Armstrong, MD, dean of the Faculties of Health Sciences and the Vagelos College of Physicians and Surgeons, and Anne Taylor, MD, professor of medicine and vice dean of academic affairs at VP&S. Leaders shared their vision for the future of the Latino community at VP&S and beyond.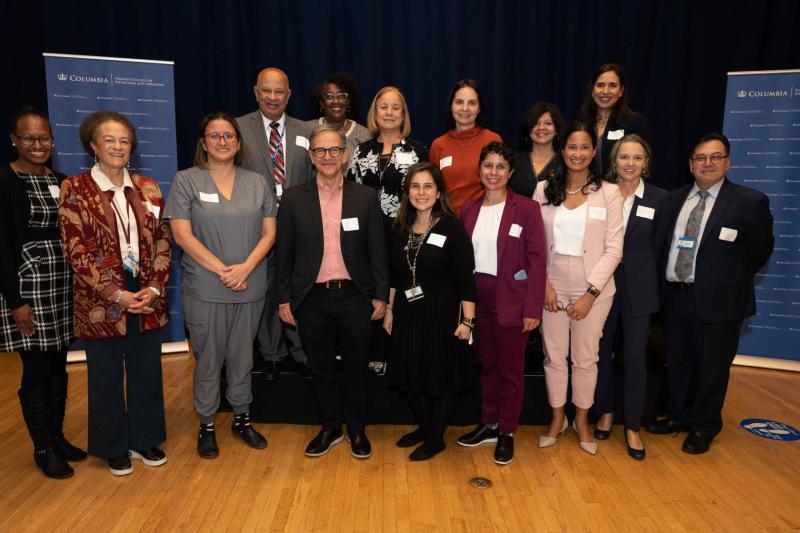 The new association aims to improve the experience of Latinos at VP&S by assisting in the recruitment, retention, and promotion of Latino faculty and trainees and providing mentorship to promote well-being and facilitate social connections. The association also intends to increase representation of Latinos in leadership positions and help shape policy at VP&S; develop and facilitate partnership opportunities with Latino physicians; connect with and support other groups under-represented in medicine; engage with and advocate for the Latino community at large; and decrease disparities and improve health outcomes for the Latino community.
The VP&S Latino Association is led by co-presidents Ana Cepin, MD, associate professor of obstetrics & gynecology and director of community women's health in the Department of Obstetrics & Gynecology at VP&S, and Mara Minguez, MD, assistant professor of pediatrics at VP&S.
Increasing representation for Latino physicians, allied health professionals, and trainees is a top goal of the organization. While around 20% of people in the United States identify as Latino, only about 7% of physicians and 9% of health care practitioners overall are Latino, according to a recent report from the Pew Research Center. The report indicates that the lack of Latino representation among health care providers is one of several factors that can lead to worse health outcomes for the Latino community. Lack of representation contributes to language and cultural barriers as well as potentially differential treatment for Latinos.
"In the last several years, and through the pandemic, there's been a light shined on health outcomes in communities of color," said Minguez. "This is the time for us to come together and support our faculty so that we can work to increase representation in the future."
The association has identified priority areas of focus and formed committees tasked to work on faculty affairs, social affairs and communications, external affairs, and community affairs,. A major goal for the association is to increase the input of the Latino community into VP&S policies and leadership decisions, a goal that Minguez and Cepin believe will better serve the medical center community and our patients.
"There is a critical need for us at VP&S to ensure that we don't let more generations go by without leading and creating the workforce that our patients and communities deserve," said Armstrong. "I come here with commitment and hope and the willingness to roll up my sleeves and do everything I can to be on this journey with you."
The association welcomes VP&S physicians and allied health professionals who support our mission to foster the development, presence, and belonging of the VP&S Latino community. Please fill out this form to sign up for the mailing list. Questions may be directed to ocsp-admin@cumc.columbia.edu.
More Photos