New Gift from Irvings Supports Genomic Cancer Research and Care
Herbert and Florence Irving Make Transformative Gift to Columbia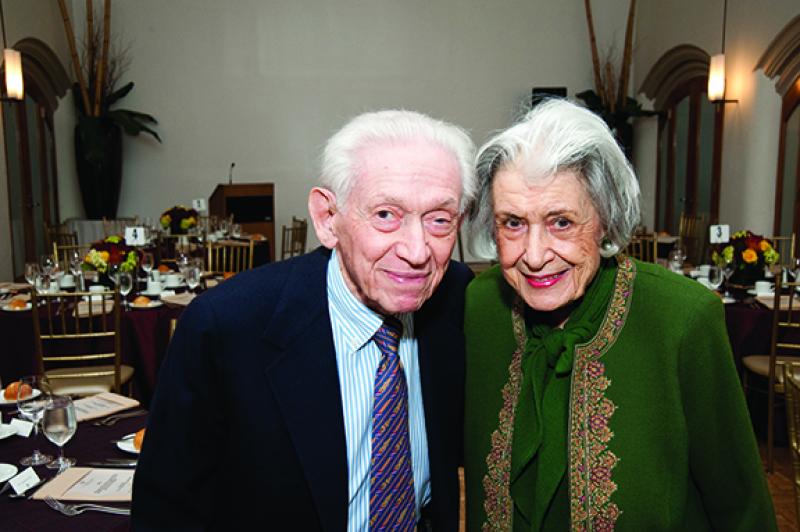 Herbert and Florence Irving (Hon13) have extended their generous and longstanding support for Columbia University and its medical center partnership with three new gifts. The gifts will support the university's precision medicine initiative addressing the genomic basis of cancer, early career faculty who are doing translational research in the fight against cancer, and seven new endowed chairs, each one in honor of the work of a different distinguished physician.
"We so admire the doctors we've come to know at Columbia," says Herbert Irving. "Supporting them in their pioneering work on cancer is one of the proudest things we've done over the years, and we're glad to make this commitment to Columbia's leadership in the fight against cancer."
The Irvings have established a new endowed fund, the Herbert and Florence Irving Cancer Fund, with a gift of $50 million to support basic and clinical research exploring the genomic nature of cancer, with the goal of understanding the fundamental biological basis of cancer and developing more effective prevention, diagnosis, and treatment.
In addition, the Irving Scholars program, established in 1987, will be expanded to support two more scholars who specialize in oncology and related areas each year. Young doctors and clinical researchers who have been supported by the program in the past have gone on to become medical school deans, a director of research at the National Institutes of Health, and other leaders in medicine.
Finally, the Irvings are creating seven new endowed professorships at Columbia University Medical Center in recognition of outstanding clinicians who have worked with them over the years. Each professorship will support a top researcher who focuses on precision medicine to enhance patient care. The professorships honor seven Columbia physicians:
Florence Irving Professorship of Neurology in honor of Linda Lewis, MD
Herbert and Florence Irving Professorship of Cardiology in honor of LeRoy Rabbani, MD
Herbert and Florence Irving Professorship of Ophthalmology in honor of Stanley Chang, MD
Herbert and Florence Irving Professorship of Dermatology in honor of David Bickers, MD
Herbert and Florence Irving Professorship of Rheumatology in honor of Ralph Blume, MD
Herbert and Florence Irving Professorship of Plastic & Reconstructive Surgery in honor of Jeffrey Ascherman, MD
Herbert and Florence Irving Professorship of Medicine in honor of Jeffrey Stein, MD
"Herbert and Florence Irving are wonderful people and passionate philanthropists who care deeply about curing cancer," says Columbia University President Lee Bollinger of the couple who received an honorary degree from Columbia in 2013 for their civic leadership. "Over a lifetime together they have provided a vivid example of how the shared commitment of a loving couple can touch so many others. With their support, we hope to reach a new threshold of understanding and to develop precision treatments for the many diseases we know as cancer."
The new cancer programs supported by the Irvings will help advance Columbia's precision medicine initiative, positioning the university to be at the forefront of genomics, data science, and the core disciplines essential to this emerging path for fighting and curing cancer. They will further strengthen the Herbert Irving Comprehensive Cancer Center, led by Stephen Emerson, MD, PhD, and the dedicated initiatives of Columbia's College of Physicians and Surgeons.
"Herb and Florence Irving have given us the tools to become a national and global center of research and advanced clinical practice in cancer genomics," says Lee Goldman, chief executive of Columbia University Medical Center and dean of the Faculties of Health Sciences and Medicine. "Working together with our medical center partners at NewYork-Presbyterian, we are committed to being a leader in this pivotal next stage of our society's efforts to prevent and cure cancer."
Florence and Herbert Irving, who were both born and raised in Brooklyn, have been leaders in philanthropy and service during their 73 years of marriage, most notably in their generous support for Columbia University Medical Center, where they endowed the Herbert Irving Comprehensive Cancer Center, the Irving Institute for Clinical and Translational Research, and more than 100 Irving Scholars. Columbia's doctors, faculty and patients have benefited over the past quarter century from the Irvings' generosity to NewYork-Presbyterian's Columbia campus.
Herbert Irving is a co-founder and former vice chairman of Sysco Corporation, the nation's largest food distributor. Florence Irving has had leadership positions on the boards of nonprofit institutions, including the Metropolitan Museum of Art, where she is a trustee emeritus.