New "Fast-Fail" Initiative Takes Aim at Psychosis
With pharma's interest in developing drugs for mental disorders waning, CUMC and NYPSP researchers are initiating a new "fast-fail" strategy to identify more effective treatments for psychosis.
The word "fail" in the strategy may sound odd. But the approach is designed to quickly weed out ineffective compounds at an earlier stage in clinical testing before much money and time have been spent and, at the same time, quickly identify compounds with more potential.
"The knowledge we've gained about psychosis in the last decade, combined with new technology, is now making it possible to determine earlier than before if new compounds have potential to be effective therapeutic agents," says Jeffrey Lieberman MD, who will lead the new initiative funded by the National Institute of Mental Health. Lieberman is the Lawrence C. Kolb Professor and Chairman of Psychiatry at Columbia and director of the New York State Psychiatric Institute.
For all types of diseases, the development of new drugs is a story of many failures and very few successes. Of the compounds that enter phase I testing, only 15 percent are eventually approved by the FDA. For psychiatric and neurologic disorders, the success rate is even lower – about 8 percent – and compounds tend to fail late in development after hundreds of millions of dollars have already been spent.
"There's been limited progress in many diseases, but psychiatric disorders have additional obstacles," Lieberman says. "Mental disorders involve disturbances in functions and behavior that are uniquely human and that makes animal models harder to develop and difficult to validate. You can create heart disease or infections in animals, but for schizophrenia or depression, it's much harder."
That's left few options for people with schizophrenia. All drugs for schizophrenia – from chlorpromazine in the 1950s to today's newer antipsychotic medications – act on the same target, the brain's dopamine pathways. The drugs don't work for everyone. And when they do work, they only act on some of the disorder's disabling symptoms.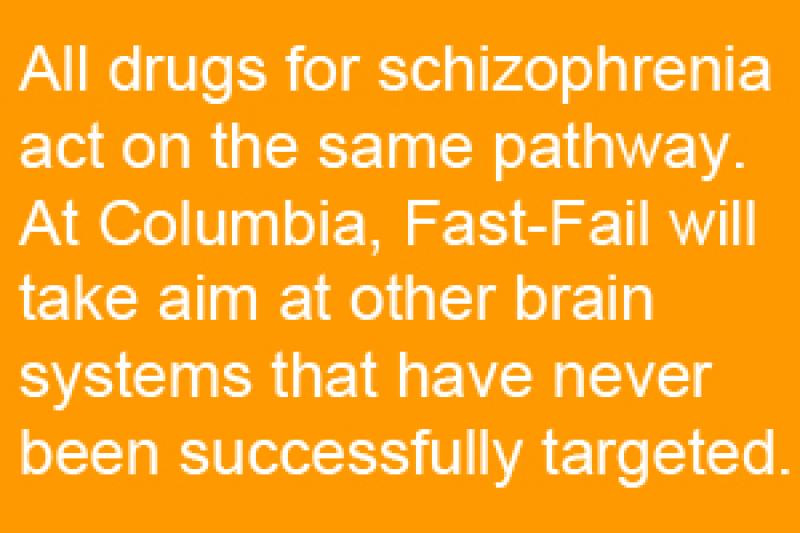 The new initiative at Columbia will take aim at other brain systems that are important in schizophrenia but have never been successfully targeted. The glutamate receptors in the brain, for example, have been associated not only with schizophrenia's hallucinatory and delusional symptoms, but also with the disorder's impact on cognition.
New technology now makes it possible to rapidly determine if a drug candidate affects the glutamate receptors. "In traditional trials, we often didn't even know if the drug was hitting the intended target," Lieberman says. "We now have an array of imaging techniques that can determine if the compound gets into the brain in the right amount, activates the right parts of the brain, and has an effect on symptoms."
Ultimately the idea is to find early proof that a novel compound could work and then partner with pharma for its development. "It's a new paradigm for drug development," Lieberman says, "one that we hope will identify new promising compounds so pharmaceutical companies can be more confident taking them forward."
For more information about the initiative, including collaborating institutions, visit the website of the Columbia University Department of Psychiatry.
Topics