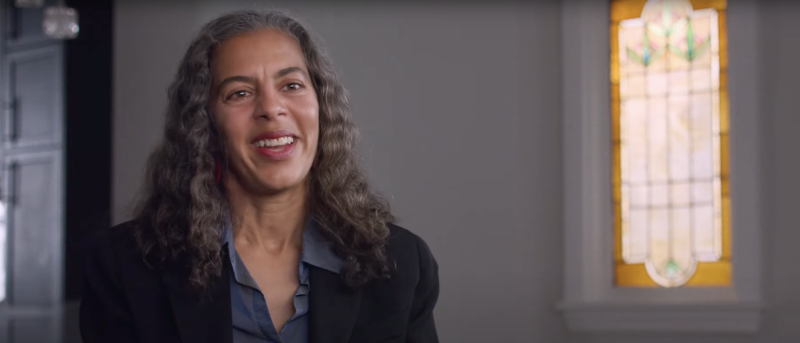 New Documentary on Health Disparities Features Columbia Doctor
In "The Color of Care," Hetty Cunningham champions the need for medicine to do more
When Hetty Cunningham, MD, joined Columbia University Medical Center in 1998, it was not because she is a second-generation Harlem resident or because her dad was an inspiring pediatrician on the faculty.  
She was lured by Dodi Meyer, MD, director of Columbia's Community Pediatrics Program who was engaged in deeply embedded community work and a strong advocate for overcoming barriers to care. Cunningham has a lifelong passion for racial justice, and the work Meyer was doing resonated. She signed on to teach about community-connected care, racism, communication skills, and cultural awareness to pediatric residents and medical students. 
At Columbia, "we're working hard on being thoughtful about how to give excellent care to all patients in an equal way," says Cunningham, now associate professor of pediatrics and director for equity and justice in curricular affairs at Columbia University Vagelos College of Physicians and Surgeons. Hiring more diverse faculty, recruiting more diverse students, and establishing an anti-racism task force are just the beginning. 
"Our learners right now are going to be the doctors of 2050. What do they need to know? And what can we learn from them?" says Cunningham. "We are all constantly learning." 
In the medical school classroom 
In 2017, a student-faculty partnership began at VP&S to increase anti-racism in the curriculum, inspired by a student's criticism of a lecture that stated, incorrectly, that all healthy gums are pink. Guidelines for promoting an anti-bias and inclusive curriculum followed. Now, all lectures start with an invitation for student feedback. 
Imagine a lecture for medical students. A slide presentation on a screen. Pick a topic. Kidney disease, for example. What's obvious to practicing doctors—that outcomes are related to a mix of genetic and social factors, like unequal care even among the insured—is part of what students need to learn. A slide showing disparities must include causal details. "If you do not explain why, what's behind the disparities, students are left to make their own conclusions," says Cunningham. "The added benefit of anti-racism is that specifics help us to be more scientific."  
Cunningham works with faculty to optimize their slides for teaching and help them convey their intended message. If a slide simply shows a stat—more Black people die of COVID, for example—without mention of facts like front-line jobs and inferior care, problems with broader systems of care are missed. "We want to teach people in health care to recognize racial disparities—and also systems of care that are often at the root of these disparities—so we do not inadvertently blame people for their illnesses," says Cunningham.
"The Color of Care"
Cunningham's dedication to students and patients, tireless work in educating future generations of doctors, and commitment to ending racism in health care made her a perfect fit for "The Color of Care," a new documentary examining racial health disparities and practices in the United States. 
Produced by Oprah Winfrey and the Smithsonian Channel, the documentary is part of a year-long campaign to eliminate racial disparities in health care, with specific interest in arming current and future doctors, nurses, and other medical professionals with appropriate tools. 
One tool is self-awareness. Cunningham helped develop a reflective writing curriculum for medical students to be mindful of how they may be changing, and when and why. "Students come in with so much idealism. They really want to relieve suffering and take care of patients. We don't want them to lose sight of that," she says.   
The documentary uses examples from the pandemic to illustrate the impact of systematically substandard care for many Americans. But combating this problem and its causes has not been a priority in the United States, at least not consistently. In 2003, after the National Academy of Medicine (then the Institute of Medicine) published "Unequal Treatment: Confronting Racial and Ethnic Disparities in Healthcare," the topic of inequity received more attention from media and more NIH funding. And for the first time health disparity data (rates of asthma broken down by race, for example) began to appear on reports and presentations.  
Most white Americans thought everybody was getting the same care level of care. After that report, there was a big burst of interest and then that faded," says Cunningham. "Now we're having another wave of interest in equity. Today we're being asked to say why disparities exist. What is the source?"
The reasons for many differences are not completely understood, but it's now acknowledged that they relate to historic racism, lack of access to care, and residential segregation.
"It's an exciting time to be building on the renewed enthusiasm for equity," says Cunningham. "We have the momentum to take a significant step forward in relegating health disparities to the past."  
References
Watch "The Color of Care" May 1, 2022, at 8 p.m. ET on the Smithsonian Channel.
Hetty Cunningham, MD, is associate professor of pediatrics and director for equity and justice in curricular affairs at Columbia University Vagelos College of Physicians and Surgeons and associate vice chair for education and the learning environment in the Department of Pediatrics. She also is director of the VP&S Portfolio Curriculum, a narrative medicine-based reflective writing curriculum that she helped develop for medical students. Cunningham received her MD from the University of Pennsylvania. Her postdoctoral training included an internship at the Children's Hospital of Philadelphia.
More:
Columbia Joins Anti-Racist Transformation in Medical Education Project
Guidelines for Promoting an Anti-Bias and Inclusive Curriculum