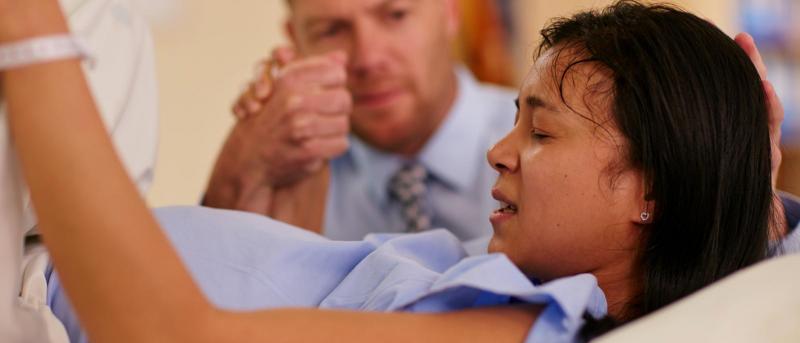 New Device Rapidly Controls Postpartum Bleeding
A new intrauterine device rapidly controlled bleeding in 94% of women with postpartum hemorrhage, according to a multicenter study led by researchers at Columbia University Vagelos College of Physicians and Surgeons at Columbia University Irving Medical Center.
An estimated 25% of maternal deaths worldwide—and approximately 11% in the United States—are caused by excessive postpartum bleeding, which can occur when the uterus is unable to contract normally after childbirth. The United States has the highest maternal death rate among developed countries, at 18 deaths per 100,000 births, and women of color are three to four times more likely to die during childbirth.
"Our study found that using low-level suction to promote uterine contraction, rather than the compression used by older devices, helped to resolve postpartum hemorrhage safely and rapidly," says Dena Goffman, MD, professor of obstetrics & gynecology at Columbia University Vagelos College of Physicians and Surgeons, chief of obstetrics at NewYork-Presbyterian/Columbia University Irving Medical Center, and senior author of the study. "Having a new option to treat women with severe postpartum bleeding could help reduce morbidity and mortality associated with this all-too-common complication of childbirth."
Women with postpartum bleeding may be treated with medications to help the uterus shrink to its normal size, though some of the drugs are not suitable for women with asthma or hypertension. 
For severe postpartum bleeding, women may be treated with tamponade using an intrauterine balloon-like device that compresses blood vessels and increases pressure on the uterine wall until normal contraction occurs. However, it can take up to 24 hours for this type of treatment to work, and some women experience complications such as fever. If tamponade fails to control bleeding, doctors may need to perform surgery to control the bleeding and sometimes remove the uterus.
In the current study, researchers evaluated 106 women with abnormal postpartum bleeding who were treated with a novel intrauterine device that uses low-level suction to promote natural uterine contraction.
The study found that postpartum bleeding was controlled in a median of three minutes from initiation of therapy; only five participants required additional treatment. Total time until removal of the device was around three hours. 
"These findings suggest that the new device treats hemorrhage quickly and effectively, allowing mothers to resume normal activities shortly after delivery," says Goffman.
The new device received FDA marketing clearance on Sept. 9. 
"FDA clearance may pave the way for larger studies to compare the device's safety and efficacy with other treatments for postpartum hemorrhage," Goffman says.
References
More Information
The study was published Sept. 9, 2020, in Obstetrics & Gynecology.
The other authors are Mary D'Alton (NYP and Columbia), Kara Rood (Ohio State University), Marcela Smid (University of Utah Health), Hyagriv Simhan (University of Pittsburgh Medical Center), Daniel Skupski (NYP/Queens), Akila Subramanian (University of Alabama), Kelly Gibson (Metrohealth Medical Center, Cleveland, OH), Todd Rosen (Rutgers Robert Wood Johnson Medical School), Shannon Clark (University of Texas Medical Branch, Galveston, TX), Donald Dudley (University of Virginia), Sara Iqbal (MedStar Washington Hospital Center, Washington, DC), Michael Paglia (Geisinger Medical Center, Danville, PA), Christina Duzyj (Massachusetts General Hospital), Edward Chien (Cleveland Clinic), Karen Gibbens (Oregon Health & Science University), Kathryn Wine (Alydia Health), Nana Ama Bentum (McGovern Medical School at UT Health), Michelle Kominiarek (Northwestern University), and Methodius Tuuli (Indiana School of Medicine).
The study was funded by Alydia Health Inc.
All study sites received research-related financial support, but none of the authors received direct payments from Alydia Health.