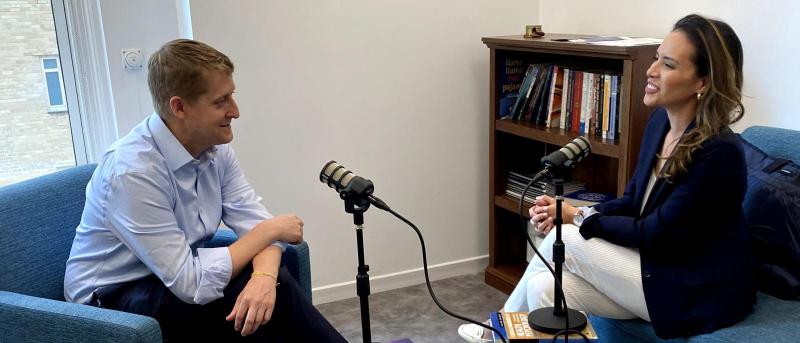 New Columbia Podcast Offers Children's Health Advice for Parents
Have you ever wished you had a few extra minutes to discuss your child's health when visiting their doctor? A new podcast from Edith Bracho-Sanchez, MD, assistant professor of pediatrics at the Vagelos College of Physicians and Surgeons, offers just that–weekly episodes covering children's health topics specifically with parents in mind.  
"The Stuff that Matters for Kids' Health" premieres online July 13, featuring eight episodes released weekly. Listeners can tune in wherever they stream podcasts, including Spotify, Amazon Music, and Apple Podcasts. Bracho-Sanchez hosts each episode, joined by Columbia colleagues with expertise in a range of pediatric specialties to help parents keep their kids healthy. Bracho-Sanchez frequently writes for CNN and other media outlets and previously hosted the podcasts "Las Doctoras Recomiendan" from Univision and "Entre Madres y Doctoras" from Mundo Now.   
"This is a show for the busy modern parent who is trying to prioritize the things that truly matter for their kids' health," says Bracho-Sanchez. "For our first season, I will be sitting down every week with Columbia University experts to tackle topics ranging from nutrition to screen time and social and emotional development." 
The podcast aims to reach parents seeking information for their children in multiple stages of life, inspired by Bracho-Sanchez's experiences as a mother and physician.  
"Some of the topics I must admit come from my own struggles as a mom, others come from seeing the common struggles my patients face, and others come from a desire to add context and expertise to ongoing national conversations."   
Columbia experts joining Bracho-Sanchez each week range from a pediatric endocrinologist at the forefront of her specialty to a developmental pediatrician.   
"I realized there's such a wealth of expertise here at Columbia," says Bracho-Sanchez. "Podcasting is my way to have intimate conversations that give parents access to the expertise of my colleagues here at Columbia."  
Doctors and parents desire more time to discuss children's health topics, and podcasts offer a simple and relatable way for parents to learn valuable information amid busy lifestyles. 
"I'm also frequently frustrated by how little time I have to chat with families in my office," says Bracho-Sanchez. "I love the intimacy of podcasting, you can truly listen whenever, wherever. I'm a new mom myself and I'm very mindful of just how challenging raising kids is. We get personal, candid, and try to keep all advice very practical." 
View the podcast website and listen to Episode 1, "A realistic take on screentime" with Rebekah Diamond, MD, assistant professor of pediatrics.
---
More Information
Interested in more Columbia podcasts? View an extensive list of university-affiliated shows here, or check out the following shows from Columbia: 
Las Doctoras Recomienden – Hosted by Edith Bracho-Sanchez, MD, assistant professor of pediatrics 
     Listen on Spotify, Apple Podcasts  
Entre Madres y Doctoras – Hosted by Bracho-Sanchez
     Listen on Spotify, Apple Podcasts
Coming Back Better: Wellbeing in a Post-Pandemic World – Department of Psychiatry
     Listen on Spotify, Apple Podcasts 
This Week in Virology – Hosted by Vincent Racaniello, PhD, Higgins Professor of Microbiology & Immunology 
     Listen on Spotify, Apple Podcasts 
Columbia Invents – Columbia Technology Ventures 
     Listen on Spotify, Apple Podcasts