New AAAS Fellows Include Four from Columbia P&S
Four P&S faculty members have been named Fellows of the American Association for the Advancement of Science (AAAS), a distinction that recognizes their work to advance science. Oliver Hobert, PhD, was elected to the section on biological sciences. Gordana Vunjak-Novakovic, PhD, was elected to the section on engineering. Charles Zuker, PhD, and George D. Yancopoulos, MD, PhD, were elected to the section on neuroscience.
Fellows, who are elected by the greater AAAS membership, will be honored in February at the AAAS Fellows Forum during the 2015 AAAS annual meeting in San Jose, Calif.
The four from Columbia are among 401 members who were named Fellows because of their scientifically or socially distinguished efforts to advance science or its applications.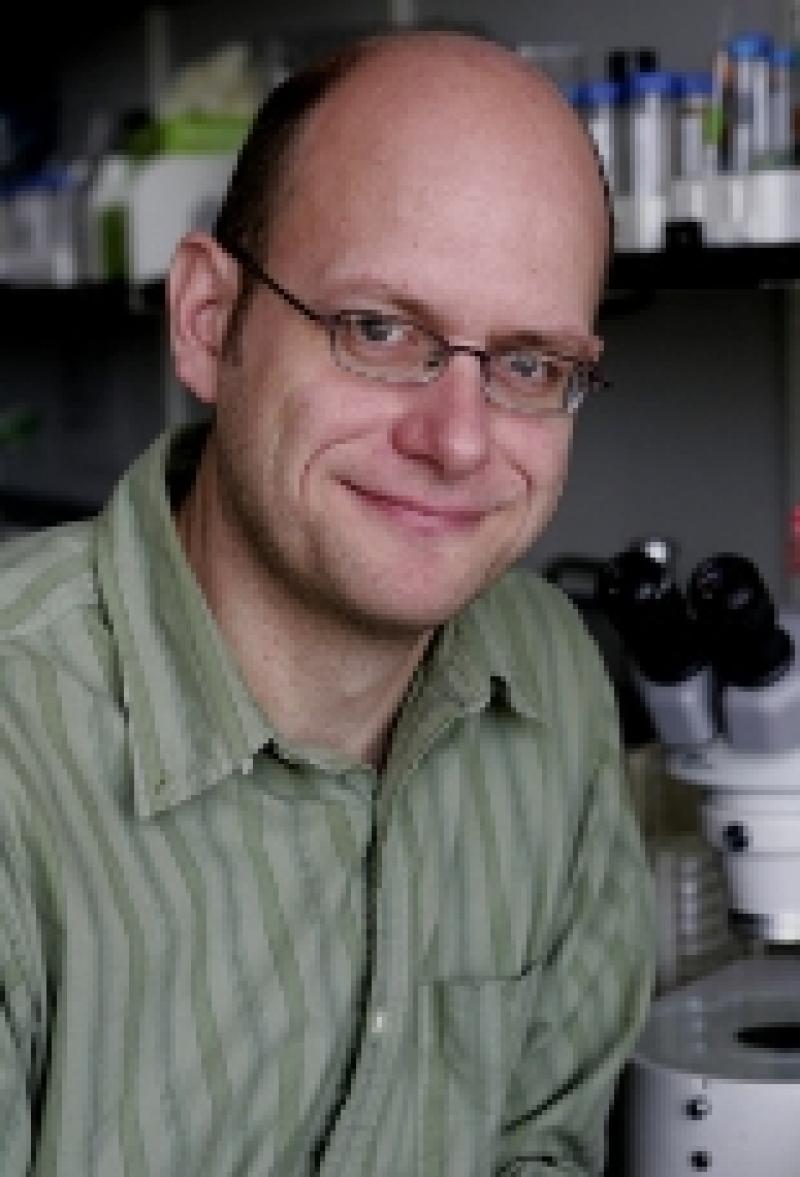 Oliver Hobert is professor of biochemistry & molecular biophysics and an investigator with the Howard Hughes Medical Institute. He was selected as an AAAS Fellow for his contributions to the field of neurobiology, particularly on the roles of transcription factors and microRNAs in the diversification of neuronal cell fates.
The main focus of Dr. Hobert's lab is to understand the molecular mechanisms that generate the astounding diversity of cell types in a nervous system. His lab has uncovered the systems by which different neurons are generated in the worm C. elegans and has found that some of these systems are also used in vertebrates.
With a new BRAIN Initiative grant from the NIH, he is now trying to determine if other types of mechanisms for generating neurons in the worm also operate in mice. If so, the results have the potential to turn optogenetics into an even more powerful technique for neuroscientists trying to unravel brain circuits.
Dr. Hobert has received the Harland Winfield Mossman Award in Developmental Biology, the McKnight Endowment for the Neurosciences Disease Award, and other awards.
Gordana Vunjak-Novakovic is the Mikati Foundation Professor of Biomedical Engineering in Columbia's engineering school and professor of medical sciences (in medicine) at P&S. Dr. Vunjak-Novakovic, who also was elected this year to the Institute of Medicine, was selected as an AAAS Fellow for her contributions to the field of tissue engineering, particularly on the development of functional human tissues for regenerative medicine, stem cell research, and modeling of disease.
At Columbia, she directs the Laboratory for Stem Cells and Tissue Engineering, which works on engineering human heart, bone, and lung tissues with stem cells. Her work is extensively published and highly cited; she has more than 70 licensed, issued, and pending patents, has founded two biotech companies, and is a frequent adviser to government and industry. Among her many recognitions, she is a Fellow of the American Institute for Medical and Biological Engineering and of the Biomedical Engineering Society; a founding Fellow of the Tissue Engineering and Regenerative Medicine Society; a member of the Women in Technology International Hall of Fame, Academia Europaea, and the Serbian Academy of Sciences and Arts; and the first woman from Columbia University to be elected to the National Academy of Engineering.
Charles Zuker, professor of biochemistry & molecular biophysics and of neuroscience, is also a Howard Hughes Medical Institute investigator and a member of Columbia's Mortimer B. Zuckerman Mind Brain Behavior Institute. He was selected as an AAAS Fellow for discovering the receptors for mammalian taste, including sweet, sour, bitter, salt and umami, work that has transformed our understanding of sensory detection and perception.
Dr. Zuker studies taste as a way to learn how the brain processes sensory experiences, but his goal is to do more than understand why sugar is sweet. He wants to know how the brain can turn reception into perception. How do the physical and chemical stimuli that we take in all the time—through sight, hearing, taste, touch, and smell—turn into signals that neurons transmit to the brain? How does light hitting your eye change into a chemical signal that makes you squint? How do sound waves hitting the eardrum transform into words that you hear in your head? Why does a drop of lemon juice on the tongue make you grimace?
He and his team previously focused on understanding the tongue's taste cells and how they send information to the brain. They are now moving into the brain to investigate how information from the tongue is mapped, decoded, and transformed in the various brain taste centers.
Dr. Zuker is also a member of the Institute of Medicine, the National Academy of Sciences, and the American Academy of Arts and Sciences.
George D. Yancopoulos, a biotech industry entrepreneur, is also adjunct professor of microbiology & immunology at P&S. He received both MD (1987) and PhD (1986) degrees from Columbia. Dr. Yancopoulos is founding scientist and president of Regeneron Laboratories and chief scientific officer of Regeneron Pharmaceuticals. Cited in the 1990s as the 11th most highly cited scientist in the world, Dr. Yancopoulos—with his team at Regeneron—has developed three FDA-approved drugs, including a drug that effectively treats age-induced macular degeneration. Dr. Yancopoulos is also a member of the National Academy of Sciences and the American Academy of Arts and Sciences.