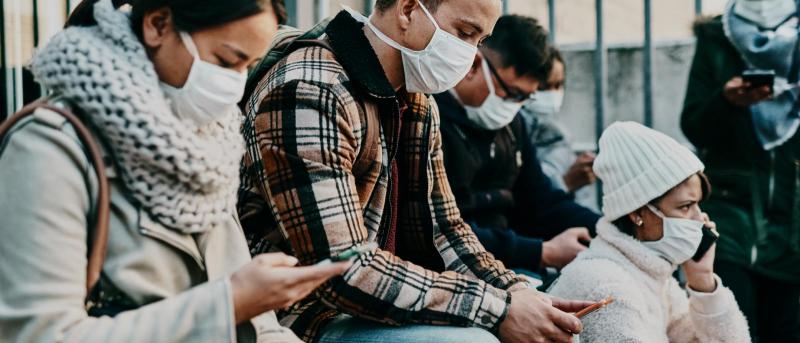 Study of COVID-19 Risk and Long-Term Effects Underway at 37 U.S. Academic Medical Centers
A new nationwide study of more than 50,000 individuals is now underway to determine factors that predict disease severity and long-term health impacts of COVID-19.
Researchers at Columbia University Vagelos College of Physicians and Surgeons are coordinating the NIH-funded study called the Collaborative Cohort of Cohorts for COVID-19 Research (C4R) Study. Participants in C4R are currently enrolled in 14 long-term cohort studies conducted at 37 academic medical centers across the country. Cohort participants range in age from young adulthood to elderly and reflect the racial/ethnic, socioeconomic, and geographic diversity of the United States.
The new collaborative study will be able to answer important questions about COVID-19 that cannot be answered by smaller, individual studies that have been set up to study COVID-19.  
"C4R is unique in that many of the participants in these studies have been followed for decades, giving us a vast amount of data from imaging tests, physiologic assessments, and genomic analyses that go far beyond what people would receive in the normal course of clinical care," says Elizabeth Oelsner, MD, MPH, the Herbert Irving Assistant Professor of Medicine at Columbia University Vagelos College of Physicians and Surgeons and principal investigator of the study. "Our study is designed to understand how these highly characterized participants are at varying risk of SARS-CoV-2 infection and understand the social and economic shock of the COVID-19 pandemic."
"To answer questions regarding the impact of COVID on the heart, lungs, or brain requires an extremely robust set of data on patients' medical history and other factors prior to COVID-19 infection," says R. Graham Barr, MD, DrPH, the Hamilton Southworth Professor of Medicine and Epidemiology at Columbia University Vagelos College of Physicians and Surgeons and co-principal investigator. "Participants in these studies have been deeply characterized in this regard—much more than the average patient—and their participation allows us to look more precisely at the reasons people become infected with SARS-CoV-2 and the potential long-term consequences of getting COVID-19."
Study design 
Individuals from the participating cohort studies will be invited to complete a questionnaire regarding their experiences during the COVID-19 pandemic. Specifically, they will be asked if they tested positive for SARS-CoV-2, what symptoms they experienced and for how long, and whether they required hospitalization. Medical records will be reviewed to assess what treatments they may have received for COVID-19 and whether they experienced complications such as heart attack, pneumonia, stroke, or blood clots.
The first wave of C4R questionnaires is currently being administered, and a follow-up survey, which will include questions about stress, fatigue, depression, and the potential impact of the pandemic on other health conditions, is planned for 2021. 
Participants will provide a small blood sample, obtained through a finger stick at home, that will be analyzed for antibodies to SARS-CoV-2. This will allow the researchers to detect asymptomatic cases of COVID-19, which will offer a more accurate estimate of the number of individuals who were infected. The blood samples also may allow researchers to understand how the status of the immune system before the pandemic may be related to antibody responses and the severity of COVID-19 illness. 
Study to explore COVID-19 disparities
Social determinants of health disparities are another major focus of C4R. 
The study's participants come from nearly every U.S. state. Within C4R, an estimated 24% of the participants are Black, 20% are Latinx, 5% are Native American, and 2% are Asians.
"The COVID-19 pandemic has had a disproportionate impact on non-white and economically disadvantaged Americans," says Oelsner. "By including multiethnic, general population-based cohorts as well as cohorts specifically designed to study longstanding racial and ethnic health disparities, we hope to better understand why the pandemic has taken a bigger toll on specific communities.
"Ever since the first case of COVID-19 hit the United States, the centers involved in these cohort studies have been aware of the need to collaborate," Oelsner adds. "C4R has quickly evolved into an enthusiastic collaboration of scientists who are committed to building on decades of research on heart, lung, blood, and brain diseases to understand the impact of COVID-19 on the health of Americans."
References
More information
The Collaborative Cohort of Cohorts for COVID-19 Research (C4R) Study is part of the National Heart, Lung, and Blood Institute (NHLBI) Collaborating Network of Networks for COVID-19 and Therapeutic Strategies (CONNECTS), a coordinated effort of major NHLBI clinical trial networks and observational studies to address the COVID-19 public health crisis. C4R is jointly funded by the NHLBI, the National Institute of Neurological Disorders and Stroke, and the National Institute on Aging of the National Institutes of Health (OT2HL158276).