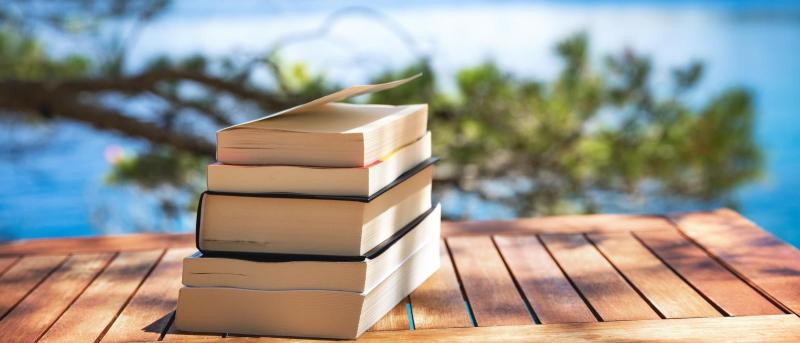 I like to spend my vacation time on the beach with a book in hand. The year is only halfway through, but here is a mix of what I can recommend so far and what I still look forward to reading.
The Exceptions: Nancy Hopkins, MIT, and the Fight for Women in Science
By Kate Zernike
From Katrina: My college roommate gave me her copy of this book on a recent visit to Philadelphia. The story of how Nancy Hopkins and the women scientists at MIT led the country in advancing gender equity in science is foundational for anyone in academic medicine.
From the publisher: From the Pulitzer Prize-winning journalist who broke the story, the inspiring account of the sixteen female scientists who forced MIT to publicly admit it had been discriminating against its female faculty for years—sparking a nationwide reckoning with the pervasive sexism in science.
Letters to a Young Teacher
By Jonathan Kozol
From Katrina: I read Kozol's "Amazing Grace" a few weeks ago. It was a poignant reminder of the importance of the work we do across the medical center. I am looking forward to reading more of his books and picked this one because my son is about to start a new job as a middle school math teacher in New Orleans.
From the publisher: In these affectionate letters to Francesca, a first grade teacher at a school in Boston, Jonathan Kozol vividly describes his repeated visits to her classroom while, under Francesca's likably irreverent questioning, he also reveals his own most personal stories of the years that he has spent in public schools.
The Sportswriter
By Richard Ford
From Katrina: I have long loved the novels by Richard Ford and reread them ever so often. My brother says that Ford is his hero because he produces amazing novels every ten years and in between he sits on his couch and watches sports. I doubt that is true, but I like the image.
From the publisher: As a sportswriter, Frank Bascombe makes his living studying people—men, mostly—who live entirely within themselves. This is a condition that Frank himself aspires to. But at thirty-eight, he suffers from incurable dreaminess, occasional pounding of the heart, and the not-too-distant losses of a career, a son, and a marriage. In the course of the Easter week in which Ford's moving novel transpires, Bascombe will end up losing the remnants of his familiar life, though with his spirits soaring.
The Nightwatchman
By Louise Erdrich
From Katrina: I head to the Rosebud Reservation in July to work in the Indian Health Service facility there and always bring books related to the Lakota experience when I go. This story is set on a Chippewa reservation in North Dakota, providing another picture of tribal communities in the Great Plains.
From the publisher: Based on the extraordinary life of National Book Award-winning author Louise Erdrich's grandfather who worked as a night watchman and carried the fight against Native dispossession from rural North Dakota all the way to Washington, D.C., this powerful novel explores themes of love and death with lightness and gravity and unfolds with the elegant prose, sly humor, and depth of feeling of a master craftsman.
Debt: The First 5,000 Years
By David Graeber
From Katrina: My daughter gave me this after she read it recently. I love books that help me see the world differently.
From the publisher: Before there was money, there was debt. Every economics textbook says the same thing: Money was invented to replace onerous and complicated barter systems—to relieve ancient people from having to haul their goods to market. The problem with this version of history? There's not a shred of evidence to support it. "Debt: The First 5,000 Years" is a fascinating chronicle of this little known history—as well as how it has defined human history. It shows how debt has defined our human past, and what that means for our economic future.
The Postcard
By Anne Berest
From Katrina: This book was recommended by many people including Mike Shelanski. I am hoping someone lends me a copy by the time I have finished the others on my list.
From the publisher: Anne Berest's The Postcard is among the most acclaimed and beloved French novels of recent years. Luminous and gripping to the very last page, it is an enthralling investigation into family secrets, a poignant tale of mothers and daughters, and a vivid portrait of twentieth-century Parisian intellectual and artistic life.
References
More Information
Katrina Armstrong, MD, is Chief Executive Officer of the Columbia University Irving Medical Center and Dean of the Faculties of Health Sciences and the Vagelos College of Physicians and Surgeons. She is also Executive Vice President for Health and Biomedical Sciences for Columbia University and the Harold and Margaret Hatch Professor of the University.