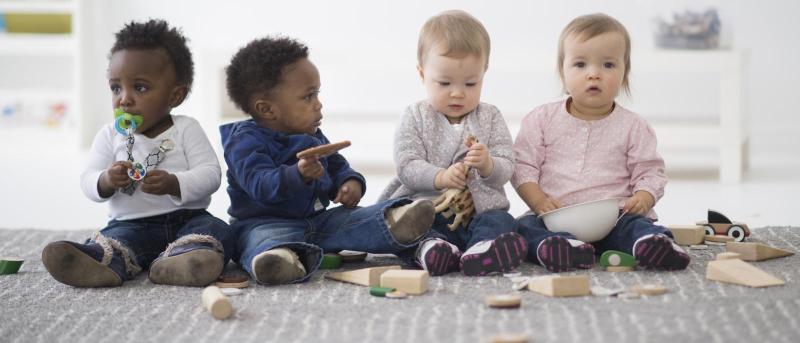 Mild COVID During Pregnancy Does Not Slow Brain Development in Babies, Study Finds
Columbia researchers have found that babies born to moms who had mild or asymptomatic COVID during pregnancy develop similarly to babies born to moms who never had COVID, based on results from a comprehensive assessment of brain development.
The findings expand on a smaller study that used maternal reports to assess the development of babies born in New York City during the first wave of the pandemic. That study found no differences in brain development between babies who were exposed to COVID in utero and those who were not exposed.
For the new study, the researchers developed a method of observing infants remotely, adapting a developmental assessment tool that is typically administered in person to make the study COVID-safe (babies were assessed between March 2021 and June 2022). The researchers studied 407 infants between 5 and 11 months of age from three geographic areas: New York City, Salt Lake City, Utah, and Birmingham, Alabama. Overall, nearly a third of the infants were born to mothers who had COVID during pregnancy.
Before the evaluation, each of the participating families received the same set of baby toys and food items so that the researchers could observe and compare the babies' fine and gross motor skills in a standardized fashion. The researchers also assessed cognitive and language skills. They did not know which babies had been exposed to COVID in utero.

"The idea for our novel method to assess development remotely came from Columbia clinicians who quickly began performing telehealth visits at the start of the pandemic in an effort to continue to deliver high-quality care in safe ways," says study leader Dani Dumitriu, MD, PhD, assistant professor of pediatrics and psychiatry at Columbia University Vagelos College of Physicians and Surgeons. "But over time, we also realized that evaluating the babies remotely would allow us to observe how the babies were developing in their home environment, which may actually offer a better idea of how the infants are developing than when we see them in the research lab, where they may be scared or anxious."
The researchers found that babies whose mothers had mild or asymptomatic COVID-19 at any point during pregnancy were developing similarly to those whose mothers had never had COVID.
"The current study, which used a more rigorous method to evaluate babies born during the pandemic, provides further reassuring evidence that having a mild or asymptomatic case of COVID during pregnancy does not affect brain development in infants," Dumitriu says. "Additional studies are needed to tell us about the impact of more severe COVID on a developing infant's brain."
References
More information
The study, titled "Assessment of Neurodevelopment in Infants With and Without Exposure to Asymptomatic or Mild Maternal SARS-CoV-2 Infection During Pregnancy," was published April 10, 2023, in JAMA Network Open.
Additional authors (from Columbia except where noted): Morgan Firestein, Lauren Shuffrey, Yunzhe Hu, Margaret Kyle, Maha Hussain, Catherine Bianco (Yale University), Violet Hott, Sabrina Hyman, Mia Kyler, Cynthia Rodriguez, Melanie Tejeda Romero, Helen Tzul Lopez, Carmela Alcántara, Dima Amso, Judy Austin, Jennifer Bain, Jennifer Barbosa, Ashley Battarbee (University of Alabama), Ann Bruno (University of Utah), Sharon Ettinger (Drexel University), Pam Factor-Litvak, Suzanne Gilboa (Centers for Disease Control and Prevention), Sylvie Goldman, Cynthia Gyamfi-Bannerman (University of California San Diego), Panagiotis Maniatis (CDC), Rachel Marsh, Tyler Morrill (Abt Associates), Mirella Mourad, Rebecca Muhle, Gabriella Newes-Adeyi (Abt Associates), Kimberly Noble, Kally O'Reilly, Anna Penn, Lawrence Reichle (Westat), Ayesha Sania, Vera Semenova (CDC), Wendy Silver, Grace Smotrich, Alan Tita (University of Alabama), Nim Tottenham, Michael Varner (University of Utah), Martha Welch, Noelia Zork, Donna Garey, William Fifer, Melissa Stockwell, Catherine Monk, and Fatimah Dawood (CDC).
The study was funded by the U.S. Centers for Disease Control and Prevention (75D30120C08150) and the National Institutes of Health (R01MH126531).
Disclosures are found in the paper.