Medical School Celebrates 2022 Graduates at In-Person Ceremony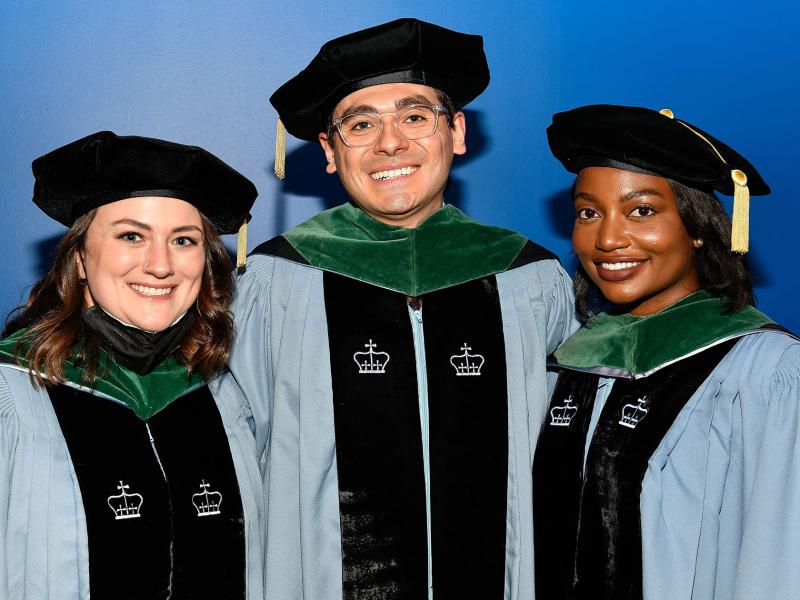 On May 18, the VP&S Class of 2022 celebrated graduation with friends and families at the first in-person graduation ceremony since the COVID pandemic began more than two years ago. The ceremony honored 148 students who received MD degrees from VP&S and 77 students who received PhD degrees in biomedical sciences from Columbia's Graduate School of Arts and Sciences (GSAS).
Mary T. Bassett, MD'79, MPH, commissioner of the New York State Department of Health, delivered the graduation address.
"Throughout your training, you have not seen hospitals in a 'normal' state," said Bassett. "But that's not necessarily a bad thing. The lens through which you see your medical career unfold is forever altered in a way that must question what, exactly, does normal mean. Because when you do that—when you keep questioning, rather than accepting the status quo—that's when you can start to trigger real change. Change that leads to better health care and better health beyond the hospital walls."
This summer, the school's MD graduates will disperse across the United States to begin their residency training. The most popular residencies for the VP&S Class of 2022 are internal medicine, psychiatry, obstetrics & gynecology, pediatrics, orthopedic surgery, and surgery.
"You now embody our aspirations for our future," said Katrina Armstrong, MD, dean of the Faculties of Health Sciences and the Vagelos College of Physicians and Surgeons, as she greeted the graduates. "Aspirations that as you move forward in these sacred professions, you will forever lead us in compassion, in honest reckoning with our failures and our history, and, perhaps most importantly, in hope. In hope for a better and more equitable world where every child has the opportunity for a long and healthy life and every patient receives the health care they deserve."
Faculty awards
Several faculty members received awards for service, teaching, research, or humanism:
Salvatore DiMauro, MD, the Lucy G. Moses Professor Emeritus of Neurology: VP&S Distinguished Service Award in Basic Science
John Schullinger, MD, professor emeritus of clinical surgery: VP&S Distinguished Service Award in Clinical Science
Alyson Fox, MD, associate professor of medicine at CUMC: Charles W. Bohmfalk Award for Pre-Clinical Years
Gina Badalato, MD, assistant professor of urology at CUMC: Charles W. Bohmfalk Award for Clinical Years
Anita Darmanian, MD, associate professor of medicine at CUMC: Leonard Tow Humanism in Medicine Award
David D. Ho, MD, the Clyde'56 and Helen Wu Professor of Medicine and professor of microbiology & immunology: Stevens Triennial Prize
Samuel Sternberg, PhD, assistant professor of biochemistry & molecular biophysics: Doctor Harold and Golden Lamport Research Award in Basic Sciences
Kelley Yan, MD, PhD, the Warner-Lambert Assistant Professor of Medicine (Columbia Center for Human Development) and assistant professor of genetics & development: Doctor Harold and Golden Lamport Research Award in Clinical Sciences
Rachel J. Gordon, MD, MPH, associate professor of medicine and epidemiology at CUMC: Distinguished Teacher Award given by the Class of 2022
Photos of the VP&S Class of 2022