Mary Davies: Distance Running Is a People-Watching Adventure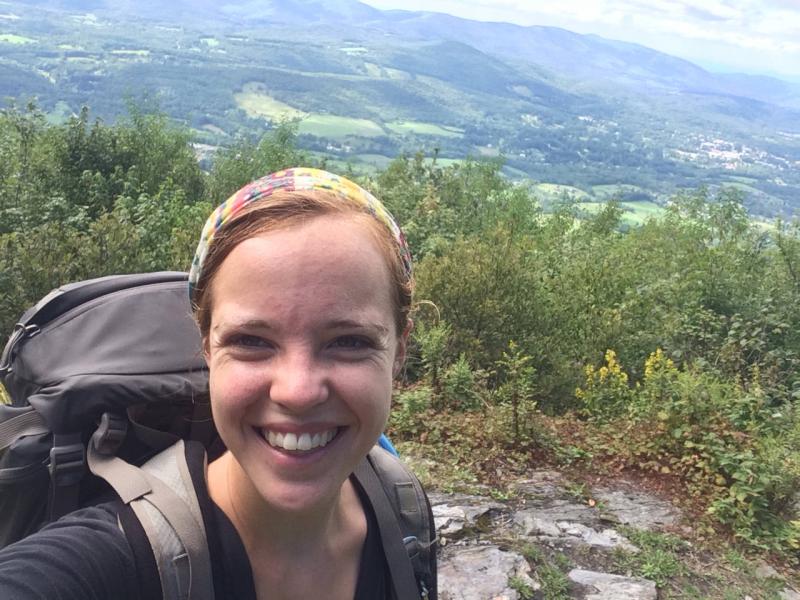 Mary Davies, 23, a second-year student at the College of Physicians & Surgeons is about to run her first marathon on Nov. 1. She started running for the sense of freedom she gets during her training runs. Running long distances also gives her an excuse to explore and people watch.
When did you start running, and why? And what's the longest distance you've run?
I started running the summer before college. I started and kept it up because it's incredibly liberating - I usually run on my own early in the morning, and I love how beautiful and quiet it is - especially in a city like New York - and that you can just get up and go wherever you are. I love being outside but also love living in urban areas, and I feel like running is a perfect way to combine those. I've run 20 miles so far getting ready for this marathon!
Why are you running the marathon? 
I'm running to raise money for Doctors Without Borders! That was actually what made the decision for me to run this year - I vaguely thought that running a marathon would be cool and started looking at the different charities you could run for, and as soon as I saw Doctors Without Borders as an option, I decided that I'd sign up for real. I wanted to run a marathon for the challenge of taking on a big commitment and following it through to the end, and running it on behalf of Doctors Without Borders has been the best way to stay motivated to do that. I spent the year before medical school working at a clinic in rural Haiti - global health is an ethically complicated field, and you spend a lot of time thinking about how organizations approach that challenge. I really admire Doctors Without Borders for the strength and clarity of its mission, its commitment to health as a human right, and its willingness to do the work and advocacy needed to realize that right. Being in med school can also make you feel distant from the work that needs to happen out in the real world, and doing something like this felt like a concrete way to support that work.
What's your goal on race day?
To have enough steam left to really enjoy those last few miles in Central Park. My last (and only other) race was a half marathon in college during which I basically didn't train and donated blood the day before. Now that I'm in med school, I really understand why that was such a terrible idea!
During that race, my friends and I were literally among the last couple of people to stumble across the finish line. That race was in Boston, with the route ending in the Franklin Park Zoo, so I just remember that we gave up on running and strolled through the park looking at giraffes. But I've been training almost every day since April to avoid a repeat of that, and now my goal is to just put in a really solid run and have an amazing time on marathon day.
Does this distance— or this particular race— have any special meaning for you?
I think your first marathon is probably always special!  Running 26.2 miles for the first time through the streets of New York with 50,000 other people seems like a pretty unbeatable experience, and I'm so excited just to have the chance to soak everything in. Running for Doctors Without Borders has taken on a new meaning after the news from the Afghan city of Kunduz broke last week, when a Doctors Without Borders hospital was hit in an airstrike.  I hope that both through all these months of training and by wearing the Doctors Without Borders singlet on marathon day, running for them will help draw just a little more attention to the extraordinary work that they're doing.
What gets you through your long training runs?
They honestly haven't been as bad as thought they would! It can be a struggle to run if it's 80 degrees out and you're sleep-deprived and dehydrated, but then you just learn when to call it quits. Or you learn to drink more water. Generally, I have tons of adrenaline going into my long runs, especially when it's my first time running a certain distance. And running in New York always keeps things interesting.  It's like a three-hour people-watching extravaganza wherever you go. It's definitely never boring.
Have you had any particularly special moments during your runs?
My personal favorite running experience is running through Central Park on pretty much any weekend morning - there's almost always another race going on, so you can run through cheering crowds and sneak in a couple of high fives even if you're just awkwardly crashing someone else's race.
Another memorable long run was one time I tried running in the Palisades without water or cash in the middle of the day and almost passed out, and then a guy on a motorcycle who introduced himself as "ex-NYPD now private executive bodyguard" came out of nowhere and bought me a bottle of water. I felt so stupid but it was a major good Samaritan moment for this guy, and I wish I could let him know that I'll pay it forward to another runner-in-distress someday!
Do you see any relationship between your work and your running?
I do think that running is something that you really do for yourself, so the main relationship for me is just that it helps me give my best. It keeps me grounded and happy and gives me another way to get out and experience the city and stay connected to everything. Also a marathon is literally THE perfect metaphor for med school, and I finally, finally get that "pace yourself" is basically the best piece of advice there is.
Tell me about the photo of you hiking in Vermont. 
I took that at  he end of a 97-mile solo hike in Vermont that I did during a week off this summer. I counted the hike as a training since I wasn't about to run that week on top of the whole hike. Spending a week hiking alone was definitely a huge part of mentally preparing for the marathon!